by Chasidy Rae Sisk
If the meaning of life is to grow, improve and strengthen individually, the purpose of an organization must be similar…or at least that's the methodology ABAT uses to approach each new year, treating every success as a building block that enables the association to aspire to even greater heights. As 2023 approaches, one thing is clear: The sky is truly the limit!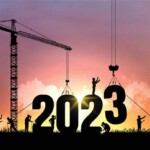 "This has been a year focused on activating everyone and really putting a plan in motion for change as we engaged with members in all our regions," shared ABAT Executive Director Jill Tuggle. "It was a nice, steady year, and we saw significant growth. I'm proud to say that we were productive all year long."
"BE the change," she urged members last year, and three industry experts answered that call by joining ABAT's leadership team this year. The association is pleased with the inspiration these new Board members have brought so far and look forward to what's yet to come. Welcome again to Anthony Palomo (West Texas Auto Color; Lubbock), Brandon Gillespy (Park Place BodyWerks; Dallas) and Albert Salinas (South Houston Nissan; Houston)!
"From our association's very first year, our goal has been to serve the Texas collision repair industry by monitoring the pulse and the politics that are critical to helping shops around the state stay successful," ABAT President Burl Richards said, referencing the organization's mission, "to create an environment of professionalism, respect, accountability, excellence, enthusiasm and the ability to collect fair and reasonable compensation for collision repairers who properly restore vehicles to their safe pre-loss condition."
An important component of that falls under the realm of education, and ABAT has been providing Lone Star-sized training to Texans since 2014, but like most things Texan, it just keeps getting bigger and better. This year, the association offered regular training sessions, both virtually and in-person, striving to meet members' educational needs by hosting some of the industry's best presenters who spoke on the industry's most relevant topics.
"Our two greatest challenges nationally are inflation and labor shortages," Tuggle acknowledged at the beginning of 2022. "For the first time, we have a widely-accepted increase in costs that cannot be argued, and this could be an opportunity for shops to finally seek proper compensation. If not, shops will need to start writing proper and thorough estimates – and stop the practice of giving away the farm just to get a job. Either option offers a favorable outcome. In the coming months, we will be encouraging shops to keep their Labor Rates posted and current as well as providing instructions on how to properly fill out Labor Rate surveys.
"The shrinking pool of technicians has been the broken-record issue for years, but now it is compounded with the fact that we can't even fill general positions, such as cashiers, detailers and administrative roles," she added. "We are addressing the issue by educating shops on how to better equip and train their staff so that they want to stay employed at their shop as well as using social media sites to connect job seekers to employers."
ABAT addressed those challenges early in the year with an informative presentation on prevailing labor rates with AkzoNobel's Tim Ronak and the following month's virtual meeting, entitled "How to Compete in a Tight Job Market" (check out the recap at grecopublishing.com/txa0322abatnews), featuring several subject matter experts. And since that's such an important topic, ABAT revisited it six months later when the association welcomed Greg Griffith of AkzoNobel to offer suggestions on combating the technician shortage (grecopublishing.com/txa0822localnews).
"We're always focused on providing continuing education for shops, right up to our most recent quarterly meeting, which we held in different areas throughout the state to encourage participation from all our chapters," Richards said. (Flip to page 12 if you missed the meeting.)
Those informative sessions led up to several successful networking ventures, another important aspect of association involvement: the Houston chapter golf fundraiser in April and the fifth annual Dean Griffin Memorial Skeet Shoot in May, but the highlight of ABAT's educational endeavors came in August.
The 2022 Texas Auto Body Trade Show featured industry leaders sharing insights on how to level up by touching on topics related to everything from how to hold insurers accountable to the importance of post-repair inspections, while also bringing world-class vendors to Texas repairers' own backyard (grecopublishing.com/txa0922coverstory).
"This year's Trade Show attracted more attendees than ever before," Richards boasted. "We keep making bigger steps as we get dialed into what we want it to look like and what we want it to be, and the BIG SHOTS Competition was a huge draw these past two years."
"BIG SHOTS was one of our bigger points this year," Tuggle agreed. "I'm really proud of how well that contest went and even prouder of the winners who showcased their skills right on the Show floor!"
ABAT is also proud of Richards, Tuggle and Board member Robert McDorman (Auto Claim Specialists), who have represented the association and Texas repairers' challenges by speaking at national meetings around the country, including the Collision Industry Conference (CIC), AASP/NJ's NORTHEAST® Automotive Services Show and the 2022 SEMA Show, as well as non-industry meetings geared at insurance commissioners and even a Lender/GAAP Provider convention.
On a state level, Tuggle cited one of ABAT's biggest concerns as "the Texas Department of Insurance (TDI). They sit idly and approve policies that violate the laws, rules and consumer rights that they have outlined for insurance companies to abide by. We have pleaded with them to take action to no avail. ABAT will not accept that 'this is just how it is,' and we plan to challenge this issue through the use of our consumer forms, awareness campaigns and (if needed) our legal system."
ABAT continued collecting consumer complaints in 2022, but the association hit a snag when TDI changed the rules, altering the complainant's name to "ABAT" and closing each complaint without an investigation! Well, that didn't sit well with the Board who engaged the aid of consumer advocacy group, Texas Watch, and relaunched the rebranded initiative, "Call Kelly," in November (get the details at grecopublishing.com/txa1122edmessage).
"Kelly has done a wonderful job calling customers and making sure everything is properly documented, confirming the things that are wrong with insurance policies that don't allow for all needed repair processes," Richards shared. "We'll have the factual proof when it comes time to pursue our legislative initiatives during the 2023 legislative session which we've been preparing since the last one ended."
"This year was an interim year and has been all about preparing for the legislation we hope to pass in 2023," Tuggle agreed. "We've been building on it every year as we learn more from each session and keep seeing progress. We've done a really good job of educating our members, so both on an individual and organizational level, we understand the process a little better and have a better understanding of what it's going to take."
ABAT has already filed two bills, a safe repair bill similar to the ones filed in previous years as well as a bill to make the Appraisal Clause mandatory. This September, Richards and McDorman laid the groundwork for the second bill when they shared their knowledge on Right to Appraisal when they joined consumer advocates at the Texas House Committee on Insurance's public hearing, voicing their belief that mandating the Appraisal Clause provides consumers with the ability to receive proper indemnification on claims without being subject to lengthy and costly litigation.
"This is the earliest we've ever filed," Richards reported. "We've been strategically planning for this session with ABAT Lobbyist Jacob Smith, and I believe we have a really good plan in place. Passing this legislation is our main goal for 2023, and I'm optimistic that we'll get one, if not both, bills passed. We've worked hard to make sure the language is written in black and white to eliminate any loopholes, and we're gearing up to spend the first half of the year focused on passing this legislation to protect Texas consumers. And once they DO get passed, we just hope the TDI will do their jobs and make sure insurance companies abide by the new laws."
"Heading into the new session, I'm even more hopeful than I've been in the past," Tuggle added, "Because we're not going down there alone – we've got the support of the Texas Auto Dealers Association who is also submitting legislation that we can get behind, and we're working with public insurance adjusters to put forward a mandatory Right to Appraisal bill. We say it all the time, and it's true here too…We're stronger together."
Want more? Check out the December 2022 issue of Texas Automotive!