by Burl Richards, ABAT President
As I'm writing this message to y'all, I'm packing my bags for Las Vegas, but by the time this edition of Texas Automotive hits your mailboxes, I'll likely be back home from SEMA 2023…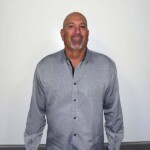 …and I hope I'm not the only Texan making the trip this year because there's always so much to see and do; there are so many ways that we can better ourselves and our industry – from the educational classes to the exhibitors displaying their newest innovations. This is certainly an innovative industry, and if we want to be the best, we have to pay attention to the newest ways to stay ahead of the curve. 
With the way that technology is constantly changing, there's a never-ending need to update our tools and equipment in the shop, and there's also an ongoing spend associated with those updates. Back in the day when I opened my first shop 26 years ago, all you needed was a paint booth, some frame equipment and a few tools, and you were set for the foreseeable future unless something broke and needed to be replaced. But now? Vehicle updates and maintaining OEM certifications require frequent investments. Depending on the size of your shop, it's easy to spend a couple hundred thousand dollars each year just to keep pace with all the changes happening.
And then there's the opportunity to get ahead instead of just keeping up with the crowd. The work we do is becoming increasingly challenging, and it is taking longer and longer to create a repair plan – they're no longer merely estimates; our repair planners need to be much more detailed and precise than the "guesstimates" of the past! 
We all know that insurance companies are not sending adjusters out to the shops like they used to, so we are forced to do more and more of the administrative work. Now, we've found that the more documentation we provide on the front end, the less we have to deal with supplements on the back end, but either way you look at it, it's adding a big administrative strain on the business. 
Even worse, there are constant interruptions when we're trying to write a repair plan in the shop, making it nearly impossible for an inexperienced repair planner to write consistent, reliable, accurate repair plans in a timely fashion. So right now, we're conducting an experiment across my three shops where on-site employees at each location submit photos, videos and other documentation to one central location where the repair plan can be written. Our repair plans need to be consistent and accurate, but we also need to reduce our administrative costs which just keep going up and up and up, making it more important than ever for shops to be properly reimbursed for the work we perform.
So, one of the things I'm hoping to discover during SEMA this year is whether there's a way to streamline that process and gather the necessary documentation more effectively, whether that's through the use of new technology or if there's something helpful that can be learned from one of the great Repairer Driven Education classes put on by the Society of Collision Repair Specialists (SCRS). 
Of course, Las Vegas is quite a hike from the Lone Star State, so it's not feasible to think that everyone can just pick up and fly out for SEMA every year, which is why ABAT will be bringing a taste of that level of education to Texas on November 28 when we host our webinar on "Coloring Perspective on Blend Time: The Facts Behind the SCRS Blend Study Plus SEMA Bonus Material" with SCRS Executive Director Aaron Schulenburg (see the flyer on page 6 for more details, including information on how to register). So far, I've found the information providers' response – or lack thereof – to the SCRS blend study to be pretty telling, so I'm curious to see what's going to happen next, and I hope you'll sign up to attend from the comfort of your own office!
Want more? Check out the November 2023 issue of Texas Automotive!