by Chasidy Rae Sisk
If an auto body professional is asked why they pursued a career path in this industry, their explanation will almost always include some variation of "I wanted to help people." So, when ABAT Executive Director Jill Tuggle turned to social media to post a plea on behalf of a local mom-in-need, it's really no surprise that association members jumped at the opportunity to lend their aid.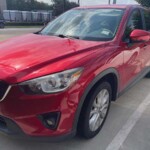 "A local ministry I volunteer for has a specific need. Please let me know if anyone is willing to help," Tuggle addressed the Texas Collision Industry group on Facebook, requesting assistance for Valiant Hearts, an organization that "exists to heal, restore, and empower sexually exploited women through compassionate and customized care," according to its website, valianthearts.org. 
Tuggle shared the request she had received from Valiant Hearts Program Director Emily Chavez who sought assistance for "one of our women. She has three little girls, and her husband is working, but as most of us know, inflation has made things financially more difficult. I'm sure we've all been in places in our lives where, even with an income, being able to maintain our vehicles to get to and from work, felt impossible. This sweet lady has been with us for some time now, and they are in need of car maintenance. I will lay it all out and see how God provides: They need two front tires, their brakes checked and possibly new pads as her brakes are screeching and making awful noises, and her AC in the car went out."
In no time flat, three repairers reached out to offer their services! 
Comments popped up on the post from Chad Neal (Paint Works; Tyler) who commented, "The ABAT Board and members will take care of this family! Need a trustable repair shop to get her car fixed; we'll get the bill paid!" as well as from Danny Blaser (Wheel Technologies; Dallas) who offered to "help with some tires and check brakes while we are at it." Meanwhile, Brandon Gillespy contacted Tuggle privately to let her know that Park Place Bodywerks (Dallas) wanted to get involved too.
"I texted Jill that Park Place would be willing to handle the repairs and donate up to $1,500," Gillespy shared. "Chad Neal matched our $1,500, and Scott Dietz with Global PDR Services donated $500 worth of paintless dent repair. Danny Blaser with Wheel Technologies (Dallas) donated four tires, so all-in-all, we were able to replace all four tires, get her new brakes, rotors, lower control arms and tie rod ends, plus do a four-wheel alignment. We also replaced the A/C blower motor and resistors, as well as her O2 sensors and catalytic converter which were causing a 'check engine' light. 
"Lastly, we did a full detail before delivering the vehicle back to the owner free of charge. We also provided her with a rental car to drive while the repairs were being completed," he added. "The best part is Park Place Bodywerks Assistant Manager Ted Wernimont, who is a former master technician and has been with Park Place Dealerships for 33 years, donated his time and performed all the labor free of charge! The retail price of everything donated was $6,000, but the feeling of giving back to someone in need…priceless for all of us who got involved."
"Everything snowballed in such an amazing way," Tuggle applauded the shops' efforts. "One person after another stepped up to ask 'what do you need, and how can we take care of it?' until all this lady's needs were met – and as usual, the industry went above and beyond, making sure to address some underlying issues as well." 
"For the ladies in our program, this type of generosity goes so far beyond just the dollar amount of the donations. These women come from traumatic backgrounds which is what led them down the path of being sexually exploited, so they don't always value themselves very highly, and they don't expect others to value them either," Chavez explained. "For these businesses to come together in support of this mother out of the goodness of their hearts, without asking for anything in return, it truly reinforces that she IS worth more. I'm so grateful to ABAT for stepping up to the plate and hitting this out of the park. You didn't just donate your time, parts and repairs…you gave her the chance to take care of her children without turning back to the easiest way she knows to cover the cost of the repairs. You showed her that she is someone who matters. Thank you for having such kind hearts."
"I'm proud to be part of such an amazing association and a wonderful industry, and I want to make sure we give credit where credit's due," Tuggle added. "Chad, Brandon, Scott, Danny, Ron and Ted really did some amazing work for someone who needed the help, and I'm so grateful to them and their caring hearts. Thank you all for making a difference for this family!"
Want more? Check out the November 2023 issue of Texas Automotive!