by Jill Tuggle
Hey y'all, meet Kelly!
I want to formally introduce you all to Kelly Taft of Texas Watch! Kelly is the incredibly talented new face of our Consumer Complaint Form initiative that we started in 2020.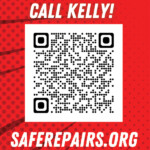 Kelly will be carrying the torch and resurrecting this important initiative that the Texas Department of Insurance (TDI) has made every attempt to kill. She will personally call every one of our customers who have been affected by the unfair and unsafe business practices that plague our industry and help them fill out a TDI complaint…and she will also be sending them to Texas lawmakers.
But wait – wasn't ABAT already doing that?!? The answer is YES! I would like to share with you how the TDI has roadblocked our efforts and ignored the woes of the population it is sworn to serve.
The failures I have personally experienced with TDI are disheartening. When ABAT decided to collect these forms, they called a meeting with us to make sure we were prepared to submit these complaints correctly. I began filing complaints just as they had instructed me when they abruptly changed the rules and said I could no longer file using the customer's information – despite having a signed release. TDI then changed ALL of our consumer complaints under my name and removed the consumers' names.
Even when we were filing complaints under customers' names, TDI was allowing the insurance companies to self-police by not reaching out to our customers. And once the complaints were changed to MY name, the insurance companies responded by saying that I was not a party to the claim, and the file was closed.
During this time, my vehicle was hit by a driver who ran a red light. The insurance company attempted to steer me to a non-certified shop that was not even able to purchase parts for my vehicle, stating, "I have seen them fix all kinds of cars." (Barf!) When I filed my own complaint on a claim that I WAS party to, TDI closed that file with no action whatsoever as well. Apparently, my own complaints are not even worth a look.
So, in a nutshell, TDI has proven they are an agency that serves to protect insurers who are big, out-of-state businesses. They appear to be pro-insurance and anti-consumer and anti-small business…which I think is very Anti-Texan!
We desperately need you to re-engage in this fight and be a champion for your customers and this industry. If you have a client who has been under-indemnified by an insurance company, PLEASE have them fill out this form while they are in your office! Put simply, we are asking every shop in Texas to help us file these complaints on every single claim that was short-paid for ANY process, procedure or needed operation. Whether a shop eats the difference or charges the customer, we need them to fill these out. This will paint a picture for our legislature of how big an under-indemnification problem we have here, plus it will shine light on the fact that body shops have to fight to make a safe repair.
The process only takes three to four minutes, and we need to make sure the consumer knows that they will be contacted by Texas Watch (and to please take their call).
Go to saferepairs.org…or just CALL KELLY!!
Want more? Check out the November issue of Texas Automotive!