by Chasidy Rae Sisk
Life is like a video game…It's all about leveling up your skills and character abilities because that's how you become powerful, achieve greater accomplishments and generally reach higher levels where you can obtain sweeter rewards.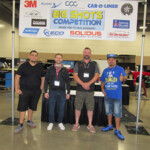 As the collision repair industry faces more challenges day after day, with technology moving forward in leaps and bounds, auto body professionals need ways to strengthen their skills, enhance their knowledge and acquire the right weapons to safely and properly repair vehicles.
The 2022 Texas Auto Body Trade Show provided an amalgamation of everything shops need to move forward, optimize their businesses and really take it to the next level!
ABAT Olympians Showcase Skills at BIG SHOTS Competition
Held at the Irving Convention Center on August 26-27, THE destination collision event in the south boasted dozens of exhibitors demonstrating the newest auto body equipment available, a dozen educational sessions, networking opportunities galore, a Car Show and even celebrity appearances, but the real stars of this year's Trade Show were the competitors in the 2022 ABAT Olympics.
From the moment the Trade Show opened until it closed, crowds flocked to the center of the floor to watch as competitors tested their skills, hoping to prove they're the best in the business. Bringing the competition back for its second year, ABAT promised to "take it to the next level" – and they delivered!
Dozens of painters, estimators, body techs and paintless dent repair (PDR) techs took their shot at being named a BIG SHOT during the qualifying round on August 26, allowing judges to identify the top talent who advanced to the finals where they strove to claim the title of ABAT Painter of the Year, Estimator of the Year, Body Tech of the Year or PDR (paintless dent repair) Tech of the Year, along with armfuls of fabulous prizes and up to $1,000 cash!
Congratulations to the winners of the 2022 BIG SHOTS Competition!
PDR Tech
First Place: Jose Escobar (Mobile Dent Solutions; Moore, OK)
Second Place: Tony Ariaz Rios (The Dent Stop; Dallas)
Third Place: Victor Gallegos (Mobile Dent Solutions; Moore, OK)
Estimator
First Place: Brian Buczynski (Park Place BodyWerks; Dallas-Fort Worth)
Second Place: Cory Dutton (Collision King; Lubbock)
Third Place: Dan Daman (Ewing Buick GMC; Plano)
Painter
First Place: Marco "Flako" Oviedo  (Auto Body Concepts; Gainesville)
Second Place: Robert Beyer (Concours Paint & Body; Dallas)
Auto Body Tech
First Place: Mark See  (Ground Zero Collision; Fort Collins, CO)
Second Place: Jonathan Hegarty (Technology, Exploration & Career Center West; Lewisville)
Third Place: Jose Jovel (Helfman Dodge; Houston)
PDR techs demonstrated glue pulling techniques, estimators wrote on a real damaged vehicle, and body techs applied seam sealer and demonstrated their aptitude for welding. All of the competitions were held live on the Trade Show floor, except the painting finals. To ensure the safety of all participants and show attendees, the top virtual painting contenders were shuttled to a nearby Sherwin-Williams facility to prove their spraying and blending skills live.
ABAT thanks the following sponsors for their support of the BIG SHOTS Competition: AkzoNobel, 3M, Car-O-Liner SW, KECO Body Repair Products, CCC Intelligent Solutions, Polyvance, Anson PDR, Norton/Saint-Gobain and Sherwin-Williams Automotive Finishes. A special thanks goes to Park Place BodyWerks (Dallas) for donating equipment used in the competition.
A special thank you to this year's judges: Robert Castillo (Anson PDR); Logan Payne (Payne and Sons Paint & Body; Dallas), Robert Grieve (Nylund's Collision Center; Englewood, CO) and Danny Gredinberg (Database Enhancement Gateway); Raven Hartkopf (Collin College); and David Galvan (Norton/St. Gobain), John Wilburn (Polyvance), Walter Moore (3M), Jesus Munoz (Solidus) and Ryan Harthcock (Car-O-Liner Southwest).
Exhibitors Arm Repairers with the Right Tools and Equipment
With hundreds of auto body professionals perusing the aisles of the Irving Convention Center, it's no surprise that exhibitors reflected favorably on the weekend.
"This is the best attendance we've ever had," shared James Tucker of Diamond/Car Show Sponsor English Color & Supply. "The BIG SHOTS Competition has definitely attracted a lot more technicians this year and has generated a ton of foot traffic."
"The AkzoNobel team had a great turnout at this year's ABAT show," agreed Jen Poliski of BIG SHOTS/Celebrity Guest Sponsor AkzoNobel. "Our team was quite busy showing off our virtual spray equipment in the BIG SHOTS Competition, and we provided demos of our production software Carbeat and shared information on our refinish paint products."
"The team also enjoyed having our Modern Classikk partner and friend, Dave Kindig from Kindig-It Design, join us for meet and greets and the Car Show. The technician shortage discussion we participated in on Friday afternoon was well attended and hit on several challenges many industry participants face, while engaging in conversation on becoming a part of the solution. In summary, it was a great show for us, and we are happy to have been a part of it this year."
For BIG SHOTS Sponsor Norton/Saint Gobain's Kelsey Bailey, the highlight of the show was definitely "the live-action painting and bodyman competition going on; we've been watching all weekend and are looking forward to hearing the winners announced. I was also really excited about the turnout this year. It was a bit busier than last year, and we've made some good connections. We enjoyed talking to the students who came through, and it was awesome to see how excited they were to learn about the different auto body programs available in this area."
Education Sponsor FindPigtails.com's Ruston Blanchard also expressed satisfaction with this year's attendance levels. "It's great, just like last year, with good traffic. And it's always set up well with the classes spaced out so that people are always coming up to the booth. We really enjoy this show and plan to keep doing it."
"We always have a great time coming out to the Texas Auto Body Trade Show. This year, we were excited to bring some brand-new products to show for the first time, plus we've got Horny Mike kicking it with us," reflected LJ Teatreau of Celebrity Guest Sponsor Lift King Products. "ABAT does a really great job of providing top-notch accommodations and showing everyone a wonderful time."
Laura Gay (Consolidation Coach) concurred, "It was well worth traveling to Texas to participate in the Trade Show. They've got an awesome event and a really good venue."
As a first-time exhibitor at the Texas Auto Body Trade Show, Kirk Carlisle from Gold Sponsor Dents.co offered his thoughts, "We're having a fantastic time! We've made some new friends and really enjoyed meeting with potential customers. We're thrilled and will definitely be back next year."
"My impression of the show has been very positive," stated Simone Mazzon (USI of North America). "The aisles were busy, and we talked to some promising leads. We're already looking forward to next year."
"There's been a bigger turnout, and it seems like attendees are expressing a lot more interest in the products," Chris Curran (EcoTech) echoed. "We're very satisfied with the show, and we're definitely planning to be back next year."
The 2022 Texas Auto Body Trade Show was made possible through the support of the following sponsors: Diamond/Happy Hour Sponsor: BASF; Diamond/Car Show Sponsor: English Color & Supply; Platinum Sponsor: Axalta; Celebrity Guest/BIG SHOTS Sponsor: AkzoNobel; Celebrity Guest Sponsor: Lift King Products; Gold Sponsor: Dents.co; Silver Sponsors: AAMS Training, Wheels America; Education Sponsors: NCS/Single Source, FindPigtails; BIG SHOTS Sponsors: 3M, Car-O-Liner SW, KECO Body Repair Products, CCC Intelligent Solutions, Polyvance, Anson PDR, Norton/Saint-Gobain, Sherwin-Williams Automotive Finishes; Happy Hour Sponsor: Innovative Collision Equipment (ICE).
Want more? Check out the September 2022 issue of Texas Automotive!