From electric vehicles (EVs), ADAS and diagnostics to OEM certification, DRPs and consolidation, the future of the collision repair industry is rife with challenges for shops that want to remain competitive amidst these never-ending changes.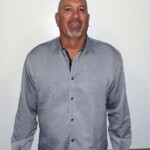 Retaining employees has become even more important than attracting clients, but simultaneously, no business can be successful without maintaining a superior level of customer service. So, how can auto body facilities navigate the myriad aspects of the business to become a "shop of the future?"
ABAT President Burl Richards shares his thoughts on some of the industry's most pressing topics with Texas Automotive readers.
Texas Automotive: How big is the EV wave going to be? How much of that wave is already here? Is the industry ready for this in terms of getting proper training from the OEMs, I-CAR, etc.? What are the major training resources now and planned for the future? What new safety concerns do they present to technicians? Will shops need to be specialized/certified to properly handle EVs?
Burl Richards: I believe the wave will be substantial and unless the tide turns, it could be a tsunami. It's definitely already started to gain momentum. My shop is in a rural market, and we're seeing a steady increase over the last three years. I believe that the industry is ready, at least some of us, but it definitely takes preparation, especially from the OEMs. Fortunately, training resources are available directly from the OEM, and the vast majority is available online. The training they offer is very extensive and well laid out. We certainly want to be careful to recognize the safety hazards related to working on EVs though. For example, electrocution is a big concern as is the weight of the vehicles and their batteries. I 100 percent believe that shops will need to specialize and seek certification to properly handle EVs.
TXA: How much of a player will OEM-certified shops be in the future? Are they going to replace DRPs? What do shops most need to do to become certified – and maintain that certification down the road?
BR: OEM certification will definitely play a role in the future, especially for shops that are not dependent upon DRP referrals. Shops that want to set themselves apart and offer certified repairs will have a revenue stream not dependent upon the insurance companies. I don't think OEM certification will actually replace DRPs because the insurance companies will always look at ways to control pricing and keep a hand in how repairs are made. Certification requires shops to invest in a lot of training, then some more training and also continued training as well as major equipment investments and trained staff.
TXA: Where is the industry headed when it comes to the scan tools needed to perform diagnostics? Are non-OEM-approved tools going to be enough? Where does the insurance industry come into play?
BR: Scanning and diagnostics is going to require continued investment in purchasing the tools and being prepared to upgrade. In today's technologically advanced era, these tools (like computers) become outdated very quickly. Will non-OEM-approved scan tools be enough? That's a great question, and only time will tell, but my gut is these types of tooling will continue to be used for a large portion of repairs. The insurance companies (with a few exceptions) will continue to try and control pricing and the repair process based on the PCP that "THEY" deem to be true, not necessarily the true PCP.
TXA: How prevalent will consolidation be down the road? Are we going to see a bigger wave in your market in the future?
BR: Consolidation will likely continue to be prevalent, and I believe it will even increase in Texas in the future. There are new players popping up all of the time, and the consolidators continue to grow in smaller rural markets. When I say grow, I mean we can expect to see a larger presence from these MSOs down the road.
TXA: How will consumer marketing need to change in the future? How will our efforts to educate consumers in the future differ from what we're doing now?
BR: It depends on the individual shop's business model. Heavy DRP models have insurers steering work to them so they won't need to change as much, while less heavy DRP shops will have to find ways to do creative marketing. As insurance companies have fewer employees and use the shops to do a lot of their admin work, we have to educate customers on the claims process and repairability differences on the modern vehicles.
TXA: What will shops need to do to attract and retain young employees in the future vs. what worked in the past? What role does shop culture play in employee retention?
BR: Great question, but I don't have the answers. I think letting employees know how successful they can become in this industry – with or without a college degree – is a good start. From there, making sure that you have a great culture within your shop will be key.  TXA
Want more? Check out the August 2023 issue of Texas Automotive!