by Chasidy Rae Sisk
With mere days left before the return of ABAT's Texas Auto Body Trade Show, it's time to get pumped up!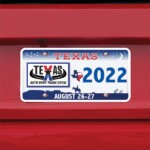 The 2022 iteration of the association's flagship show, scheduled August 26-27 at the Irving Convention Center, promises everything an auto body professional could hope for – but the relevant educational experiences presented by national-level collision repair trainers and the industry-leading vendors exhibiting the latest and greatest tools and equipment are just the tip of the iceberg…ABAT has tons of fun in store for attendees as well!
"We're excited to be back at the Irving Convention Center to bring the best education and some Texas-sized fun to Lone Star repairers," ABAT Executive Director Jill Tuggle shares. "It's always a great, informative time when industry professionals get together to share ideas, learn from one another and discover useful ways to improve their businesses. We have a ton planned on our training agenda, but those after-hours conversations can be the most insightful, so we've made sure there are plenty of opportunities for networking and connecting with one another."
It all starts right on the huge Trade Show floor, which boasts 50,000 square feet of exhibitor space and opens on Friday from 1-8pm. Upon arrival, attendees will want to grab a Booth Bingo card to fill in with the names of exhibitors visited for a chance to win $500 cash!
When the training sessions end on Friday at 5pm, the party begins, starting with happy hour on the Trade Show floor. As you peruse the various exhibitor booths, partake in a free brew from select vendors, until 7pm.
But make sure to stop by ABAT's booth (#701) and sweet talk Tuggle into an invite to the After Party at Bar Louie (pro tip: she's always rocking some cool earrings). Open by invitation only, party-goers are certain to have a great time networking with industry peers over appetizers and drinks – there will even be a photo booth to document those great memories that you may not remember all that well in the morning. And don't be surprised if ABAT has a few surprises up their sleeves.
For those who enjoy a little controversy with your fun (like ABAT President Burl Richards), don't miss Friday's Lunch & Legislation panel discussion. Learn all about safety and security-related issues in the industry, the upcoming legislative session and what changes ABAT hopes to see in the Lone Star State during this unique meet and greet with local Texas legislators, including Representative Ramon Romero (D-Fort Worth) and Representative Travis Clardy (R-Nacogdoches), who will be joined by Richards, ABAT Lobbyist Jacob Smith, Ware Wendell (Texas Watch) and Pete Tagliapietra (DATATOUCH, LLC). Held from 11:30am-1:30pm, tickets include lunch, but score your spot in advance because this special session is sure to sell out quickly.
The Trade Show opens at 11am on Saturday, and amidst the multitude of exciting exhibitions that participants can look forward to, the English Color & Supply Car Show is sure to be a crowd favorite as usual! Head down aisle 400 toward the back parking lot where you'll find rat rods, custom builds, muscle cars and classics.
And as you're checking out all the cool rides, don't be surprised if you run into a couple well-known gearheads – celebrities Dave Kindig from Bitchin' Rides and Mike Henry, AKA "Horny Mike," of Count's Kustoms/History Channel's Counting Cars will be in attendance at this year's event.
"I am so excited to be back at the ABAT show this year and hope to see you all there," Kindig shares. "I love to share my experiences and love for color; thanks to AkzoNobel for making this all a reality!"
Returning to Texas for his second ABAT Trade Show, Kindig will be greeting attendees and signing autographs at AkzoNobel's booth (#723) on Friday and most of Saturday, and he will also be participating in the "Tech Shortage Panel Discussion" on Friday afternoon, along with Greg Luther (Helfman Collision), Amber Ritter (Collision Repair Education Foundation), Dave Robinette (I-CAR) and Raven Hartkopf (Collin College), as well as moderator Tim Ronak (AkzoNobel).
Lift King Products is excited to bring Horny Mike to Texas for the 2022 event.
"It's official…Horny Mike will be at the Lift King booth all day Friday and most of Saturday," says Lift King President LJ Tetreau. "He will be performing live demonstrations, plus he will be available for photos and to sign autographs. Mike has a lot of energy and will bring a lot of excitement to the show.
"We are very excited to return to the Texas Auto Body Trade Show," he continues. "The people who attend this show couldn't be friendlier, and they're great to interact with. The staff does a great job accommodating exhibitors, and Jill Tuggle is excellent. We're very excited to introduce four new never-before-seen products, especially with the high-energy, super cool Horny Mike. We can't wait to get to Texas and make more friends!"
Happy hour in the Exhibit Hall returns on Saturday from 4-6pm, allowing attendees to enjoy a cold one as they take their final lap around the Trade Show floor. And if you're ready to keep the party going, just head next door to the Toyota Music Factory where 23 bar and restaurant options await your pleasure.
"We have so much planned to benefit your business at the 2022 Texas Auto Body Trade Show," Tuggle insists. "We pack all the most exciting parts of being in the automotive industry into two days filled with tools, equipment, a Car Show, celebrity appearances and some of the country's top speakers providing education that you can't get anywhere else…You CANNOT afford to miss this Show!"
Get the scoop on all the "Education You Can Hang Your Hat On" in the July edition of Texas Automotive or at bit.ly/TXA0722. Download the full educational agenda at bit.ly/TXABTSagenda.
We can't wait to see you later this month! 
Want more? Check out the August 2022 issue of Texas Automotive!