by Alana Quartuccio
What does it take to be considered among the best body shops in the Lone Star State?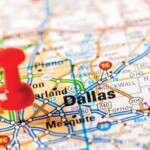 As the second largest state in the US, it'd be mighty hard to narrow it down to a handful of the top body shops within a 261,193.9 mile radius! So, Texas Automotive decided to go on a mission to find out which shops are considered among the best in the largest cities in Texas and will feature our results over the next several months.
We combed the internet, read countless consumer reviews on Google, Yelp and other social media and polled industry members to find out which collision repair facilities are the best in the Dallas-Fort Worth area. Please find them here, listed alphabetically:
Auto Tech Services – 1856 Lone Star Road, Mansfield (Established in 1979)
For more than 40 years, customers have been putting their trust in Auto Tech Services, and the reasons are clear! They abide by the mission to treat their clients as they themselves would want to be treated by providing quality repairs at fair prices in a timely manner. One of hundreds of Google reviewers celebrates Auto Tech Services: "I brought my vehicle here as a result of a collision, and they were the only ones accepting vehicles around the holidays. This shop was a LIFESAVER! The customer service? Amazing. They completed the $8,000 worth of repairs in about two weeks, and my car looks perfect! Everything works the way it's supposed to. I was afraid it would always be different after the crash, but it's perfect! I can't express enough how much I recommend this shop."
Bob Tomes Ford Collision – Service Bldg, 950 S. Central Expy, McKinney (Established in 1983)
The Tomes family is well-known in the McKinney community for their community involvement and their commitment to their business which has kept it a success for 40 years. More than 300 people on Google have backed this up. One claims, "I cannot say enough how grateful we are to everyone who went above and beyond to take care of our daughter's truck. The work they did was beyond our expectations and more than we even asked for." A Yelp user praises Tomes for their patience: "The team at Tomes took very good care of me. It took several months because of insurance complications to get the repairs done, and this team was patient with us, always answered my husband's questions and never seemed annoyed by us (and my husband can be very annoying). Their work was amazing. My car looks new again. I can't thank them enough."
Dallas Collision Center – 2964 Irving Blvd, Dallas (Established in 1986)
Since 1986, Dallas Collision Center has been serving the DFW metroplex area with the simple mission of "fixing it right." Customers' online statements back up this shop's commitment to providing an easy experience for consumers post-collision. A Google reviewer writes, "I had my Audi A5 worked on here through my insurance. The process was seamless, and they kept me informed about EVERYTHING; I didn't have to call once with questions. It was completely stress-free, and the work done was phenomenal. My car looks better than it did when I bought it. I will definitely recommend them to friends." A Yelp user notes: "Melissa and the crew at Dallas Collision were great! They kept me informed of every step of my repair by text and email. The work was very thorough and professional. I would recommend them to anyone who needs bodywork for their vehicle."
Elite Auto Body Shop – 2341 Royal Lane, Suite C, Dallas (Established in 2013)
As their name suggests, the team at Elite Auto Body Shop strives to provide its customers with the best repairs and services, catering to all makes and models and offering what they call "luxury auto body repair." Proof lies in the shop's 5.0 star Google rating, where multiple customers have expressed their gratitude to the team. One review comes from the parent of a teenager "who has wrecked a few cars, as they do. One of these cars is an old car with sentimental value that has a lot of special needs and parts, and Kuba and his team thankfully accepted the difficult job of repairing this car after one of the wrecks. I had called around multiple shops looking for help, and Elite is the only shop that said he would be willing to handle it. And he and his team did a phenomenal job! There was also a mess with the insurance adjuster, and he dealt with that professionally and patiently. I just cannot say enough good things about this place. We have found our new home for body repairs and maintenance!"
Gibson Automotive – 2600 1-30 Frontage Road, Greenville (Established in 1967)
Reading through the countless reviews left by devoted clients of this family-owned business over the years proves that good communication and quality work goes a long way. One Facebook follower refers to the Gibson team as family: "I love this family…aka body shop!!! This place is awesome and the people are what make it that way! Customer service is outstanding and the quality of repair is unmatched…They went above and beyond for me, and it's the only place I would recommend sending anyone that needs collision repair! Thank you Gibson family!!! I got my baby back, and she looks awesome again!!" A Google reviewer appreciated the time and care along the way. "Best experience from a body shop. They helped us through the whole process, starting with the rental vehicle. Had our repair done in half the time. The last time our car looked this nice, it was coming off the showroom floor. Very professional and courteous staff who kept us well informed during the repair. Look no further for your auto body repair."
Harvey's Paint and Body – 4300 Maple Avenue, Dallas (Established in 1956)
Recognized as the oldest collision repair and paint shop in Dallas, Harvey's Paint and Body has been achieving success for more than 60 years. Nearly 800 customers have left positive comments about Harvey's on Google alone. One review says, "I had an amazing experience at Harvey's! They did a wonderful job fixing my car, AND they kept me informed every step of the way! I was extremely impressed. I've used other paint and body shops but never had such a positive experience. You will not go wrong using Harvey's!" A Facebook user who had two accidents six months apart called dealing with Harvey's a pleasure, praising the clear communication she received along the way. "I had the pleasure of working with Julie Blocker for all of my repairs. Let me tell you that she is AWESOME! Super friendly, knowledgeable and outgoing individual that made me feel confident through the entire process."
Payne & Sons Paint & Body Shop – 12243 Shiloh Road, Dallas (Established in 1983)
Known as the "friendly local auto body shop," Payne & Sons treats its customers the way they would want to be treated; this mindset, along with quality repairs and good communication, keeps customers coming back to this family-owned-and-operated facility. As one Google review reports, "I went in knowing nothing about this company besides that it was family owned, and I must say the customer service is the best I ever received! I worked with Logan during my process, and he was very professional and polite. He always kept me in the loop of everything that was going on with my vehicle while it was being repaired." A Facebook reviewer notes, "As a female, sometimes you wonder if you are getting a runaround. I had been to other places and knew the work and quote was valid. They also worked with me on 'timing' so that I would have fewer days without a car."
Royal Automotive Service – 1400 US-175 Frontage Road, Seagoville (Established in 2003)
Whether in need of collision or mechanical repair services, customers choosing this shop consistently receive the royal treatment. One Facebook follower writes, "Grant Williams and his team at Royal Automotive went above the call of duty to help me during the stressful aftermath of my wreck. He is very patient, professional and knowledgeable in his field. He dealt with the insurance and rental representatives and made the process run smoothly." A Google reviewer states: "If there was an option for 10 stars, I'd give that. [Grant and Brad] both have a great sense of hospitality and a great sense of humor. They are great people to work and get along with, and I 100 percent recommend this shop if you are in or near Seagoville."
Steve's Automotive Refinish – 13415 US-287, Fort Worth (Established in 2018)
It's evident that Steve's Automotive Refinish not only does good work, but also appreciates its customers. At least 200 have left raving reviews on Google in appreciation of the shop's customer service and amazing work quality. One Google writer raves: "Steve did an amazing job on my 2018 Ford Raptor! Even with the communication issues with my insurance, he provided the best customer service possible. If you want someone to treat your vehicle like it's their own, then Steve is the man for the job! Going to recommend them to anyone that asks for a body shop to use!" A Yelp user praises Steve's for the supreme care received: "I took my vehicle to Steve's after deciding I wanted a second opinion. I was rear-ended by someone who was texting and driving…their insurance company quoted a refinishing and paint job for my bumper and wrote me a check, basically shooing me away. I was skeptical that they had not deemed my bumper a loss, so I took my car to Steve who took one look and told me I needed a whole new bumper! Steve not only got me a factory bumper; he took care of the insurance company for me. If that wasn't enough, Steve offered to drop me off at the car rental place nearby, because it was going to be a 30-minute wait until they could pick me up."
VIVID Auto Body Shop & Auto Hail Repair – 2421 E. University Drive, Building #1, McKinney (Established in 1999)
Customers chose this shop again and again as the family-owned VIVID team offers a hassle-free experience and works with them to educate and keep them informed on the process to restore their vehicles to pre-accident condition. Proof lies in what customers walk away with. One Google writer praises the attention they were given: "VIVID Auto Body has worked on two of my vehicles. They provided quality work and excellent service! They kept me updated with the repair status, and the pricing was reasonable for additional repairs not covered under my insurance. They even called an UBER for me to get back home after I dropped my vehicle off. I would definitely recommend VIVID!' A Yelp user states: "These guys check every box!  They were ON IT, they were VERY responsive, reasonably priced, and the work they did was top notch. I wish every place I did business with had these results!  Stop searching and go with them!"
Want more? Check out the July 2023 issue of Texas Automotive!