by Jill Tuggle
I can't believe we are a month away from the Texas Auto Body Trade Show!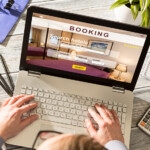 I don't know about you but I am SO EXCITED for this year's show! We are really building something cool with this show and even our speakers are begging to come back each year!
Speaking spots have always been coveted at our show, but we have received so many requests that we had to create a form on our website to keep track of submissions! We have a backlog of seminar topics and presenters who can't wait for their chance to speak at the show. What does that mean for you? Well, it means no fluff – we have carefully curated an educational slate that is all "meat and potatoes" and will leave you feeling full of information and fresh ideas.
But save room for dessert, because the fulfillment doesn't stop with the education. Wait until you see the exhibit hall! It's interactive, informative and entertaining!
Of course we are bringing back the BIG SHOTS competition, and throwing it right in the middle of the show floor again. This competition has $1,000 on the line per category and features paint, body, glue pull and estimating. So, sharpen your pencils and clean your guns because competitors are laying it all on the line to be named an ABAT BIG SHOT!
As you walk the aisles, you will find cars up on racks, welders, computer software, tools and more. If you need it to fix a car – it's there! We are not talking brochures and photos but the real deal- stuff you can get your hands on (and sometimes even take for a spin). The BASF Mobile Training Center will be back front and center, showcasing their ability to fully train your shop right in the parking lot – be sure to take a peek into this RV-turned paint shop on wheels! Follow your ears to find out what all the banging is about at the BETAG booth and if you smell burning…well, that's probably Car-O-Liner just showing off their latest in OEM certified welding equipment!
We are returning to the Irving Convention Center at the Toyota Music Factory, where fun and aesthetic fill the air. Our host hotels will satisfy those seeking fun or luxury – both at a great price! You can stay at the Westin or Texican court at a rate that's not available to the public, BUT you need to book fast! Our hotels WILL sell out and our discount will expire in early August, so make your reservation NOW! Each year I have to call the hotel and beg for more rooms and often they don't have any more to give us!
You don't want to miss out on nights by the fire pits with the industry's biggest names! Our evenings spent together over a cocktail at Two Mules are some of my favorite memories made in the Texas collision repair industry. This is a weekend you do not want to miss – I promise! So for Pete's sake, BOOK YOUR HOTEL!
Register and book at abat.us/tradeshow.
Want more? Check out the July 2023 issue of Texas Automotive!