by Alana Quartuccio
"Texans ignored 'better,' long ago forgot the useless word 'good.' Everything in Texas is 'best.'
-Edward Smith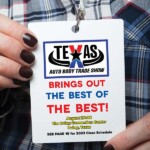 ABAT's Texas Auto Body Trade Show is the perfect embodiment of this quote made popular by Texas Southern University Football Hall of Famer Edward Smith. The event offers nothing but the best of the best in vendors showcasing industry-leading products, engaging top-of-the-line educators and exciting opportunities that promise nothing less than the best experience that everyone who makes their way to the Irvington Convention Center on August 25 and 26 is sure to have.
If you haven't already made your plans to spend the weekend in Dallas, what are you waiting for?  As ABAT's Executive Director Jill Tuggle shares in her message on page 4, it's time to make your hotel reservations! With some of the industry's top names like Mike Anderson (Collision Advice), Aaron Schulenburg (Society of Collision Repair Specialists) and Danny Gredinberg (Database Enhancement Gateway), plus many more, you won't walk away with anything less than the best in training.
Then of course there is the trade show floor itself where some of the best exhibitors around are returning for the 2023 installment of ABAT's flagship event.  As Tuggle adds, a slew of new vendors will also be on site, ready and raring to go!
"It's really exciting to see how many new companies have signed up to take part in this year's show," she notes. "We have many of our past exhibitors coming back, which is fantastic, but it's great to see such a large percentage of newcomers joining us – it's really a testament to the show's continued growth, getting bigger and better every year!"
"Although our headquarters is located in Montgomery, Alabama, Texas is our biggest market," says Justin Proctor, founder and president of All Clear Diagnostics and Calibration (Diamond Sponsor).  "We are excited to use this show as an opportunity to strengthen our relationships with existing partners in Texas and expand our services by partnering with more body shops in the area."
I-CAR will also make their debut at the show this year.
"As a not-for-profit formed to serve the inter-industry, I-CAR is excited to participate in this event to support collision repair facilities with educational programming and technical information/services that contribute to complete, safe and quality repairs," states Tom McFinch, senior manager, field sales, career and technical education. "Interacting with our industry and listening to their individual experiences at events like the Texas Auto Body Trade Show helps us develop and sharpen the tools they need to address the advanced vehicle technologies and talent shortages we're collectively facing. I look forward to sharing how fostering a learning culture at a facility can enhance performance and operations. I look forward to learning from the attendees too – we are in it together!"
"The Texas Auto Body Trade Show is an excellent event for building relationships across the industry and last year's event was especially productive for our Certified Collision Repair Network (CRN) team," says Patrick Porter, OE Connection CRN Manager. "The Texas Auto Body Trade show does an outstanding job bringing together the best in collision repair; OEC is excited to join in 2023 with experts from our CRN and RepairLogic Repair Planning Platform teams."
Just as the number of new exhibitors at the 2023 Texas Auto Body Show continues to grow, numerous returning companies are also gearing up to have their best showing yet at ABAT's biggest event of the year. USI of North America is happy to once again interact with their Texas clientele this August.
"We get great results at this show," relays Stefano Moretto, national sales manager. "It's an opportunity to meet new potential customers and promote our spray booth technology, which does not require the need for blowers, reducing time and energy consumption while reducing the amount of polishing required in all paint jobs."
"CCC is excited to be invited back as exhibitors at the ABAT Trade Show 2023," shares Nick Galati of CCC One. "Meeting face-to-face with our current and future clients at events like this is something we don't take for granted. This show is special to us, as is our sponsorship of the BIG SHOTS estimating competition.  We expect another strong turnout and are thrilled to showcase our newest product in the booth, CCC DIAGNOSTICS."
Just like in years past, Texas Auto Body Trade Show attendees can look forward to coming for the education, exhibitors and networking, and staying for the FUN! This year's show promises to offer something for everyone in the shop – as well as the wives (with plans underway for another ladies' event) and fun and games for the kids! Of course, staples like the BIG SHOTS competition and the car show will be back this year. And you won't want to miss out on the Auto Body Happy Hour session and do some learning over a couple pints while rubbing elbows with some of the industry's great minds.
Don't miss out on what is sure to be the best time yet! Don't wait to register at abat.us/events/tradeshow/. Stay tuned for more updates on the show in next month's Texas Automotive. 
Want more? Check out the July 2023 issue of Texas Automotive!