by Chasidy Rae Sisk
And just like that – faster than double-struck lightning – the biggest collision repair industry event in Texas is just around the bend!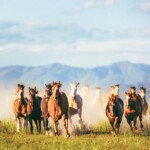 Y'all know this ain't ABAT's first rodeo, and coming off the boot heels of last year's successes, the association is hitting the ground running as it prepares to return to the Irving Convention Center for the 2022 Texas Auto Body Trade Show on August 26 and 27. Besides being located mere steps away from the dining, entertainment and attractions at the neighboring Toyota Music Factory, the Irving Convention Center boasts plenty of space for two full days of the industry's best training, vendor exhibits, networking opportunities, live demonstrations, celebrity appearances and more…including the second annual BIG SHOTS Competition.
"Each year, the Show gets bigger and better – and that's just how we like it in Texas," says ABAT President Burl Richards. "Guaranteed that this will be one for the books with knowledgeable presenters, great vendors and more fun than you can shake a stick at. But there's one thing that I'm most looking forward to: the BIG SHOTS Competition!"
Five years of planning and work culminated in ABAT's first BIG SHOTS Competition, which debuted at the 2021 Trade Show, providing aspiring Big Shots to compete for prizes and glory in virtual painting, auto body and estimating contests.
"BIG SHOTS was the highlight of last year's event as far as I'm concerned, and the name is incredibly accurate because that's exactly who we want as competitors," Richards shares. He also stresses the importance of attracting more shop personnel to the Show. "We have great participation from our vendors and managers, owners and estimators, but we need more technicians. This is all about getting folks here who can learn something from the Trade Show and get great information. I can't wait to see how big this contest becomes – we're hoping it becomes the Olympics for body shop folks!"
"The Texas Auto Body Trade Show is always full of fun surprises, but I suspect last year's big hit will rise to the top as the main event in 2022," ABAT Executive Director Jill Tuggle adds. "We'll have both live and virtual contests taking place on the show floor as estimators, painters and technicians compete for big prizes and – more importantly – bragging rights. Stay tuned for updates because we're taking it to the next level!"
By all appearances, the 2022 BIG SHOTS Competition is fixin' to top its inaugural showing with higher stakes, including the addition of a preliminary qualifying round to identify the cream of the crop who will rise to the final round. Finalists will compete in their respective categories, and winners will be selected by high-profile industry leaders.
Competitors will demonstrate their skills using CCC estimating software, virtual welding equipment donated by the Mercedes-Benz Training Center and Park Place Dealerships and virtual paint booths provided courtesy of Sherwin-Williams Automotive Finishes and AkzoNobel.
Multiple vendors have already committed to sponsoring the "ABAT Olympics," including Sherwin-Williams, CCC, AkzoNobel, 3M, KECO Body Repair Products, CCC, Polyvance, Car-O-Liner Southwest and Norton/Saint Gobain. But BIG SHOTS isn't the only thing everyone is excitedly looking forward to – though it certainly ranks pretty high on the list.
"We're looking forward to the event because we will be running the plastic welding BIG SHOTS Competition!" exclaims Polyvance President Kurt Lammon. "We'll also be doing nitrogen plastic welding at the booth during show hours and would like to invite anyone with questions to stop by. Visitors can also get their hands on the equipment and receive some simple plastic welding lessons at our show booth."
Nick Galati, manager of automotive market sales for the Western region at CCC Intelligent Solutions, is eager to "make the most out of meeting face-to-face with our amazing customers and showcase what's new with CCC…we'll be demoing our newest CCC ONE enhancement, Estimate IQ, and showcasing some of the new features within CCC Repair Methods as well as our diagnostics integrations. And of course, a guaranteed highlight of the 2022 Trade Show is certain to be the BIG SHOTS Estimating Competition, which we're sponsoring for the second year. I can't wait to see the new talent competing this year!"
"Last year's BIG SHOTS Competition hosted an impressive turnout of guests throughout Texas and our industry, and I'm excited to see what's in store this year," notes Jason Wall, district sales leader for AkzoNobel. "In an effort to continue that momentum, we're bringing a special guest with us that many will recognize, and I personally cannot wait to introduce him to our customers on the Trade Show floor. For us at AkzoNobel, reconnecting with our customers and colleagues has been a major point of emphasis in 2022, and we're extremely excited to see and reconnect with our customers at this Show."
AkzoNobel definitely has quite the special guest in store for Texas Auto Body Trade Show attendees!
"Our Modern Classikk paint line partner, Dave Kindig from MotorTrend TV's Bitchin' Rides will be joining us this year at our booth," shares AkzoNobel Marketing Communications Manager Jen Poliski. "He will meet customers, sign autographs and have some involvement (teaser alert!) with the Show. We will also be demonstrating our body shop production software, Carbeat®, which has been proven to reduce cycle time by an average of nearly 10 percent."
ABAT is also eager to see the vehicles that Diamond Sponsor English Color & Supply, Inc. will have on display at this year's Car Show.
"I expect our exhibitors to outdo themselves this year," Tuggle states. "I've received a lot of excited calls with plans for all kinds of fun. It seems like everyone is eager to participate, and they're really kicking it into high gear."
Booth space is still available but is anticipated to sell out. Vendors can secure their spot at abat.us/exhibit.
In addition to exhibits from industry-leading vendors that are committed to helping repair professionals thrive and build stronger businesses in 2022 and in the future, the Texas Auto Body Trade Show will feature extensive education and training opportunities as ABAT attracts nationally-known presenters to the Lone Star State. More updates will be featured in next month's Texas Automotive.
"Plans are underway, but there's plenty more to come," Tuggle pledges. "With this momentum, the 2022 Texas Auto Body Trade Show is sure to be bigger and better than ever before."
And ABAT definitely has more cattle than hats; the association never fails to deliver on its promises! So, if you're finding your shop is in a hole, it's time to stop digging, mark your calendars and get ready to head over yonder for a healthy dose of everything that makes this industry (and Texas) so much better'n any other! Registration information and more is available at
abat.us/2022tradeshow.  
Want more? Check out the June 2022 issue of Texas Automotive!