by Chasidy Rae Sisk
ADAS calibration isn't rocket science…it's much more complicated than that!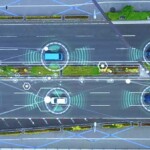 CRASH! A typical fender bender once required a fairly basic repair, but today's vehicles aren't that simple – advancing technology has created ADAS, the ultimate co-driver. These systems' ability to process information faster than humans prevents accidents, but if they are not properly scanned, calibrated and repaired after a collision, the repercussions can be catastrophic!
"ADAS calibration isn't rocket science; it's much more complicated than that!" quipped George Lesniak (Autel), who emphasized that it's also a vital component to ensuring a safe repair.
"ADAS systems save lives…but once they are repaired, they have to be repaired the right way in order to do their jobs properly," Chuck Olsen (AirPro Diagnostics) stressed.
That begins with pre- and post-repair scans. According to the October 2021 "Who Pays for What?" survey on scanning and calibrations, 85.2 percent of shops pre-scan "all" or "most vehicles;" that number increases to 92.9 percent for post-repair scans.
But when it comes to calibrations, which I-CAR defines as "aiming, module setup, relearn, zero-point calibration, initiation or calibration is a required step following the removal, installation and/or repair of many safety and driver convenience system parts," a different story is unfolding, and although the exact metrics vary from source to source, the overall message remains the same: auto body shops aren't calibrating every vehicle that requires it.
"Sixty to 65 percent of vehicles that should receive a calibration didn't, so when we ask where the industry sits on this, the numbers speak for themselves…We're behind!" claimed Frank Terlep (Auto Techcelerators).
"The industry is missing about 85 percent of ADAS calibrations. That is, only about five percent of jobs have an entry for a calibration, when the number should be much closer to 33 percent," shared Nick Dominato (Repairify). "If you've got a model year 2020 vehicle, there's about a 50-50 chance that it requires at least one ADAS calibration."
Unfortunately, less than a third of estimates for those vehicles included a line item for calibration, according to Repairify's analysis. CCC Intelligent Solutions' 2021 Crash Course Midyear Report indicated fewer than 17 percent of estimates on current year or newer vehicles included an appraisal line for "calibration/reprogram/flash." And although the majority of respondents to the 2021 New Jersey Automotive Industry Survey reported they perform an average of two calibrations on each vehicle, just 14 percent stated they run as many calibrations as is required by the OEM.
"If you're not following OEM repair procedures when you work with ADAS, you're not calibrating the vehicle – you're mis-calibrating it!" Dominato insisted.
"A calibration technician cannot rely on memorization; they need to constantly be researching and keeping on top of this evolution because things change continuously," Olsen agreed. "From a workflow perspective, this work requires a different skillset."
And the demand for that skillset is only going to grow with the government's mandates related to vehicle safety forcing OEMs to include ADAS systems in virtually every new vehicle being manufactured. The Insurance Institute of Highway Safety (IIHS) indicated that 60 percent of registered vehicles on US roadways were equipped with at least one ADAS feature in 2021.
Yet, only 30 percent of collision shops are capable of ADAS component replacement due to complexity, expense or perceived lack of demand, reported Chris Gardner (Automotive Aftermarket Suppliers Association), expressing concern about the number of shops "working on [ADAS-equipped] vehicles without staying up-to-date on what's changing. And that can be dangerous."
LaMettry's Collision, a 10-location MSO, performs ADAS calibrations to varying degrees at each facility, but as the need to calibrate has become increasingly common (and complex), President of Operations Darrell Amberson felt that opening a dedicated calibration center would be a wise investment.
"Some locations perform a lot of ADAS calibrations, but our calibration center does nothing else," he explained. "We calibrate the majority of vehicles brought into the shop, averaging 1.5 to two calibrations on each job…sometimes many more. We currently do some calibrations for other collision shops, and we intend to grow that part of our business to ensure vehicles are being calibrated properly."
Calibrations start like any other repair should: "We're very adamant about looking up factory repair procedures and the OEM's position statements, and we rely on them to direct us in situations where we should be looking for a calibration. If the procedures and position statements say we should calibrate, we do," according to Amberson.
Although he acknowledges that it can be "as difficult to get our arms around the process as it is to get our arms around technology," Amberson believes that it's easier when everyone is involved from the very beginning of the process.
"Our front desk staff greets our customers, so they have to understand calibrations well enough to explain it to the vehicle owner. Our blueprinter needs to understand it to create accurate repair plans…and that trend follows through the process to the mechanical department, to the body tech and to our calibrations technicians."
One of the biggest challenges he's seen with calibrations relates to the fact that "invariably, calibrations happen at the end of the job, and in today's world of parts delays, we're often pushed to get it done as quickly as possible at the very end – but what happens if it doesn't work? Calibrations fail on nearly one-fifth of the jobs we do, for any number of reasons, and that means extra diagnostic time is required before we can get a successful calibration.
"Lastly, we test drive the vehicle. It's very conceivable to successfully calibrate a component without realizing that the entire system is not working properly. We don't calibrate the system; we calibrate specific components, so even if we're confident that a component is working correctly, we can't be certain that the entire system is working right until the car is driven by someone who knows how to engage the ADAS systems and whether they're behaving properly."
And when those systems don't behave properly, it can spell tragedy.
"I'm quite confident that the majority of the industry is doing a poor job of understanding calibrations," Amberson lamented. "Many aren't even thinking about calibrations unless they notice a dash light or something else that alerts them to a possible issue. But most cars need to be calibrated, so the many calibrations that are being skipped pose a huge risk. Shops often ignore that risk because the frequency of shops experiencing these problems have been low so far, but we need to remember: the consequences can be extreme…to the point of injury or even death! We need to start taking calibrations seriously as an industry."
What's the real story of calibrations? We don't know…yet. We want to hear straight from the source – YOU! Please visit https://bit.ly/TGPADASpoll to share your thoughts in a brief reader poll. We can't wait to hear from you!
A NOTE FROM AASP-MN EXECUTIVE DIRECTOR LINDEN WICKLUND: I see ADAS as something that is quickly going to become the sort of standard wear-and-tear repair that mechanical shops will need to be able to do or outsource. There is so little we know about how these systems age! How many potholes can you hit before you need your car calibrated? How many shopping carts or bad parking jobs does it take before a sensor is off? The longer these cars are on the road and the more drivers depend on them, the more mechanical shops are going to be entering into this area of work.
Want more? Check out our October 2022 digital issue below.