by Alana Quartuccio Bonillo
Robin Ricca (Ricca's Auto Body) surely knows how to navigate his way through the auto body world. He's been doing so for over 46 years at the helm of his Hackensack-based shop which he owns and operates with his brother/partner, Carl.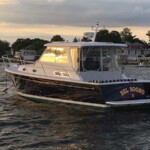 But when he's not on the phone talking to customers and insurers about the status of cars, Robin can most likely be found navigating something quite different – the mighty sea.
Robin is a master sailor with a national title under his belt – he has led a crew of eight plus the skipper to win the 2005 Soverel 33 National Championship title.
He's considered a semi-professional sailor since time does not afford him the ability to do it full time, but he spends as much time on the water as possible.
When he's not behind his desk at the shop, Robin can be found racing, cruising or even fly fishing.  He's taken week-long voyages down the East Coast, helping to deliver yachts and boats for the multitude of people he has met through the sailing world. Other times, he may just spend the weekend on his power boat – the  "Bel Sogno," which means "beautiful dream" in Italian.
Robin was practically born on the sea, he says of his upbringing. His parents introduced him to the water at a young age, long before Carl, who is six years younger, was born.
"We learned how to boat on the Hudson River," reflects Robin of his introduction to the sea. "When I was 10 and Carl was four, we started boating down the shore or on Long Island Sound which has so many yacht clubs where we could go sailing, fishing and power boating.
"The Long Island Sound is really a treasure," he adds of his favorite nautical escape.
Since he was born with a love for sailing, it's not surprising that Robin was destined to get even deeper into the sport years later when a neighbor introduced him to racing in 1982.
"I had raced small sailboats since I was 12, but once I raced with my neighbor, I wound up taking it to a level I had never expected."
Finding time outside the body shop for hobbies and pastimes can be challenging in the body shop world, but the team at Ricca's Auto Body makes it work. Robin is on the water three days a week; two of those days, he can be found racing on Long Island Sound.
For years, the shop wasn't open on Saturdays, but these days, duty calls. Robin and Carl – who has his own set of hobbies, including freshwater fishing at their father's old home in the Catskills, golfing and devoting time to his work with UNICO – rotate Saturdays along with Greg Gere, the shop's office manager. Meanwhile, their production manager, Shameer Baksh, keeps the shop running at 100 percent productivity after 31 years of employment. This gives everyone some time for life outside the body shop.
Robin enjoys talking about his time at sea. When asked what he loves most about it, he'll get a twinkle in his eye when he says: "Peace. Whales. Dolphins. Fishing. Quiet. It's a journey. It's a passage. It's really great out there. It really is."
"As long as you don't get caught in bad weather. And if you do get caught in bad weather, that's your fault," he advised.
He can operate a small boat independently, but for large 60-foot long vessels, Robin assembles a crew. He's done so for the many trips he's taken by boat to Bermuda, British Virgin Islands, Bahamas or down to Florida when he's been commissioned to deliver boats. To date, he has sailed 30,000 miles in the open ocean.
Robin has been a member of AASP/NJ since shortly after the shop opened in 1977. He served on the board from 1979-1991 and has remained an active member ever since.
"We love our Charlie Bryant,' he says of the association's longtime executive director.
It is no surprise that Robin's career as an auto body professional has indeed lent a hand to his voyages at sea.
Robin has restored five boats to date, including the boat which won him his national title back in 2005. He had owned it only seven days before it was destroyed by an accident. It took six months and the help of five others to restore it to brand new condition.
While shop owners often own many cars, Robin has had many boats instead. He's owned seven sailboats and five power boats "so far."
At age 74, Robin shows no signs of slowing down and intends to continue to enjoy life – or in his case, the voyage.
Want more? Check out the September 2022 issue of New Jersey Automotive!