by Alana Quartuccio Bonillo
Collision repairers and automotive professionals from all over the Garden State packed the Gran Centurions in Clark, NJ on October 19 to honor their peers, collaboratively discuss ideas and obtain valuable resources and information during AASP/NJ's Annual Meeting.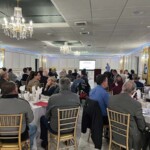 After opening remarks from AASP/NJ President Jerry McNee and Executive Director Charles Bryant, the association re-elected Tom Elder (Compact Kars), Mike Kaufmann (Mike Kaufmann Dealer Group) and Tom Greco (Thomas Greco Publishing) for the 2022-2025 term.Danielle Molina (Perfect Bodies Collision Center; Passaic) was also elected to her first term on AASP/NJ's Board of Directors.
The awards presentation got underway with the Russ Robson Scholarship Award, which was given to Patrick Crome, a Mercer County Vocational School student employed by Compact Kars (Clarksburg).
"Russ was a big supporter of training, and he taught part-time at the Mercer County Vocational School where the winner of our recipient of the Russ Robson Scholarship Award is a student," said Elder of the former president. "Patrick came to us interested in learning about our industry, and he does a great job working in our shop."
Receiving the scholarship award was "pretty special" to Crome. The up-and-coming technician plans to continue his training and is committed to building a career in collision repair. As the industry has been facing a technician shortage nationwide, young people coming into the fold is something that must be encouraged and celebrated as the association did that night.
Next, the New Jersey Automotive / Stan Wilson Body Shop of the Year award was given to Paul Sgro of Lee's Garage (West Long Branch).
"This award was known as the New Jersey Automotive Body Shop of the Year award before Stan passed," AASP/NJ Past President Jeff McDowell (Leslie's Auto Body; Fords) recalled of his late friend. "Stan was a legend. He is still well remembered today. It is my honor to present this award to Paul."
"I can't thank you all enough for this. It means a lot to me," Sgro expressed whole-heartedly. As he recalled looking back on the 55 years he has walked the floors of his shop, Sgro told his fellow audience members there isn't one of them who does not have the "first responder" approach in wanting to help others.
"We all fight the good fight, to win battles, and we all continue to strive every day. We all go through challenges and work hard. We put it all out there for our families and our employees' families to make them happy in a culture that we build. I am very proud to accept this award."
McDowell acknowledged that Sgro's work goes beyond the shop floor. "There is a lot he does behind the scenes for this industry which he does from the love of his own heart."
The celebration continued as Mike Kaufmann (Mike Kaufmann Dealer Group) became the newest inductee into the association's Hall of Fame.
Elder knew when he met Kaufmann 30 years prior working as parts manager at a dealership that he was a "pretty sharp guy." Kaufmann went on to start the Mike Kaufmann Dealer Group and has been a helping hand to body shops for more than 20 years. He also works for Auto Body Distributing, Co. and devotes his time to serving as an allied member of the AASP/NJ Board of Directors.
"I was so humbled," Kaufmann reflected on the induction. "I've been in this industry for 45 years, and I really love what I do, so it's quite rewarding to be acknowledged in this way. It has made the ride worth it."
Kaufmann says one of the best decisions he's ever made was becoming a member of AASP/NJ's Board of Directors.
"I don't own a body shop, but I know a lot of what they go through from being part of the group and serving on the Board. That understanding has been a benefit in my own business as I am able to relay my knowledge when working with dealerships. I respect the knowledge and expertise of everyone on the Board and have made great friends."
The meeting also served as a forum to make sure members were supplied with information concerning benefits such as the association's group healthcare plan. "It's running like a well-oiled machine," explained Joe Amato, Sr. of the Amato Agency (a division of World Insurance) whose team was on hand to go over plan basics with attendees. The program has been bringing substantial cost savings to shops on their healthcare, which is noted to be the "second largest cost at your shop next to payroll."
"AASP/NJ is giving its members some control over their health care costs, helping to give them a better experience," stated Terry Gorman from World Insurance.
Audience members also heard from Ken Racioppi and David Johnson (Alliance Payment Solutions) on options to manage credit card surcharge fees, as well as Paul Hill (I-CAR) who reviewed positive changes to the training program's curriculum.
Following the presentations, McNee and fellow Board member Ken Miller (821 Collision; North Haledon) led the audience in a Town Hall discussion, inviting any audience member to speak out about the things that affect them most in their day to day. The microphone made its way around the room as repairer after repairer shared experiences, issues and solutions, bringing literal meaning to the term "shop talk."
Stay tuned for information on upcoming AASP/NJ events by visiting aaspnj.org.
Want more? Check out the November issue of New Jersey Automotive!