by Alana Quartuccio
Running a successful auto body shop for 47 years and counting is a pretty sure sign the people behind it share a lifelong love of the craft and a dedication to helping others. The team at Main Auto Body (Lodi) most certainly sets a fine example of that type of commitment.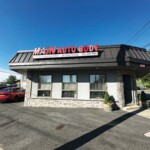 Michael Giamo has been at the helm of the business since he first opened it back in 1976. He has since built a family owned and operated business of professionals, some of whom have been with him for decades.
One could say Giamo fell into the business by accident. 
"When I was about 13 years old, my brother got into a car accident, and our neighbor fixed it," he reminisced. "I remember watching him work on the car in his driveway, and I was just fascinated by it all." 
He took that interest with him when he went to Bergen County Technical School in Hackensack. At first, Giamo wanted to do custom work, but as he put it, "one thing led to another," and he started fixing cars in his garage, which eventually led him to work in a few different body shops once he was done with schooling. 
In the early years working in the business, he thought his career at one shop was over when his boss got fired. "I thought I was fired, too. I was outside packing up my car when the big boss came up to me and asked me if I wanted to still work there. I ran the shop for three years before I moved on."
Main Auto Body originally called Garfield its home. Giamo ran the business at that location from 1976 until 1984 when he was ready to move over to a building on Outwater Lane in neighboring Lodi. The business has been there now for almost 40 years. 
Providing excellent customer service is what has kept the business so successful all these years. Giamo says it may be a bit old fashioned, but they physically call their customers with updates. "I read about how many use email and text messages these days, but we haven't graduated to that. We contact our customers by phone twice a week to update them."
Giving back to the community is also another factor in their success. "We've been on this corner for 40 years now, and we like to be part of the community through participating in and sponsoring town events." 
As Giamo explains, he has been fortunate to have many of his team members on board for the long-term.
 "I was just thinking about our team, and it occurred to me that the average age is roughly about 54. One of my guys just retired after 42 years, and my former manager was with us 43 years until he passed away."
 His family members consist of his cousin Bruce Sanger, his partner who runs the shop, while Giamo heads up the office side. His sister-in-law, Mearl Lorenzo, is the shop's controller. His own son, Kevin, has more recently come on board as an estimator. 
While it's home to a crew of veteran pros, Main Auto Body is also supportive of helping the younger generation come into the fold through its involvement with the work study program at Passaic County Technical Institute. A couple of the students they had come in have since been hired full time.
While the business has evolved over the years, so have the vehicles that come through the door. Giamo cites the biggest change he's witnessed as the electronics, sensors and crash alerts that are part of every vehicle today.
"Back then, you changed a bumper on a car, and it was in and out the door. Now, when you replace a bumper, you have to reset all the sensors. It's a lot more tedious. There is no such thing as a quick in and out the door job anymore." 
While cars have changed, so has the act of driving. "Young kids don't turn around anymore," he observes. "They just rely on their cameras. In the old days, you put your arm around the seat and looked back. They just go and back right into things." 
Although technology has changed the way auto body repairs are done, Giamo was surprised to find advances didn't decrease or eliminate the need for fixing cars. 
"Years and years ago when the third brake light and anti-lock brakes came out, I thought crash rates would wind up being substantially less, but then cell phones came along and drivers became distracted, and accidents are still frequent."
Not only has Giamo been in the business a long time, he's also been a longtime member of AASP/NJ. He has been going to association events and the NORTHEAST® Automotive Services Show for decades. He fondly recalls the early days of the show back when it was at the Sheraton. It's important to be involved with AASP/NJ as it "keeps you current on events and what is happening in the industry." He also is a big fan of New Jersey Automotive which keeps him informed and entertained. (His favorite column? "Out of Body and Mechanical Experiences!") 
Although the word "retirement" is on his mind, Giamo has not made any plans to do so anytime soon. He knows a lot of the guys he used to attend events with have long since hung up their tool belts, but he continues to serve his customers and their community. 
"I like taking care of people," he says of the best part of being in collision repair. "I am a people person. When people have an accident, it's traumatic. They lose their car; they have to rent one. It's an inconvenience. We help them, and they will refer us. We get a huge amount of work from referrals."
Want more? Check out the October 2023 issue of New Jersey Automotive!