by Chasidy Rae Sisk
"Electric vehicles (EVs) are the future…the future is EV." Shops have been receiving this message for the past few years, and while some have invested in upgrades to their facilities, tools, equipment and training, many more have turned a deaf ear to the news. Yet, consumers are forging ahead with the purchase of EVs in many areas of the country, begging the question not only of "who will repair these vehicles?" but – more pressingly – where will drivers be able to charge them?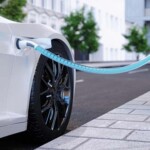 While the total number of EVs in the US increased from 1,019,260 to 1,454,580 from 2021 to 2022 (a growth rate of 42 percent) according to Zutobi's "2023 EV Charging Station Report," the number of public charging outlets have increased by just 12 percent, from 128,549 to 143,771. In its "Get Connected: Electric Vehicle Quarterly Report 2023," the Alliance for Automotive Innovation (AAI) agreed the "installation of US public chargers is not keeping up with current and projected EV sales," noting that as of the first quarter of this year, there was a "total of 133,982 publicly available charging outlets in US for 3.34 million EVs on the road, a ratio of 25 EVs per charger," and while 306,047 EVs were registered that quarter, only 7,802 new chargers were added, a ratio of 39 EVs per public port.
The current shortage of public charging stations creates an opportunity for savvy business owners willing to invest in the infrastructure needed to support EV growth, and such an investment seems particularly well-aligned with the body shop world which could benefit both directly and indirectly from this type of venture. 
Although installation can be costly, shops with the means and space to add one or more charging ports may enjoy increased profitability, both by attracting new customers – who may ultimately elect to have their EVs repaired at the shop – as well as by creating an avenue to generate new income by setting up a charging station similar to gas stations. How profitable are charging stations? It really depends on the level of EV adoption within the specific market, but estimates indicate the potential to earn thousands of dollars monthly from EV charging because it's a service that consumers desperately need!
Adoption rates vary from state to state, largely driven by tax credits made available and state laws being passed. Although New Jersey has the sixth highest adoption rate (1.9 percent of registered vehicles are EVs) and the state saw a 57.2 percent increase in EVs (30,420 to 47,830) in 2021 v. 2022, the state has the second lowest number of charging stations per 100 EVs (5.6), indicating a definitive need for more EV charging stations in the Garden State. Moreover, earlier this year, Governor Murphy announced the filing of a new rule dictating that all new cars sold in 2035 and beyond must run on electric, so EVs truly are the future…but what do shops think about this potential investment?
"I do not have a charging station at the shop, nor do we intend to in the immediate future," shares Dennis Cataldo, Jr. (D&M Auto Body; Old Bridge). "I currently choose not to work on Tesla vehicles as we are not set up with the training or equipment to work on those vehicles. I have not currently had the opportunity to estimate other high-end electric vehicles, such as Rivian or Polestar, but would likely take the same position I do with Tesla."
"At this point, we have not added any EV charging stations due to limited space considerations," explains Ken Miller (821 Collision; North Haledon). "We really don't have the room for people to come and charge their cars since we're a small shop."
Miller acknowledges that the shop would be more likely to install charging stations if there was a large-scale adoption of EVs that occurred very quickly, but he believes New Jersey is still "very far away from that. We know that EVs are something we'll have to embrace when we have to embrace them. But that's not right now."
"We do not have a charging station, and we do not have room to add one," agrees Paul Edgcomb (Champion CARSTAR Collision; Hightstown), though he is very interested in the available statistics and plans to seriously consider adding an EV charging station within the next year since his shop is Tesla-certified.
Jerry McNee (Ultimate Collision; Edison) sees it differently. "We have charging stations throughout the entire facility. When I added our addition in 2016, we planned to add charging stations, but by the time we got to that stage of the development two years later, we couldn't remember what the extra plug was for," he laughingly recalls. "At that point, we had to consult a mechanical engineer about what was truly required and pull in the correct wires which turned out to be a costly little venture. Since then, we've added quick chargers and upgraded at least three units internally, so we can do it in a quarter of the time."
Preparing for EV definitely requires significant investments, according to McNee. "Do you have enough power in your facility where you can plug several cars in along with a welder or two? The government is pushing EVs, so we need to think about how the power grid will endure the increase in these vehicles."
One point that McNee stresses is that shops should not be giving electricity away. "If you want to give it away, that's your business decision, but if you charge a customer's vehicle, is that a cost of doing business? Shops need to get outside their four walls and learn more about generally accepted accounting principles (GAAP) which say that's not a cost of doing business, so you should be charging for it. Giving things away is not a good business model and isn't helping your shop prosper."
McNee originally intended to install charging stations outside as an additional source of revenue, but "with Wawa being constructed next door, there's no reason since they'll probably put up 15 stations. How do you compete with that? A bigger shop may have room for two or three stations, but Wawa can install a bunch more for guys to plug in while they enjoy their morning coffee and read the paper."
Regardless, he thinks it's important for shops to plan for the EV-olution that's coming. "EV is here to stay. It's not going anywhere, whether you like it or hate it, so you might as well get ready for it."
Clearly, investing in EV charging stations offer a lot of opportunities…and still present challenges, but does one outweigh the other? We'd love to hear what you think! Feel free to share your opinion with chasidy@grecopublishing.com.
Want more? Check out the October 2023 issue of New Jersey Automotive!