by Alana Quartuccio Bonillo
Parkway Auto Body has been successfully providing quality service to its customers for 65 years and counting – with zero signs of slowing down.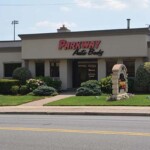 In fact, the decades-old family run business just expanded into a second location.
The facility – which has called Park Avenue in Nutley its home for the past 18 years – now has a second location in Lyndhurst in the same spot where its founder, Robert "Bobby" Villacari, began his legacy in auto body repair.
"My father originally started in Lyndhurst out of a very small two-bay garage," shares Parkway Auto Body owner Glenn Villacari about the business's humble origins. "Later, he moved down the street to Riverside Avenue where the shop remained until he retired and I took over in 1996."
Now, Parkway Auto Body has returned to that Riverside Avenue spot in its hometown birthplace where it was located until Glenn decided to move to Nutley in 2004 to meet the needs of the business at the time. Following the move, the Lyndhurst location was rented to other businesses. But as if it was fate, the building was unoccupied last year when Glenn found he needed more room to deal with the overflow at his Nutley shop.
"We were so busy we needed more space," relays Glenn. The vacant Lyndhurst location presented itself as a logical means to managing Nutley's overflowing bays. Luckily, the Lyndhurst location was equipped with a spray booth and other equipment to handle painting and other needs.
"It's like the perfect storm that it all fell together that way."
Then fate stepped in again. Customers began coming through the Lyndhurst door asking for estimates, and insurers also expressed interest in work at the location. The opportunity presented itself, and "it just made sense" to open it as a second Parkway Auto Body location. They renovated the building and officially opened its doors in early May of this year.
"Without my father, this wouldn't be in the cards," Glenn says of the legacy he's been honored to continue. His father passed away last year at the age of 85. Had he not grown up in the business and followed his father's footsteps, he doesn't know where he'd be working today.
Before his father brought his business to Lyndhurst, he started with a Gulf gas station just off the Garden State Parkway in Irvington. That is where the Parkway name comes from, Glenn explained. His father was introduced to auto body via a bodyman who rented space at his gas station. His interest in collision repair reshaped his career and business. When it came time to open the Lyndhurst shop, Bobby kept the Parkway name, and Parkway Auto Body was born.
Although he spent his summers working at his father's shop from the age of 13, Glenn didn't know what career path he'd take, yet the enjoyment of working on cars never left him.
"I went to Montclair State University for two years, but the demand at the shop grew; I was needed there, so I took a leave from school with the goal of returning. That never happened."
But he has zero regrets. He was meant to work in this business, doing what he enjoys.
"Back in the day, when I physically did repairs, I always enjoyed fixing something that was damaged and seeing the final product. Running the business is also interesting to me, and I enjoy learning about it continuously. There's always something you need to know, something to learn, and to this day, it hasn't stopped."
With over 60 years under their belt, Parkway Auto Body's success can be attributed to three main factors: Performing the right repair, curb appeal and the customer experience.
Customers keep coming back because they know the shop is clean and presentable, they want their car fixed the right way, and they know that Parkway Auto Body is the shop to do those things. Most important of all is the positive experience they get from the time they drop off their car until they pick it up. The team strives to exceed their customers' expectations, always keeping them up to date throughout the process with a personal touch via phone calls, texts and emails. They also make sure to document every customer contact, so nothing is ever missed.
Cleanliness in and out of the shop is another key factor, which Glenn learned from his father and never stopped carrying out.
It also takes continuing education to stay ahead in a complex industry like collision repair, so he frequently attends seminars and hosts educational and motivational seminars for his employees. Back in the 1990s, Glenn got involved with the Automotive Service Association of New Jersey (ASA/NJ) serving as a Board member and later as president. He recalled the days of working closely with all involved with the merger with Garden State Federation to form what is now AASP/NJ.
"That's where it all started for me," he says of his longtime association with AASP/NJ. "I would go to industry seminars and take in as much knowledge as I could. I made lifelong friendships all around New Jersey and outside of it by being part of the association and serving as president.."
He strongly believes working together and taking part in the educational offerings AASP/NJ provides is key to all auto body shops.
"A lot of guys don't get it. They want someone to come in and rescue them. It's about putting in the time, doing the extracurricular things to learn and grow. Everything AASP/NJ has to offer is something that no shop should ignore."
As for the future, Glenn can't be certain if more growth will be on the horizon. He hadn't set out to expand into a second location – the cards fell in place naturally; however, with the face of repair changing every day as more technology advances and EVs come into play, there just may be a need for further growth in the future. For now, Parkway Auto Body will continue to go above and beyond for their customers at both their locations.
Want more? Check out the August 2022 issue of New Jersey Automotive!