by Alana Quartuccio Bonillo
After 39 years running a successful collision repair business, Robbie Berman has hung up his toolbelt.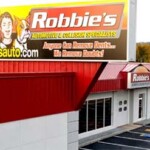 And he's never been happier.
"My whole life was about collision repair, and now I can't even imagine ever going back because life is just so different now," shared Berman while chatting on a mid-Thursday morning before starting his day with a workout at the gym.
As he approaches the eight-month anniversary of selling his Dover-based business – Robbie's Automotive and Collision Specialists – Berman's life has done a complete 180. No longer is his time consumed with a maniacal non-stop schedule, high blood pressure, frustrations from employees and wars with insurance companies. Now, his days involve driving his 10-year-old triplets to school, heading to the gym and making time for the little things in life. And his blood pressure has improved substantially.
Life was very different when he first entered the auto body world.
His career all started with a simple appreciation for taking things apart and putting them back together – and of course – a love for cars!
At just 13 years old, Berman was already taking apart go-karts, bikes and mopeds. By the time he reached age 15, he would visit a mechanical repair shop in Rockaway, and that's where he began taking cars apart.
"I just loved cars! Cars were fun to me, and I wanted to do something that didn't feel like work," Berman reflected. "I love the challenge, especially when someone can't figure out how to fix something. That is when I loved to get involved the most."
A natural problem solver, the young repairer was often referred to as "Mr. Fix-It" while driving around on his moped to lend a hand to whoever needed something fixed. During high school, he'd often be found in his parents' garage, building and fixing cars while spending his spare time at the local Texaco repair shop.
It's not surprising that soon after high school, Berman opened his very own little repair shop, which he ran out of a four-bay local gas station he leased.
But in 1983, bigger and better came his way.
A letter announcing that the Schwalb Tire Company – a company that had been around since the 1950s – was closing would change everything.
Interested in the equipment the outgoing tire shop had on hand, Berman paid the owner a visit to check it out. The owner had sold the business, but when the deal fell through, Berman found himself purchasing the business at the young age of 20. That move would set the course for the next four decades of his life.
With his father joining him as a business partner for the first 17 years until he retired, Berman first started out only as a mechanical repair shop, and nine months later, he moved heavily into auto body.
For Berman, being part of the auto body world wasn't just about fixing cars. He immersed himself into the body shop culture as a member of the auto body association, starting back in the 1980s with the Garden State Automotive Federation, which eventually became AASP/NJ.
"I had a great network of friends in AASP/NJ. I always had Charlie Bryant to run things by. I attended some great seminars over the years that helped me run the business," he recalled.
Robbie's Automotive earned much recognition, including being honored by his peers as the 2019 recipient of AASP/NJ's Stan Wilson/New Jersey Automotive Body Shop of the Year Award, but the achievement he is most proud of was "being able to turn something that was my passion into a very successful business."
A smart businessman and dog lover, Berman also earned himself the title of "the guy with the dogs on the bus."
Many likely remember seeing those ads for Robbie's Automotive, which featured the image of Berman and his pet dogs displayed on the back of local buses. Along with the heartwarming image, it boasted his trademark slogan, "Anyone can remove dents, but we remove doubts."
It was an outside-of-the-box way to get his name out there aside from a billboard, which he felt was an object one never looked at more than once.
"A bus is a moving target. You can't help but see it. So, I realized it was a great way to get the name out there.
"I knew everyone adored animals. People tend to not remember every face they see, but they always will remember dogs. It was a pretty cool thing, and it really proved how much it meant to people. It was extra special since the dogs were my very own."
He was truly proud of his career until recent years when he started to realize more and more just how much insurance companies and their ways began to interfere with being able to perform a proper repair.
"I loved what I did. For a long time, it was good. And then so many things started to come to the surface. I was always in a tough spot between the insurance company and my customer. They used us to do their dirty work!" he stressed.
For example, during Mercedes certification, he'd learn the proper methods for repairing their vehicles for the sake of safety and longevity…only to have an insurer kick the request for related repairs in the face with the all-too-often utterance of "We won't pay for that."
He felt he had no choice but to work faster and harder.
"I was running like a squirrel in a cage, chasing my own tail to get the car out the door in order to make a profit. You are in a constant race with yourself. That's a terrible way to live."
At that point, Berman believed insurers were fueled only by cost consciousness and NOT quality, and especially not safety, so he knew that his time in the industry he loved would soon have to come to an end; because of his personality, he couldn't perform the subpar work wanted by almost all insurers today.
"I never really had an exit strategy," he confessed. "I still grew my business every single day as if I was going to be doing this for the rest of my life, but with insurers continuing to combat me about fixing vehicles the right way, the cost of labor going through the roof and employees trying to run the show to the point that I felt like a puppet at times, I just knew I wasn't going to be able to survive mentally or physically."
Add in the COVID pandemic and not even one application from a potential employee in a year, and it was time. By summer 2021, he had three interested buyers, and he came to what he feels is the right decision.
Although he is enjoying the slower pace of retired life, he stays busy. Berman still owns the property that his former body shop is located on. He is devoting his time to real estate, construction and consulting.
"I have projects going on everywhere. I love to keep busy, and I've purchased more property since I sold the business. I've always loved to fix problems. So, I'm still doing that and still challenging myself every day. All the things I thought were fun about what I did, I am still doing. Every day, I do something fun."
Life may be slower, but Berman says he is "busier than ever" traveling and spending time with his family. He even recently became engaged!
The thing he's come to appreciate the most is time.
"No matter how much money you have, you can't buy time. Some people can try to buy happiness. It may be temporary happiness, but that's not for me. What makes me happy is having time and living longer. The stress factor was turning up every week.
"It's such a stressful industry," he elaborated. "I don't think there are many industries that deal with what we do everyday! We are like the medical field now – no one wants to pay for anything. I experienced stress literally every day for the last 10 years, taking the fun away. The main reason I wanted to sell was to remove that from my life. My blood pressure and my cholesterol are down to perfect levels. Everything feels different now that life is slower and I just have the time to enjoy life and breathe."
As the summer gets underway, Berman is happy about not having to work for the first time in 39 years. Instead, he has plans to visit Europe with hopes of touring Greece and Croatia.
"I get to spend more time with my family now and enjoy everything about life." 
Want more? Check out the July 2022 issue of New Jersey Automotive!