by Jerry McNee, AASP/NJ President
Up until the last year, I've always been able to negotiate with the insurance adjusters who came into my shop. But something has drastically changed. And it's not just their unwillingness to negotiate either! When insurers insisted on short paying a claim, the difference was only a couple hundred dollars between my final repair bill and the check they'd cut. Now, though, I'm seeing vast differences…We're talking $5,000 checks for $10,000 repair bills! Recently, I've had a number of claims with a short pay of $9,000 or more each.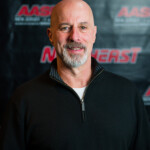 It can be daunting when this happens, and I know I can't be the only one – plenty of you are probably facing the same types of situations with insurers. Maybe our repair plans look a little different, but if you're being thorough and documenting the procedures you're following, you don't deserve to get shortchanged on claims that come in your door. For some of us, that means charging the customer a copay, which is one option.
But the customer is being harmed when they're under-indemnified for a claim. They shouldn't find themselves in a worse financial position after an accident when their insurance contract is supposed to make them whole again. Meanwhile, that money that rightfully belongs to the consumer is turned into the insurer profits center as they unjustly enrich themselves.
There's another option: Educating your customer about their right to invoke the Appraisal Clause takes the shop out of the equation and can help protect that customer. Two appraisers decide on the cost of the repair, and if they can't agree, an umpire comes in to settle the difference. There are only a few options for your customer.
We aren't asking for anything we don't deserve, but as professionals, we are expected to repair their vehicle safely and properly. Labor operations we're requesting don't belong to the insurer; they belong to the customer whose policy promises to restore their vehicle to its pre-accident condition. The insurer isn't your friend or the consumer's friend, and they don't care who you are or what you do. They have one objective: to indemnify the claim. They don't care that we have to invest into our shops to repair these vehicles safely. Do they even care if the vehicles are repaired safely? It doesn't always seem to be the case.
As shop owners and technicians, we care…we have to because these are our customers, and the liability for an unsafe repair falls on our shoulders. Try asking the insurer to back you because you didn't correctly repair your customer vehicle properly "because they won't or didn't pay for a procedure" and watch how fast they start pointing! So, it's in our best interest to help educate our customers about their Right to Appraisal, to support them on the backend and help them through these shenanigans.
Insurers need to be held accountable. Make sure everything is provided in writing. Verbal communication means absolutely nothing when it comes to accountability. I have never seen these types of actions from insurers in my career…insurance companies have turned the claims process into a profit center that doesn't represent our mutual customers' best interests. It's time to educate our customers.
Rather than spending months negotiating through multiple supplements and trying to convince insurers to add parts and procedures (which were provided on the original repair plan) to the final bill, educate your customer about exercising their rights within their policy to invoke the Appraisal Clause; this offers a whole new dimension of doing business. It's a way for them to exercise the rights within their policies, which allows us to repair their vehicle properly without getting stuck in a battle that isn't ours to fight. And I know that a lot of you just want to fix the cars, but think about it: If you could remove yourself from the friction of the short pay situation with the Right to Appraisal, wouldn't this change the game?
Want more? Check out the June 2023 issue of New Jersey Automotive!