by Chasidy Rae Sisk
Under-indemnification: Any collision repair professional can affirm that this issue runs rampant among insurers who pressure shops to accept lower rates or even reduce the quality of repairs. But shop owners have grown increasingly fed up with carriers' attempts to bully them into submission – and the most savvy often turn to National AutoBody Research's (NABR) Labor Rate Hero for data and support to get paid what they deserve.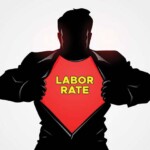 Greg Melartin (Matt's Body Shop and Tire Service; Spring Valley, MN) found this to be a very effective route earlier this year when Progressive Insurance underpaid a claim by $416.57, rejecting the $76 labor rate invoiced by the shop and claiming their reimbursement of $65 per hour was based on "prevailing rate." Rather than accepting the lower labor rate, the shop owner pursued the matter in small claims court where Senior Judge Jeffrey D. Thompson questioned "what is the 'prevailing rate?' and how is the prevailing rate to be determined."
In response, Melartin provided Judge Thompson with data from Labor Rate Hero (laborratehero.com), demonstrating that the "prevailing rate" claimed by Progressive was "not reasonable or anywhere near what the rates in this market actually are. I didn't argue for my rates; I simply argued that their rates were bogus. These big companies could double their total claims payout per year, and their CEOs would still be able to eat filet mignon for every meal. It's not going to hurt anyone if they held up their end of the bargain and assumed all costs for the satisfactory repair of covered vehicles. Ultimately, the court ruled that Progressive's rates were unreasonably low and entered Judgment in my favor."
"This court accepts Labor Rate Hero as the proper rate authority for this case, which shows that this type of labor in the area goes from a low of $65/hour to a high of $76/hour with an average of $73/hour. Accordingly, Progressive is at the low end, and Matt's is above the high end. The court accepts the average of $73/hour as reasonable reimbursement," Judge Thompson wrote, determining that Matt's Body Shop was entitled to $238 plus $80 in court costs.
According to Melartin, he has noticed a change in the insurer's behavior since his victory. "In the past few months, they've only underpaid one claim by 16 cents…on a $17,000 repair! Considering they were underpaying $6,000 claims by $1,000, I'd say their behavior has changed. When they underpaid a few claims before that, I charged the customers the difference, and Progressive took notice because I've made it very clear with them and all insurers that my estimates are based on the OEMs' best practices; that's how we do things in this shop. I scrub my final bill to ensure it's accurate, and if they don't pay my invoice, I will co-bill the customer. This is a business, not a charity, and I'm not going to cut repair quality to meet a bill-payer's wishes to lower the bill. I'm going to deliver the quality the customer wants, and their carrier should pay the whole bill. In many cases, insurers do reimburse customers that pay out of pocket above their deductible when the customer stands up for themselves."
Melartin changed his business practices last year after finding that he was losing money trying to appease insurers while maintaining repair quality he could take pride in. "Rather than reduce quality, I decided to charge the difference. Customers understand these things if you explain the process to them, and they believe we should get paid for materials and our hard work. Instead of arguing with the insurer, break down your labor rates, justify the value in your business, provide supporting documentation and submit a reasonable estimate. Repair the car, and leave it up to the customer. Many of them will gladly pay the difference, and in some states, shops can opt to have them sign an assignment of proceeds. Sometimes, the insurance company just issues the customer a refund."
Consumers purchase insurance based on the assumption that their car will be taken care of after an accident. "The insurer makes them believe that but then tries to convince them that the body shop is in the wrong for charging a fair amount for the work performed. Shops are often reluctant to charge a fair amount because they don't want the customer to get angry and take their business elsewhere, but if we educate them and stand behind our bills, they won't. Our job is to deliver the quality our customers deserve, not to cut corners to save money for the insurance company.
"We've been the victim of the insurance industry's bullying for too long, and it's time that we stop letting them bully us into conducting cheap repairs," Melartin added. "When shops stand up for themselves, they tend to get what's coming to them. Isn't it about time that we stand up to those insurance bullies and start collecting what we're worth?"
Want more? Check out the June 2023 issue of New Jersey Automotive!