Passion Breeds Passion: New Teacher Breathes Life into Auto Body Program
by Chasidy Rae Sisk
A shop-owner-turned-instructor revitalizes Salem County vocational auto collision program.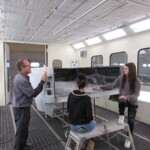 Collision repair offers a wonderful career path, but fewer and fewer young men and women enter the trade each year. With students' fading interest in collision careers resulting in decreased enrollment, many high school auto body programs have fallen into oblivion, limiting the industry's ability to inject new blood into shops.
During the 2020-2021 school year, the auto collision repair technology program at Salem County Vocational Technical School (SCVTS) in Pilesgrove desperately needed resuscitation – only 12 students were enrolled in the class, barely keeping it alive. Eager to revitalize the languishing program, SCVTS Principal Jason Helder and Jack Swain, superintendent of Salem County Vocational-Technical School District, started their search for a new instructor.
"As the collision field grows, technicians are very much in demand, but for our program to be successful, we were looking for two things in a new teacher," Helder explains. "Our ideal candidate would have significant experience in the field, and they would also have local connections."
Accustomed to rescuing those in crisis, Salem County Sheriff Charles Miller swooped in with a solution: Mike Nickerson, a passionate vo-tech graduate who owned and operated Cousins Garage (Salem) for the past 23 years.
"Through his involvement with youth groups and Boy Scout troops, Mike had shown his ability to build rapport with young people, plus his vast experience in the shop ensured his understanding of the latest industry standards," Swain says. "We were fortunate to find Mike, and since he came onboard, the auto collision program has really gained momentum."
"It was important to find an instructor with a great reputation in this market to help expand our co-op program and assist with lining students up with jobs after graduation," Helder adds. "We've had some luck with our co-op program, but it's become more successful because local shop owners know Mike and know the students he's sending them have his stamp of approval."
When he started at the school in April 2021, Nickerson began by taking the program's pulse, immediately rolling up his sleeves to revamp the curriculum.
"One of our seniors had never sprayed anything other than water, and most of them indicated they'd spent most of their time watching YouTube videos instead of practicing any of the skills they'll need in the field," Nickerson recalls. "I dug out some old door skins and fenders and taught them to fill and prime dents. Those kids walked out of the class smiling from ear to ear, and several of them carried fenders home to show their parents!"
Nickerson reinstated ASE training and upgraded some of the program's tools and equipment. "We implemented a brand new PPG waterborne system, and I fixed the paint booth. We also installed a dryer system on the air compressor, all new reel-out air lines, a plastic welder and a frame machine."
Thanks to guidance from a member of the school's professional advisory board, he also applied for a grant through the Collision Repair Education Foundation (CREF), receiving a $2,500 check as well as tool and supply donations from 3M. Nickerson's future plans include setting up a workstation to teach estimating with donated software from CCC.
Although Nickerson taught the auto body program for less than two months of the year, word spread quickly with students posting stories to their social media accounts about everything they were learning. This school year, the auto body program increased by over 300 percent, boasting 40 enrolled students. The diagnosis for next year looks even healthier.
"We are proud to say that we will have a full enrollment for the 2022-2023 school year," Swain shares, acknowledging that it's "been a bit" since the auto body program attracted a full roster.
"Student engagement has increased, and we're really impressed with the job Mike has done so far," Helder agrees. "Students are learning every aspect of auto body work, including welding and painting, so they're developing skills they can use to market themselves for future jobs. As the field expands with new technology, it's imperative that we expose students to all the different career options in collision."
Career preparation is an important component that Nickerson teaches. "Mike runs his class like a shop," Swain reports. "He holds a pre-meeting at the beginning of class to discuss safety and assign projects. He demonstrates the techniques students will perform. He even uses a timesheet to teach them to clock in and out. He structures his lessons exactly how you'd hope to see it structured."
Of course, at the end of the day, administrators' opinions mean little unless they're corroborated by the students taking the class.
"Mr. Nickerson is great!" according to one junior collision student. "He's funny and teaches us new skills. Having a good teacher is everything!"
This year, the class has worked on several community projects, including the restoration of a township fire truck. A key to Nickerson's success with students can be found in his willingness to allow them to work on projects that mean something to them, such as one student who has spent this year restoring her grandfather's pickup truck. Other students apply their newfound auto body skills in unique ways.
"He's pretty cool," another junior confirmed. "Before Mr. Nickerson became our teacher, I'd only scraped paint off a hood with razor blades; we didn't get to work with Bondo or paint. That all changed when he started – we actually learned something! He taught us about bonding and painting in a relatable way, and I've been able to repair my skateboard with the skills I learned in this class.
"I really enjoy the hands-on part of class, especially refinishing cars, but this program is so much better with a teacher who shows you what to do and encourages you. Mr. Nickerson is easy to talk to; he really holds it down."
Any good teacher can tell you that supporting students takes on multiple forms outside of the standard conveyance of information through lessons. One senior spent the first three years of high school asking to transfer to the welding class.
"Others laughed in my face, but Mr. Nickerson taught me to use the mig welder and then helped me transfer to the welding class part-time. The entire experience has been completely different since he started."
In addition to developing a relationship with the school's welding instructor, Nickerson also works closely with SCVTS automotive technology instructor Al Roeske.
"Our school needed this," Roeske says. "This wing of the building really came alive when Mike moved in. The kids are always hustling, never standing around idly. I'm really proud of the direction SCVTS is taking."
Although SCVTS already had a fairly strong advisory board, Nickerson's goal is to strengthen industry involvement, and he's invited several industry professionals to speak to his students.
"My students love talking to industry professionals, and they get really excited every time we bring in any new tools or equipment," Nickerson states. "These kids are fantastic. They're respectful and grateful to learn. Our auto body program is definitely on the mend, and my plan is to continue healing and nurturing it."
Supporting local vo-tech auto body programs plays a significant role in ensuring the industry has a future, plus it grants shops access to future techs earlier and builds rapport with instructors to ensure students learn the skills needed to successfully enter the industry. Getting involved is easy – join an advisory committee, offer shop tours, hire an apprentice or offer to be a classroom guest speaker.
"Contact your county vocational school, speak with the instructor, and become part of the program," Helder encourages.
Want more? Check out the May 2022 issue of New Jersey Automotive!