by Charles Bryant, AASP/NJ Executive Director
With all that is going on in the automotive industry – from the changes in the modern vehicles on the roads today to the changes that can be attributed to the COVID-19 pandemic – collision and mechanical shops were smart to make it a priority to be at NORTHEAST® last month.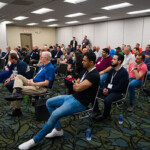 Insurers are refusing to acknowledge the fact that collision shops can no longer perform repairs to the modern automobiles (which are basically rolling computers) for less money per hour than bicycle shops get paid to repair bicycles. These complicated automobiles are now equipped with Advanced Driver Assistance Systems (ADAS), such as sophisticated lane departure warning (which keeps vehicles in their lanes), adaptive cruise control (which maintains a safe distance from the car in front of it), automatic emergency braking (AEB)(which helps the driver brake the vehicle in an emergency situation) and much, much more… and those features are wonderful – until they fail or are damaged in a collision.
Even the well-trained mechanics or repair technicians who have been fixing vehicles for the greater part of their adult lives have to go back to school and start all over because today's vehicles are nothing like the ones so many technicians are familiar with. The question is: Where does a technician, mechanic, painter or shop owner go to learn about the changes that have taken place or to see the new equipment, tools and training required to repair these modern vehicles?
Well, every year, I hear that equipment providers, trainers and other people that provide services or anything related to new modern vehicles hold back the introduction of new equipment, tools and training, so they can introduce them at NORTHEAST. I myself can't wait to get to the show every year to see all the new things that are now available to the members of the industry.
This year was no different! I am always amazed when I walk the floor because, although I have been involved in the collision industry for well over 40 years, I still see things that I have never seen before. I saw the most amazing equipment and tools now available to create easier ways to perform processes and safely repair vehicles, addressing things that were much more difficult to deal with years ago. Although I have been involved in the collision industry for so many years, it never ceases to amaze me when I walk the floor at the show.
What's even more interesting is that there is something for everyone who has an interest in the automotive industry…whether it be modern tools, equipment or training, you can find it at NORTHEAST. Plus, people from all over the country – and even some from other countries – made it a point to attend the show.
Another great part of the annual event is the Leadership Meeting which we were able to have for the first time in two years. This event brings industry leaders from all over the country together to discuss trends and new laws, rules or regulations that have been created or deleted in their particular state. This was another great success as industry members got to trade ideas that will hopefully lead to resolving issues or problems.
It was great to see so many new and old faces at the AASP/NJ booth. I am already counting the days until NORTHEAST 2023, set for March 17-19.
Want more? Check out the April issue of New Jersey Automotive!