by Chasidy Rae Sisk
AASP/NJ's NORTHEAST® Automotive Services Show is back March 18-20 at the Meadowlands Exposition Center (MEC) in Secaucus!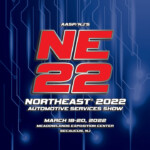 Looking for the latest tools and equipment, out-of-this-world training and a chance to network with other collision industry professionals? Well, you're in luck! AASP/NJ's NORTHEAST® Automotive Services Show is back March 18-20 at the Meadowlands Exposition Center (MEC) in Secaucus.
The largest regional automotive show of its kind, the 45th iteration of AASP/NJ's flagship event promises more education, updated equipment and innovative products than ever before.
"We're looking forward to NORTHEAST 2022," states AASP/NJ Executive Director Charles Bryant. "I'm also eager to attend the show since it's the best place to explore all the new equipment and services that are offered to our industry."
"NORTHEAST is the best show in the country, and it's in your own backyard!" AASP/NJ President Jerry McNee adds. "We're excited to welcome the return of spring at the Meadowlands, back where we belong, and we're excited to bring the industry's latest equipment, tools and educators to local repairers. We can't wait to see everyone!"
Many companies look forward to returning to the MEC each year to highlight their newest products and more.
As always, returning NORTHEAST Platinum Sponsor BASF offers plenty to see and experience at this year's booth, which will feature hands-on demonstrations of the Refinity digital platform as well as an opportunity to explore BASF's Glasurit 100 Line and their new baslac® paint system.
As part of its ongoing efforts to support the industry's future, BASF announced at SEMA 2021 that it will be collaborating with the Collision Repair Education Foundation (CREF) and KTL Restorations on Operative Talent, a fundraising initiative designed to highlight collision repair as a viable career path through the rebuild of a 1969 Camaro.
"Education is important to this industry and to BASF," says Tina Nelles, marketing service manager of BASF Automotive Refinish Coatings North America. "We'll be debuting the Camaro chassis and body at NORTHEAST 2022, and attendees will have the chance to sign up for our first release of tickets in advance of auctioning the rebuild at SEMA 2023.
"NORTHEAST provides a great chance to connect with our customers and the industry," Nelles continues. "We're excited to highlight some of our products, but we're showcasing even more for attendees to look forward to! Jonathan Goolsby is bringing his 1932 Ford '5th Avenue Special,' and we're also bringing Mike Ring from Ringbrothers. Is he the better half? You'll have to come to NORTHEAST to find out!"
Those won't be the only celebrities on the trade show floor. Longtime exhibitor Lift King "will have a well-known celebrity from the industry at our booth for two full days to encourage buyers to come have fun and make memories at NORTHEAST," according to Paul W. Kerr, COO of Lift King Products LLC. "We're also unveiling four new items that have never been seen before. We've very excited to attend and support the show."
"The NORTHEAST show has always been one of our favorite annual shows. The buyers who attend this show are typically more serious than the buyers at the other shows we attend," contributes Lift King Products CEO LJ Tetreau. "We feel that with the dates going back to normal and fewer restrictions, more people will attend, and the show will be much better. We again look forward to seeing old friends and meeting new friends and customers."
NORTHEAST 2022 promises plenty to see and do, but attendees also enjoy the chance to win great prizes. AASP/NJ will award a total of $5,000 NORTHEAST dollars – $500 each to 10 lucky attendees – to be applied toward any purchase at the show.
As a Prize Sponsor, Spanesi Americas will be gifting one lucky attendee with a Q5.2 three-torch MIG/MAG welder, valued at $8,000.
"We're excited to give away such a great piece of equipment, and we're hoping it makes a big splash with attendees," shares Timothy W. Morgan, COO of Spanesi Americas, who will also be presenting two classes as part of the NORTHEAST 2022 educational slate. "In anticipation of a great turnout, we're bringing a very well-rounded product offering that includes our award-winning Touch electronic measuring system, 106 Series structural straightening bench, Multibench workstation repair machine, Spanesi's PULL UP! Repair system and our complete welder lineup. We're looking forward to the show."
Following their 2021 debut as a NORTHEAST exhibitor, Advance Professional returns to the MEC this year.
"Advance Professional is excited to return for our second year," professes Scott Krinsky, vice president of strategic accounts for Advance Professional. "We are glad to be a part of this year's AASP/NJ NORTHEAST 2022, a three-day event centered around exhibition, training and information. We're excited to network with our current business partners and meet new ones too!
"We're looking forward to displaying and demonstrating our latest PBE, parts and T&E products, along with other shop-focused technology solutions to help contribute to our customers' success! Stop by our booth for a live demo of the Autel MaxiSys IA900WA frame which performs both wheel alignment and ADAS calibration to help improve shop efficiency and profitability. Our PBE team and Advance Professional commercial account managers look forward to introducing themselves!"
Longtime exhibitor Kurt Lammon of Polyvance invites NORTHEAST attendees to check out their booth: "We'll be doing nitrogen plastic welding demos all weekend long for anybody who would like to see it or try it for themselves. Last year's event was really enjoyable, and although attendance was lower than normal for a number of reasons, the enthusiasm was up! We can't wait to see all our customers again."
"AkzoNobel is excited to engage with our customers face-to-face at NORTHEAST 2022," agrees AkzoNobel Marketing Communications Manager Jen Poliski. "Being able to see our customers again will certainly bring a level of 'normal' back to our relationships and interactions with our industry partners."
AkzoNobel's eye-catching new booth design will showcase the company's body shop product software, Carbeat®, through live demonstrations and testimonials about how it improves shop efficiency.
"We're also displaying a 1972 Corvette Coupe, painted with our Modern Classikk refinish paint colors: Black Hole Black and Killer Tomato," Poliski notes. "Our account reps will be on hand during the show to answer visitors' questions about AkzoNobel's vehicle refinish brands and services as well as our business services."
As always, this year's event features a world-class educational slate designed to help industry professionals strengthen their businesses.
"Everyone who owns or works in a shop should educate themselves about their business and this industry," McNee encourages. "None of us can know everything, but NORTHEAST offers some of the best training the industry has to offer. You're guaranteed to learn something that you can implement immediately to improve your business."
"No matter what you are looking for – equipment, training, tools and presentations on the latest technology – you will find it at the 2022 NORTHEAST Automotive Services Show," Bryant notes. "Plus, it's a great way to start getting back to normal and say hello to so many that we have not been able to for so long. In short, this is an event that you don't want to miss. See you all there!"
What are you waiting for? Register to attend NORTHEAST 2022 at aaspnjnortheast.com.
Want more? Check out the March issue of New Jersey Automotive!