by Chasidy Rae Sisk & Alana Quartuccio Bonillo
From electric vehicles (EVs) to ADAS and calibrations…from repair planning and negotiations to implementing the Appraisal Clause…collision repair has grown more complicated than ever – and even more changes lie on the horizon, requiring shops that want to thrive in the future to constantly upgrade their training, tools and equipment to keep up with this fast-paced industry.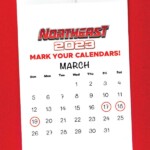 Auto body professionals always look forward to the largest regional automotive show on this side of the country, but anticipation for the NORTHEAST® 2023 Automotive Services Show – scheduled for March 17-19 at the Meadowlands Exposition Center (MEC) in Secaucus, NJ – has reached new heights with the unveiling of this year's educational slate, sponsored by AirPro Diagnostics, designed to help repair professionals continue to elevate their knowledge and skills.
AASP/NJ's flagship event typically draws over 6,000 industry professionals every March as shop owners, technicians, painters, estimators, suppliers and others flock to the 65,000 square foot show floor to check out the latest tools, products, equipment and services from over 150 exhibitors. Attendance at the 46th iteration of NORTHEAST is expected to exceed the past two years with record-breaking numbers as repairers seek to learn more about their evolving businesses from the industry's most sought-after speakers.
"We're bringing the industry's top leaders right here to your own backyard, so there are no excuses for staying stuck in the past," says AASP/NJ President Jerry McNee. "Experts like Mike Anderson, Aaron Schulenburg, David Luehr, Tim Morgan, Danny Gredinberg, Chuck Olsen and Tim Ronak will be here to educate shops on everything they need to know to improve their businesses and stay relevant. Whether you're a new auto body professional or you've been doing this for decades, you're guaranteed to learn something new to implement and help your shop evolve into the future."
AirPro Diagnostics' Chuck Olsen will kick off the NORTHEAST educational slate with an eye-opening Friday afternoon presentation, followed by "Overcoming Insurer Objections to Payment for Repair Procedures," presented by Tim Ronak (AkzoNobel).
"Technology is progressing at such a pace that the vernacular used to describe repairs is creating friction with bill payers through a lack of understanding," Ronak explains. "The concept of what is described as a 'cost of doing business' is confusing whether something is a direct cost of repair or a fixed cost of a business. Understand GAAP terminology as a way of being able to justify why specific charges are not only needed to return a vehicle to pre-loss as well as justifying the reimbursement of those charges."
Attendees will walk away with knowledge for overcoming insurer pushback on the operations and procedures required to restore today's complex vehicles due to increased technology, such as ADAS. Attendees will learn to combat objections and get paid to properly restore the vehicle to its pre-accident condition by confirming that the consumer's vehicle functions the same in the next collision event as it did in the one that created the loss.
The recently revealed Society of Collision Repair Specialists' (SCRS) blend study results have repairers all across the nation applauding proof that blending is more time-consuming, but what's next? SCRS Executive Director Aaron Schulenburg will be on hand to moderate a deeper dive into the study's influence in 2023 and beyond, which will include discussion by Ronak, John Shoemaker (BASF) and others.
AkzoNobel and BASF were two of the five paint companies that participated in the study, so both representatives have "a strong understanding of paint processes, how paint should be applied and what happens when paint is not applied properly," according to Shoemaker, and Ronak hopes that the discussion will provide "a better understanding of the study and how that study can be interpreted by repairers at large."
"This was an exercise to illustrate whether there were any time savings when performing a blend operation versus a full refinish as has been 'asserted' for three decades by information providers in the industry," he notes. "This exercise challenged that 'assertion' and now it requires industry to insist on change. The discussion at NORTHEAST will communicate the results to a larger audience and start to educate the industry regarding the actual efforts required to complete color transitioning 'blend' operations, and we also hope to enlist support within the industry to utilize this new information in forming their assessment of repairs when considering the transition of colors into adjacent panels to create an invisible repair."
"I believe that further discussing this study will help attendees understand that blending is an antiquated process and cannot be effectively accomplished with some of today's colors," Shoemaker adds. "My expectation is that they will leave with an understanding that blending is no longer a viable refinish process, that blending within a panel is no longer justifiable and that full refinish is required on any panel that requires paint application."
Industry icon Mike Anderson (Collision Advice) returns to NORTHEAST with two engaging and interactive seminars. On Friday night, he will team up with Danny Gredinberg (Database Enhancement Gateway) for "Bulletproof Negotiation Tactics," a newly-built exclusive session exploring the fundamentals of creating the perfect platform to win any attempt to negotiate or rebuke repair plan necessities. In today's industry environment, being average just doesn't cut it, and on Saturday afternoon, Anderson demonstrates how one must "Be Extraordinary" in delivering customer service, building shop culture and in all other ways in order to produce extraordinary results.
Saturday's agenda includes the opportunity to learn from Tim Morgan and Jeramy Holloway of Spanesi Americas as they offer insights on enhancing the pre-repair process with proven methods to capture additional time and operations while improving cycle times and repair quality during "Proper Pre-Repair Planning."
During "When an ADAS Calibration Fails," I-CAR's Dirk Fuchs and Bud Center will take a deep dive into ADAS technology and teach attendees about some common reasons ADAS calibrations fail and how to respond with the proper diagnostic strategy. This presentation will also cover common ADAS and the sensors used in these systems.
Industry favorite David Luehr (Elite Body Shop Solutions) makes his NORTHEAST debut with "Supercharge Your Business and Attract the Best Employees." It seems everyone these days is complaining about their business' inability to attract and retain good employees…but according to Luehr, not everyone is facing that same dilemma!
"In my opinion, no other challenge in the collision industry even comes close to the challenge of finding and retaining good employees," Luehr says. "This is a worldwide crisis that is keeping businesses stuck from growing or even sustaining current business levels. 'Supercharge Your Business and Attract the Best Employees' will show the audience proven reasons why they can't attract great employees and what they can do differently to become a talent magnet in their market areas."
In addition to sharing five key elements attendees can use to build a high-performance culture and attract talent in their marketplace, Luehr promises "inspiring and practical training with an 'actionable plan.' During this course, attendees will be provided a worksheet where they will be performing a self-assessment on the current attractiveness of their business and a written plan for how to improve!"
Panel discussions are a popular staple at NORTHEAST, and this year's installment will once again be tackling repairers' most pressing issues with engaging dialogue between industry representatives and attendees. The thought-provoking "Slaying the Dragon" panel will feature shop owners and valuations experts, such as Ron Reichen (Precision Body & Paint Inc.) and Robert McDorman (Auto Claim Specialists), moderated by AASP/NJ Board member Ken Miller (821 Collision; North Haledon), as they offer suggestions on the various avenues that shops can take to get properly reimbursed.
"This panel will help shops better understand how to get paid for what they do," explains McDorman. "We want to offer knowledge and tips that they can implement, using real-life examples."
The "Shop of the Future" discussion provides insights from some of the industry's leading professionals (including Reichen, Shoemaker, Anderson, Luehr, McNee, Fuchs, McDorman, Michael Bonsanto from Passaic County Technical Institute Vo-Tech and Frank Terlep of OPUS IVS), who will share insights on what tomorrow's shop will look like.
Terlep, chairman of the Collision Industry Conference (CIC), boasts nearly 40 years in the collision industry and is guaranteed to offer some unique observations as he has "seen, experienced and helped design and develop several 'future' processes, technologies and business models."
Similarly, Shoemaker's "experience with designing collision centers, understanding of the CIC Collision Repair Provider Definitions, the repair processes required on today's vehicles and the skill sets necessary to perform those repairs gives me the background to speak candidly on this subject."
"The status quo will not work," he stresses. "Those who are not changing their perspective on collision repair are fighting a losing battle. Shops that have not upgraded equipment in the last five years, that are not maintaining I-CAR Gold Class and that do not have at least one OEM certification are behind the power curve of success."
"This panel is stacked with an amazing amount of knowledge and insight on what collision repairers can expect as we move into the future, and where I believe I can add the most expertise to this panel is by sharing my thoughts and ideas about how a collision repair business will need to change its staffing and team structure to stay in line with the advancing vehicle technology and the younger generations' desire to work in team-like settings," Luehr suggests.
"Many experts use ineffective fear tactics to motivate our industry players into action, but it is my hope that this panel can offer incredible insight into the future of our industry positively by sharing the incredible opportunities contained within the challenges ahead. There is a lot to be excited about!" he continues, emphasizing, "This panel should not be missed! The individuals invited to share their wisdom, expertise and advice represent many different perspectives and a wide array of expert backgrounds. If people attend this panel with an open mind and with the intention to take action on what they learn, I believe this will be game-changing information."
Fuchs and Center return on Sunday morning with "EV Intake Process and High Voltage Battery Handling," as they prepare auto body professionals to work on EVs by providing an overview on the most important things to understand about this new technology. In addition to learning tips on the EV intake process to keep repairers safe and avoid thermal runaways, attendees will learn how to properly handle and store high voltage batteries.
The NORTHEAST 2023 educational slate concludes with "Own Your Calibrations," as Josh McFarlin (AirPro Diagnostics) lends insights into how shops can increase profit and maintain better control of cycle time by keeping ADAS calibrations in-house.
"Calibrations are a critical element of performing a safe repair of the vehicle," McFarlin points out, indicating that attendees will walk away from the course with "information on what calibrations are (and what they are not) and an increased comfort level that there are lots of solutions out there that will allow you to do some or all of the needed calibrations in house."
On Sunday afternoon, all attendees are invited to attend a FREE bonus session, "Inside the Appraisal Clause," featuring McDorman and McNee as they discuss consumers' ability to implement the Right to Appraisal and how shops can help their customers through this process.
McDorman plans to provide attendees with "a keen understanding of how to get paid for what you do. In addition to proving the need for required procedures and operations, the appraisal defines loss, and acceptance of loss is how the shop gets paid. Once the carrier accepts liability and the loss statement, the next piece of the puzzle is getting paid. The Appraisal Clause serves as the guardrails for indemnification."
Attendees can purchase single classes for $25 each or get a huge discount on a full Access NORTHEAST Educational Pass (12 sessions) for $199 (over $100 in savings!).
Evidence of NORTHEAST's success recently came when it was named to the prestigious Top 100 Trade Shows in the US list by Trade Show Executive magazine, being recognized alongside SEMA and AAPEX as one of the top trade shows across all industries that set a gold standard in 2021 by managing to prevail among challenges set forth by the pandemic. The 2023 educational slate ensures that NORTHEAST will continue to be lauded as THE premiere automotive trade show on the east coast, but attendees won't want to miss pursuing the trade show floor for the industry's latest and greatest tools and equipment…and you never know who you might see or what you might win!
Stay tuned to New Jersey Automotive for additional updates on NORTHEAST 2023, including celebrity appearances and fabulous prizes. Registration for the tradeshow and the educational courses are now open at aaspnjnortheast.com.
Want more? Check out the February issue of New Jersey Automotive!