by Chasidy Rae Sisk
It seems like it's been an eternity since collision and automotive repairers have gathered to celebrate the final days of winter at the largest regional automotive trade show in the Northeast, but the countdown has finally begun!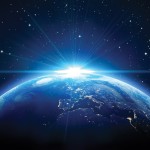 Adding to the general excitement surrounding the return of the NORTHEAST® Automotive Services Show, scheduled for March 18-20 at the Meadowlands Exposition Center (MEC) in Secaucus, NJ, the 45th rendition of AASP/NJ's flagship event promises more education, updated equipment and a better experience than ever before.
Trade shows offer a great opportunity to network with industry peers and explore the latest and greatest tools and equipment available on the market, but NORTHEAST takes on sky-high ambitions to deliver what enlightened collision repairers truly need: world-class training and education to help repairers escape the black hole of technological advances and other challenges that often leave them feeling lost in the cosmos.
"Let's face it: No one knows everything, but NORTHEAST is a place where anyone in attendance can learn something to take back to their shop and implement immediately," states AASP/NJ President Jerry McNee. "All classes are designed to educate attendees and give back to the industry. If you attend one class that helps your shop generate additional income or improve your business practices, it's a win-win!"
NORTHEAST's 2022 educational slate is geared toward addressing some of the most pressing problems orbiting shops to help them prepare to rocket into a brighter future. In fact, one of this year's highlights will specifically focus on the industry's future generation.
The ongoing technician shortage crisis has left many shops spinning on their axis, so repairers will be over the moon for "The Continuing Tech Shortage: How Do We Fix It?" a panel that seeks to confront the nebulous issues surrounding the lack of man-power eclipsing repair facilities all across the country. Michael Bonsanto (Passaic County Technical Institute) will moderate this panel which features a variety of experts: Brandon Eckenrode (Collision Repair Education Foundation), Keith Egan (Betag Innovation), Josh Laurent (Automotive Business Management), Bart Mazurek (CCC Intelligent Solutions Automotive Services Group) and Greg Settle (TechForce Foundation).
Starting his career in a body shop, Bonsanto's career journey eventually led him to become an I-CAR instructor before his passion for the next generation launched him into his current role as a vo-tech collision instructor.
"Although the lack of qualified help has been a huge issue for the past 30 years, it's even more important now due to the COVID-19 pandemic which has worsened the situation," Bonsanto explains. "We can't keep waiting for someone else to fix this problem for us; we have to come together and find a way to fix it as an industry. Collision repairers cannot afford to keep putting their heads in the sand and continue being unaware of what's going on because that won't solve this crisis.
"Awareness is needed first and foremost; we have to realize there's a problem in order to come up with a solution," he continues. "Then, we need to figure out how to approach, tackle and solve it. We need to identify avenues for luring new techs into the industry and encouraging them to stick with it, and that begins by challenging the common image of shops as a grimy dungeon where techs are physically and mentally beat down. Collision repair has changed big time since yesteryear and offers a variety of career paths."
The goals of the Collision Repair Education Foundation (CREF) are to support collision repair educational programs, schools and students to create qualified, entry-level employees and connect them with an array of career opportunities.
"Throughout my 20 years of industry experience, and specifically working with CREF for the last 12 years, my efforts are solely focused around helping to address the industry's need for entry-level staff by investing in local collision school programs around the country," Eckenrode notes.
"CREF is in a unique position to coordinate and gather industry members from all segments, and through that combined support, our industry can have a bigger impact on assisting these collision school instructors who are facing limiting program budgets; however, the industry has high expectations on their graduating students' skill sets. CREF is and will be an industry leader in addressing this issue and rallying industry support."
In addition to learning about CREF's efforts to support collision school programs nationwide, attendees will discover some of the opportunities they have to get involved with their local schools. Eckenrode hopes the Continuing Tech Shortage panel will "help motivate industry businesses to get involved with their local high school/college collision programs, students and instructors as that will be key in helping to ensure that these programs are well supported.
"The involvement of local industry members is vital to solving this issue. As the concerns around the ongoing 'entry-level staff need' is commonly listed as one of the industry's major issues, there is no better time than now to start addressing this together with CREF and hear how you can help schools in your market."
As the vice president of consulting and services for CCC Intelligent Solutions' automotive division, Mazurek's responsibilities include "knowing the macro trends the industry faces, based on the millions of claims coming through our system combined with data from numerous other sources, and being able to speak to them to give the industry a better sense of the forces at play and why they may be subject to these forces without having any control over it.
"There's a lot of frustration among repairers about things that, unfortunately, they don't have any control over since we cannot just immediately conjure up tens of thousands of additional techs; however, other forces at play make it more reasonable to find help," he elaborates, adding, "A lot comes down to how much shops can afford to pay, but by looking at market trending, we can investigate some changes on the horizon that may give shops hope to increase their profitability which will provide an opportunity to hire more techs."
By providing attendees with some visibility into this topic, Mazurek hopes to offer attendees a glimpse at the bigger picture and "help them acquire some clarity related to why some of these trends are taking place."
The TechForce Foundation sets out to "help get young men and women through their education and into industry jobs as professional technicians, so this topic is our sweet spot," says Settle, who has authored TechForce's annual Technician Supply and Demand Report for the past four years. "I'm very familiar with the tech shortage, so I'll share the trends, discuss the issues that led to the shortage and offer some suggestions about what TechForce believes the industry must do to alleviate that shortage."
After beginning his career as a technician and then advancing into a hiring role as service and parts director, Settle spent over two decades at Mercedes Benz USA where he developed an apprenticeship program and directed his efforts on the training side of the industry.
"I have a lot of experience around the tech supply issue, and I'm also very passionate about solving it," he notes. "The solutions the industry needs to solve this problem aren't a great secret. In addition to the industry needing more resources to understand what's causing the tech shortage, kids need to know what options are available in the industry and how to prepare themselves for a successful technician career. Many of them have no idea how many possibilities exist in this industry because a lot of kids only hear that they need to obtain a college degree, but that's not necessarily true for the skilled trades where there's much more demand."
Settle hopes that he and the other panelists can "convey our knowledge to the audience about the reality of the problem and what can be done to improve the current situation, specifically how we can address it as an industry with real-world actions they can take to help solve the tech shortage and make a difference."
"There's a lot of useful information to be gleaned from informative presentations such as the tech shortage panel," he points out, encouraging repairers to participate in the educational sessions offered at NORTHEAST 2022. "Of course, repairers want to network during the event – and there's a lot of value in networking – but there's plenty of time for that. You're taking time away from the shop to attend NORTHEAST, so be sure to get the greatest benefit possible by spending time learning things to improve your business and your industry."
"The collision repair industry is at a crossroads right now," Bonsanto adds. "We can either help our industry grow by attracting more qualified help…or we can watch it implode due to the technician shortage. This crisis is no longer just touching the small businesses; it's impacting larger organizations as well. The bottom line is that we need to figure out how to get new techs, where to get them from and how to keep them."
Attendees at NORTHEAST 2022 will also have the opportunity to participate in an exclusive Labor Rate panel discussion featuring Barrett Smith (Auto Damage Experts, Inc.), Sam and Richard Valenzuela (National AutoBody Research), Lucky Papageorg (AASP/MA), Burl Richards (ABAT) and Jerry McNee (AASP/NJ) as well as a panel on the Appraisal Clause which will include Robert McDorman (Auto Claim Specialists), John Walczuk (ZB Claim Services Inc.) and AASP/NJ Executive Director Charles Bryant. Tim Morgan (Spanesi Americas, Inc), John Shoemaker (BASF) and Chuck Olsen (AirPro) will be on hand to present a pair of classes on blueprinting and ADAS/calibration.
Additional informative presentations will be delivered by Gerry Bonanni (Ford Motor Company) and Lee Rush (Sherwin-Williams Automotive Finishes).
NORTHEAST also offers NJ collision shops a chance to proactively obtain the training necessary for renewing their body shop licenses with Sunday's "OEM Certification Success: Dos and Don'ts," presented by Dave Gruskos (Reliable Automotive Equipment). A recognized industry speaker, Gruskos will cover topics related to OEM certification, including establishing and maintaining partnerships with the OEMs and sponsoring dealers, tooling specifications, training requirements, the customer's role, blueprinting, repair procedures and more.
"With technology evolving more and more, we will fall behind if we don't put in the work to keep up," AASP/NJ Collision Chairman Dennis Cataldo, Jr. recommends. "AASP/NJ continuously works to bring valuable training to its membership to help them stay ahead and remain successful. We want all shop owners to take advantage of the training as it's a good idea to get out there and find out what you don't know."
Shops attending Gruskos' class will receive certification that allows them to use the training session for their 2022 body shop license renewal.
"Collision shops in New Jersey are licensed by the NJ Motor Vehicle Commission, and licensed shops are required to renew the license every two years," Bryant explains. "Part of the renewal process is to provide the NJ Motor Vehicle Commission with proof that the applicant has taken some type of training directly related to the auto body industry within the year prior to the application. There will be training classes held at NORTHEAST that will come with a training certificate which will satisfy the training requirement required to renew a collision shop's license. The collision shop license renewal is coming up in September 2022, so collision shops will start to receive the renewal notices this July."
As anticipation for this year's big bang of an event, McNee urges collision repair professionals not to miss out on the galactic mixture of education, experience and exhibitions at NORTHEAST 2022:
"NORTHEAST is the number one show in the country, bringing the best of the best to you right in your own backyard. Unless you're afraid to check out the industry's latest equipment or learn something new from some of the most skilled and talented educational presenters out there, why wouldn't you attend? There's something for everyone, and AASP/NJ hopes you'll join us!"
More classes are being added to the schedule for NORTHEAST 2022, so be sure to stay tuned to New Jersey Automotive for all the information you need to avoid getting left lightyears behind. Rocket your shop into the future by pre-registering to attend at aaspnjnortheast.com.
Want more? Check out the February issue of New Jersey Automotive!