Running it Back: NORTHEAST Returns Live This March
by Alana Quartuccio Bonillo
It's time to get ready for the NORTHEAST Automotive Services Show – the largest regional automotive show on this side of the country!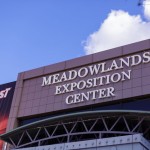 We've all certainly waited long enough.
The new year is here, and with that comes a sense of normalcy as it's time to prepare to head on over to the largest regional automotive show on this side of the country!
The NORTHEAST® Automotive Services Show returns to the Meadowlands Exposition Center (MEC) in Secaucus, NJ on March 18-20, promising to once again deliver the experience, education and equipment that automotive professionals from all over the East Coast – and beyond – expect every March.
The 2022 show marks the 45th year that AASP/NJ will present its flagship event. Coming out of the pandemic, this year promises even more than before with new highlights and activities expected to truly make it a can't-miss opportunity for every collision and automotive repairer!
"It's no secret that our entire industry has had a rough year-plus," states Alicia Figurelli, vice president of NORTHEAST event managers Thomas Greco Publishing. "At NORTHEAST 2022, we look forward to not only ushering in a bit of 'the old days' of face-to-face business interaction and valuable training attendees have come to expect from our event, but we're also working on some exciting new things you've never seen before at NORTHEAST. Whether it's exclusive training you can't get anywhere else, the opportunity to meet an industry icon, win some awesome prizes, lend your voice to some exciting industry initiatives – or hopefully all of the above! – there will be something for everyone at NORTHEAST 2022. We can't wait."
Ken Miller (821 Collision; North Haledon) has been a regular at NORTHEAST for at least a decade. He can't wait to hit the show floor with fellow collision repairers to share ideas, interact and build relationships, not to mention taking in all the valuable resources and education the show has to offer.
"It's a tremendous opportunity to get back in front of the vendors you need to see. Plus, you must take advantage of all the educational opportunities that will be on deck. It's everything you need all under one roof." His first year attending NORTHEAST as a newly-elected AASP/NJ Board member, Miller is also eager to take part once again in working with AASP/NJ to present the 2022 Young Technician Award. Thanks to a donation from the Utica National Group Foundation, the association will award a tool grant to a technician employed by a member shop to assist in building their toolbox. Miller helped spearhead the inaugural award this past fall and is pleased to have the chance to help an encouraging young tech once again.
"It's great to be able to help give back to the industry and help a young technician further his career."
Having NORTHEAST on the calendar is a beacon that signals a return to normalcy for so many. After nearly two years of endless virtual meetings, automotive professionals are eager to walk the aisles, see fellow shop owners face to face, interact with equipment up close and hear from some of the industry's best presenters.
AASP/NJ President Jerry McNee can't wait to get away from the computer screen and back to embracing the educational seminars and face-to-face interaction that one can only get by walking the aisles at the MEC.
"I'm really looking forward to a sense of normalcy. I think everyone has had enough of the virtual experience, and it's time to get back to it full force."
AASP/NJ Past President Jeff McDowell (Leslie's Auto Body; Fords) has been attending NORTHEAST for decades. To him, NORTHEAST always marks the real start of each year after coming out of the long winter slump, and he is eager to be surrounded by his peers once again, including many he hasn't seen since the association's Annual Meeting in the fall. And when it comes to finding all you need to help run a successful business, McDowell suggests NORTHEAST is a one-stop shop.
"I'm excited to get out and see what's out there, both what is new and what has changed. I think most of the guys are looking forward to that. For those in need of equipment, now is the time to come out and make a deal. Plus, the show offers great training with great information you can take back to your shop to help make your business more profitable."
"Our goal has always been to provide all stakeholders – from the exhibitors and sponsors to of course the attendees – with a well-rounded experience at NORTHEAST," adds Figurelli. "For 2022, we remain committed to offering all attendees a tremendous weekend both on and off the show floor."
Pre-registration is now open. To pre-register and to keep up with the latest information and announcements about NORTHEAST 2022, visit aaspnjnortheast.com.
Want more? Check out the January 2022 issue of New Jersey Automotive!