by Alana Quartuccio Bonillo
Hicks Auto Body is more than a body shop in its community; it's an institution.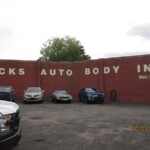 For 52 years (and counting), the facility has been serving the surrounding Boston community. Everyone who is familiar with the shop knows its founder and owner, Willie Hicks, Sr. The active 85 year old (he still goes into the shop for a few hours, three days a week) has single handedly made Hicks Auto Body more than a body shop – the business is a staple in its community. This goes beyond the shop's quality work and excellent customer service. It's Hicks Sr.'s tireless devotion which he has shown the community as an active contributor and participant over the years.
Surrounded by family, friends and hundreds of supporters, Hicks' lifetime of work was celebrated by the city who renamed the square outside his shop in his honor. Now, when one passes his shop, they can't miss the sign that reads "Willie E. Hicks, Sr. Path," which is proudly on display.
"It was a great honor," recalls Hicks, Sr. "I never expected to see that in my lifetime. I'm glad they did this while I'm still alive. I was able to see it and enjoy it. That was the best part of the whole thing."
Like he is known to do with most things, Hicks, Sr. put his heart and soul into starting his own business. To save up for his first location, he spent nights and weekends driving a cab. He initially opened a body shop with a partner which lasted about three years, then he moved on to a small shop on Columbus Avenue before he was forced to relocate. He purchased the property at 10 Talbot Avenue, Dorchester, and it's been home to Hicks Auto Body since 1970.
Hicks, Sr.'s mindset of always striving to produce quality work and offering good customer service has led to the shop's success for five decades and counting. His son, Willie Hicks, Jr., has been on board with him at Hicks Auto Body for the past 28 years and serves as general manager and vice president.
The city sets out to honor those businesses who are the heart and soul of the town and try to make it a better place. Hicks Auto Body is clearly a shining example.
"We always try to help the community as much as we can," shares Hicks, Jr. "In over half a century, my dad had the opportunity to meet so many people, and certainly people by accident. He's extremely compassionate; he's helpful. He's been an advisor. I've seen him reach into his pocket and help folks, whether it's a kid wanting an ice cream if they are doing well in school or making a meaningful donation to the Boys and Girls Club or supporting charities like the Sickle Cell Disease Association, churches, tennis centers…I could go on for days."
Hicks, Sr. has also been active in the auto body community over the many decades he's been in business. Back in the MABA days under Executive Director Chris Muise, he served as the inaugural secretary for the Suffolk County Chapter when it was first established, serving alongside current AASP/MA Executive Director Lucky Papageorg who was the inaugural president of the MABA Suffolk County Chapter at the time.
Papageorg was pleased to attend the celebration for his longtime friend. He took the opportunity to formally present him with a certificate welcoming him as a member of AASP/MA, which "brought a smile to his face."
Witnessing the huge support Hicks, Sr. received, which included a number of insurance appraisers, was truly a testament to the shop owner's character, according to Papageorg. "You don't usually see the two industries intermingle that way. The fact that Willie means so much to insurance representatives says a lot."
"It was a really great tribute. Not just to the institution but to the man himself," Papagoerg insists. "It's been an honor and privilege to know Willie all these years."
Want more? Check out the November 2022 issue of New England Automotive Report!