by Chasidy Rae Sisk
"Electric vehicles (EVs) are the future…the future is EV."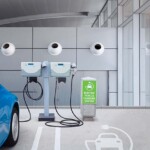 Shops have been receiving this message for the past few years, and while some have invested in upgrades to their facilities, tools, equipment and training, many more have turned a deaf ear to the news. Yet, consumers are forging ahead with the purchase of EVs in many areas of the country, begging the question not only of "who will repair these vehicles?" but – more pressingly – where will drivers be able to charge them?
While the total number of EVs in the US increased from 1,019,260 to 1,454,580 from 2021 to 2022 (a growth rate of 42 percent) according to Zutobi's "2023 EV Charging Station Report," the number of public charging outlets have increased by just 12 percent, from 128,549 to 143,771. In its "Get Connected: Electric Vehicle Quarterly Report 2023," the Alliance for Automotive Innovation (AAI) agreed the "installation of US public chargers is not keeping up with current and projected EV sales," noting that as of the first quarter of this year, there was a "total of 133,982 publicly available charging outlets in US for 3.34 million EVs on the road, a ratio of 25 EVs per charger," and while 306,047 EVs were registered that quarter, only 7,802 new chargers were added, a ratio of 39 EVs per public port.
The current shortage of public charging stations creates an opportunity for savvy business owners willing to invest in the infrastructure needed to support EV growth, and such an investment seems particularly well-aligned with the body shop world which could benefit both directly and indirectly from this type of venture. 
Although installation can be costly, shops with the means and space to add one or more charging ports may enjoy increased profitability, both by attracting new customers – who may ultimately elect to have their EVs repaired at the shop – as well as by creating an avenue to generate new income by setting up a charging station similar to gas stations. How profitable are charging stations? It really depends on the level of EV adoption within the specific market, but estimates indicate the potential to earn thousands of dollars monthly from EV charging because it's a service that consumers desperately need!
While the level of adoption varies greatly across the country, Massachusetts has seen one of the highest adoption rates, likely due to incentives offered in the Commonwealth. Although MA saw a 45 percent increase in EVs (21,010 to 30,470) in 2021 compared to 2022, the number of EV charging stations over the same time period only increased by 18.16 percent (4,879 to 5,765), reinforcing the need for more businesses to invest in this type of business as it becomes more prevalent. Moreover, last year, Governor Baker signed a climate change law dictating that all new cars sold in 2035 and beyond must run on electric or hydrogen power, so EVs truly are the future…but what do shops think about this potential investment?
"We are a GM dealership that  currently has one EV charging station on site for the Hummer EV program), but we are currently looking into investing in more units," shares Doug Begin (Vendetti Collision Center; Franklin).
While Cape Auto Body & Service (Plymouth) has installed a charging port, Kevin Gallerani points out, "You can install them to attract people to the business, but at the same time, not every shop can get certified."
Some shops have decided to add charging ports for the business' use, while others have not.
"We installed a charging port inside our facility as a courtesy for our customers, not as an investment," says Dana Snowdale (D&S Auto Works, Inc.; Abington). "We didn't install it for the public because, in my opinion, the liability insurance coverage leaves too much exposure for us as I see it currently. As battery technology evolves and a less expensive fire suppression becomes available, we may consider it."
"We have not installed an EV charging station and try to avoid having to charge any of the EVs while they are in the shop. Most EVs do come with standard 120-volt option if a charge is required while it's here," explains Adam Ioakim (Hogan and Van Auto Body; Medford) the opposing viewpoint. "That's all we would need during the repair process to get around the shop and for a test drive. I'm not sure if the full charging station is worth the investment or space in the shop yet. You'd also need to find a way to measure the charge so you could bill for it appropriately. You wouldn't want it to become a loss center giving away the electricity for free."
While few shops have made the investment, it seems to be a consideration for many, though they've yet to make the leap for various reasons.
"We do not have EV charging equipment, but it has been on our list of future upgrades for a while now," McColl Rhodes (Nesco Sales, Inc.; Bondsville) acknowledges. "Our shop is in a very rural area, and we see very few EVs. We would probably never have an EV charging station available to the public, just have one for the handful of vehicles we work on. If we started seeing more vehicles in our area, it would make much more sense to get a charger installed, but in our little town, we do not see very many at all. It's on our radar to get done, but we are in no hurry."
Don Dowling (Marblehead Collision; Marblehead) agrees that it just doesn't make sense in every market. "We have not really thought about adding stations. Our land is limited, and we are not in an area where someone charging their vehicle could do something else for a short period of time (walk to a store, have something to eat, etc.). The decision is less about the investment expense and more about location for us, because even if the charging station was installed at no cost, the revenue it would generate would interfere with shop workflow due to the lack of space. Most auto body repair shops on the east side of the state do not have much space."
Of course, while EVs may be the future, some question whether we're ready for them in the present. 
"Although there might be some financial benefit to installing an EV station, we do not have any plans to do this in the near future. There are several reasons for this," according to Jeff White (North Andover Auto Body; North Andover), who explains, "The general public is being prematurely pushed into the idea of EVs. I do not disagree with the concept of EV as an alternative to fossil fuels; however, the fact is that the collision industry is simply not ready for this yet. Education is needed because repair methods required for EV differ from conventional vehicles in many ways. Just like the limited charging stations available, there are limited collision repair facilities available to handle EV repairs. The result will be that many vehicles end up at repair facilities that do not yet have the equipment or education to repair these vehicles to OEM standards.
"Perhaps it is different in other states; however, here in Massachusetts, collision repairers struggle daily to operate due to the fact that the labor reimbursement rate is the lowest in the entire nation," he continues. "As a result, our labor pool has suffered so severely that there simply are not even enough qualified technicians to repair conventional vehicles. Any technicians qualified to repair electric vehicles must therefore be trained to do so by their employer. Educating collision repair technicians to today's current standards is already very expensive. Adding education for EV collision repair is an additional major expense. With the lowest reimbursement rate in the nation, the return on investment would be minimal at best. The cost of the equipment and education required to service both types of vehicles is what will prevent many collision repairers from making the investment. My opinion is that if conversion to EVs is being pushed upon the consumer, either the US government, the OEMs or both should provide training to the collision repair industry free of charge or at an extremely minimal cost because having improperly repaired vehicles on our roads is a matter of public safety. Placing this burden upon a struggling collision repair industry could be a real problem which is unfair to the consumer."
Still, White is "not opposed to electric vehicles," he clarifies. "I am mostly concerned about the timing and our ability to meet the requirements. As a shop owner, if low-cost options to educate for EVs were available, or if Massachusetts labor reimbursement rates ever become realistic, I would be much more motivated to invest. Installing an EV station will certainly be a source of revenue and help bring new clients to our door; however, this will only make sense when we are fully prepared to handle all aspects of EV collision repairs."
Clearly, investing in EV charging stations offer a lot of opportunities…and still present challenges, but does one outweigh the other? We'd love to hear what you think! Feel free to share your opinion with chasidy@grecopublishing.com.
Want more? Check out the October 2023 issue of New England Automotive Report!