by Alana Quartuccio Bonillo
August 1 was a sad day for the Commonwealth's auto body community when longtime advocate, shop owner and local collision repair industry leader Mike Beal passed away at the age of 72 after a long battle with Parkinson's Disease.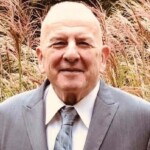 An industry legend, especially in the western part of the state, Mike was known as "Mr. MABA," having served multiple terms as president of the Western Massachusetts Auto Body Association and VP under Rob DelGallo of MABA, the statewide association. He will forever be remembered for his tireless dedication to advocating for the rights of auto body shops.
Mike and his wife successfully ran Michael's Frame & Collision in Westfield for over 30 years before they retired in 2013.
AASP/MA Vice President Matt Ciaschini would not be where he is today if it weren't for Mike. Matt and his brother Zac, who co-own Full Tilt Auto Body (Hatfield), were early into their career when Mike walked through the door and encouraged them to join the auto body association.
"Mike Beal was a great man who always treated Zac and me like we belonged when we were just starting out," recalls Ciaschini of his friend. "He is one of the people who strongly encouraged us in every way, especially to join the association. I am forever indebted to Mike. He will be greatly missed. Rest in Peace, Mike."
Ed Nalewanski (Ed's Auto Body & Repair; Easthampton) will always remember Mike as a dear friend and colleague of more than 40 years.
"When I joined MABA back in the early 80s, Mike was the head of the western chapter, planning and organizing all the meetings and events. That trend continued for years until his retirement," he reminisces. "Mike worked diligently for the industry and earned the respect of all who knew him. It was only fitting that we honored him as an industry icon at one of the casino nights after his retirement. His memory will live on, and he will be missed by all."
Mike was diagnosed with Parkinson's Disease in 1990 and fought valiantly for 30-plus years. He actively participated in support groups and Parkinson's-related activities in the area throughout the years, proudly reinforcing his claim that the disease "can only slow you down, it can't stop you."
Last November, dozens from the western chapter gathered for a reunion in Mike's honor, which was organized by Ed's wife, Joann. Ed recalls this wonderful tribute to his dear friend: "I was thrilled that so many shop owners attended what turned out to be a final tribute to Mike. His wife told us that he was truly touched by the outpouring of love."
Matt refers to Mike as "the most welcoming guy. He was the first one who ever welcomed us into his shop and taught us about how we should manage our rate, how to set up the shop and deal
with appraisers. He really kept things clean. At the early association meetings, he sat with us and treated us well."
AASP/MA Executive Director Lucky Papageorg worked closely with Mike back in his days as executive director of MABA.
"Mike never backed down," he remembers Mike's determination and spirit. "He always stuck to his guns and set a great example. I'm thankful to Joann Nalewanski for putting that event together last November where we got to spend time with him and honor him for all his accomplishments.
Fighting for a better labor reimbursement rate was one of Mike's many battle calls.
"Throughout the years, he, along with his devoted wife Mary, worked tirelessly to raise the labor rate," Ed relays. "My only regret is that it did not pass while he was alive. But somehow, I know that he is still advocating for the industry from above and soon will be able to rest in peace."
Leading the way and setting good examples were ways of life Mike also applied outside of the shop. He volunteered his time at Westfield Vocational School and Smith Vocational as a teacher, inspiring students in the automotive trade. Outside of his love for the automotive world, Mike was an avid fisherman who loved boating and grilling for his family.
He is survived by his wife, Mary; their daughters, Eileen Beal and Rebekah Harings (and spouse, Jim). He is also survived by his sister, Carol Mackinnon; his brother, John Beal; his grandsons, Finley and Rory; and a large extended family.
Want more? Check out the September 2022 issue of New England Automotive Report!