AASP/MA's very own David Gallerani (Cape Auto Body and Service; Plymouth) was recently honored this past June by the Plymouth Area Coalition for the Homeless with the 2023 Phyllis Hughes Public Service Award for his community leadership and dedication to helping others.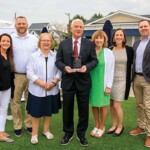 Surrounded by family and friends at the East Bay Grille in Plymouth, Gallerani was presented with the award by former State Senate President Therese Murray.
According to the Coalition, the award honors the legacy of Phyllis Hughes, "a champion of all things that moved our community forward. A brilliant business woman of impeccable character and compassion, her life was dedicated to improving the lives of others and making Plymouth the very best community possible."
Gallerani, who serves as president of Cape Auto and is a committed member of the Lions Club International, was recognized for sharing the same qualities Hughes displayed and for his "deep concern and compassion for those facing adversity. His efforts in support of local charitable endeavors, in particular, those benefiting children and community enrichment, is nothing short of remarkable," according to Sue Giovanetti, chief executive officer. "Like Phyllis, David has a boundless energy and passion to enrich our community, grow the economic landscape for small business and ensure that all who call the Greater Plymouth Area home have the opportunity to experience all that it offers and to thrive."
Through various programs, the Plymouth Area Coalition for the Homeless works to strengthen families and individuals faced with the challenges of homelessness, and to empower through a series of education classes and professional guidance to break the undaunting cycle of poverty.
"This is all made possible thanks to our many community partners and volunteers who support the Plymouth Area Coalition for the Homeless with their time and resources. The Coalition could not be any prouder to honor the memory of our dear friend Phyllis Hughes by awarding David Gallerani the 2023 Phyllis Hughes Award for Public Service."
Gallerani commended the Coalition for the special job it does in helping families in need. He has been supportive of the community predominantly through his work with the Lions Club of which he has been a member for nearly three decades.
As for his award, he humbly expressed that it's a group effort to help care for a community.
"I was lucky enough to get picked this year. As I said to the people that day, there's probably 300 people in the room and 300 of you could probably be standing up here. I'm getting this award because it's the people who show up, do things and get things done."
Want more? Check out the August 2023 issue of New England Automotive Report!