by Chasidy Rae Sisk
Continued supply chain delays + ongoing workforce shortage = no relief from the backlog that has been plaguing Massachusetts body shops since late last year.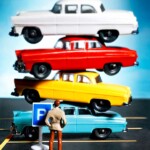 If someone had predicted the influx of repair work that would inundate shops in 2022 just two years ago, most collision repairers would have laughed in their face. Yet, that far-fetched forecast has become a reality for many shops.
Current inflation has driven gas prices sky-high, resulting in fewer vehicles on the road and fewer accidents, and the Massachusetts Department of Transportation website reports there have been 55,959 accidents so far this year, as of July 6, compared to 124,403 in 2021; however, body shops are not yet seeing any relief in the amount of work they're receiving – in fact, many shops are busier than ever!
Among the multitude of factors contributing to the ongoing backlog, two issues stand out as having the greatest impact on the delays in repairing vehicles: issues obtaining parts in a timely manner and the lack of qualified technicians and other staff.
"We're scheduling out into the middle of October," an employee at Western Mass Collision (Springfield) told New England Automotive Report before rushing off the phone to get back to work. "There's not much we can do about the backlog because parts just aren't available."
"It's nearly impossible to schedule the workflow coming in," lamented Josh Fuller (Fuller Auto Body & Collision Center; Auburn). "In the past, we could pick up speed and efficiency because we had more control over the variables, but now, identifying areas where we can become more efficient is a huge challenge, mainly because of the supply chain issues. We're doing a lot of administrative work to properly identify everything the car needs – and obtain those parts – before we put it into production."
Matthew Ciaschini (Full Tilt Auto Body & Collision; West Hatfield) confirmed that the supply chain delays have not improved, noting, "It's a very big struggle with some vehicle makes. We've had to go to major lengths to obtain certain parts."
Workforce shortages present obvious challenges with processing the repair through the shop…It's pretty difficult to get work done when there's no one available to do it!
"The tech shortage gets more and more real with each passing year," Ciaschini observed. "It will not change until a major shift is made in the labor reimbursement rate."
"It's not just the technician shortage, but an overall labor shortage," Fuller clarified. "We're short on the tech side and also administratively, but just because the work is at our door, that doesn't mean we have to do it all. It's not beneficial to do it all in haste. Instead, we're being smart about working with what we have – finding the right type of labor and the right members to join your team is ultimate."
But the absence of new talent isn't the only workforce issue impacting the current backlog. Existing technicians just can't handle anymore work.
"Technicians are tired," acknowledged Rob DelGallo of Factory Collision & Restoration (Weymouth), which is booking six to eight weeks out. "Between people getting sick and the different COVID restrictions we've seen, everyone has had as much overtime as they want, and they're getting burnt out."
Shops have spent months shouldering the heavy workload, and though keeping up with the increased volume of vehicles in need of repair poses plenty of challenges, resilient shops in the Commonwealth have found a way to look beyond the struggle to identify the opportunities that exist by utilizing lessons learned to strengthen their businesses for the future.
"The backlog has very little to do with how we make everyday decisions on repairable vehicles," Fuller explained. "Whether a job is coming in tomorrow or in three weeks, it has to meet certain criteria. Understanding the type of repair needed and who the insurance company is allows us to manage our process more efficiently. We're being extremely selective about what we put on the floor, and for the first time ever, we're rejecting work that doesn't fit into our niche. With our reduced bandwidth and resources, we can't afford idle time or anything that prevents us from being less than super efficient.
"When we set up an appointment with a customer, we ask to see their complete insurer estimate as a starting point before we disassemble the vehicle," he quipped. "We want a chance to talk to the customer, so we can determine what their best repair options might be, so we can try to align that with production efficiencies. Even though we have the space, we're not going to store cars simply for the sake of storing cars."
Fuller's decision to reject any work that doesn't fit his niche is a business model that's becoming more common as shops realize that insurers lose some of their influence when there's such an abundance of work. The ongoing backlog is allowing shops to pick and choose their work…and even seek better rates.
This phenomenon is happening all across the US and was even mentioned during a Collision Industry Conference (CIC) earlier this year when Jill Tuggle, executive director of the Auto Body Association of Texas, urged collision shops to consider their current power:
"We know fear is a driving factor to severing ties with these insurer relationships. If there ever was a time to test the waters on operating independently of those contracts, it would be now because you're going to get the work; people are already turning away work because they just can't do it. Seize the moment, and try it out. Many in this room would agree that the ones who have decided to cut that tie haven't regretted it."
Full Tilt Auto Body & Collision has seen a small decline in the amount of incoming work, from a month to three weeks, which Ciaschini attributes to "being independent. Since we're not on any lists, insurers don't direct work our way, but we've actually received a significant amount of work from nearby referral shops because they're so overwhelmed. A lot of shops think they need to be on insurers' lists, or they'll lose work to referral shops – we have several referral shops around us, yet we stay plenty busy."
Rather than seeking work through relationships with insurers, Ciaschini's efforts hinge on attracting his own client base.
"From our website to social media, we constantly focus on marketing our shop on merit and customer reviews, so we never have to rely on insurance companies to send work to us. Our online reviews really drive people to our shop, especially younger people who tend to be more distrustful of where an insurer tells them to go. Building our own client base makes it easier to request a co-pay from the customer (balance-bill) when we have to. I wish other Massachusetts shops would become more independent – if you want to repair cars properly, versus how the insurer tells you to do it, get off their lists, and take back your business by doing some of your own marketing. You might be pleasantly surprised by what you can accomplish on your own."
The ongoing backlog has also empowered DelGallo to "turn down certain insurance companies. We've been fighting for a fair labor reimbursement rate for decades, but the referral/program shops are the ones hurting us by doing whatever the insurance company wants. Insurers refuse to pay for required procedures, which still need to be done. Referral/program shops say, 'Yes, Master,' rather than fight for what they know is right because they are suffering from 'learned helplessness.'
"We're on the other side – 'This is what we do, and this is what it costs. Pay it, or we're going to collect a co-pay from the customer.' And the customers get it," he insisted. "Customers pay the bill, and most of the time, the insurance company just pays them directly because that's what they're supposed to do, protect them from paying for the repair after an accident. Customers have informed us that insurers tell them, 'We'll pay you, but we don't want to pay them.' They don't want to set that precedent."
But it's also important that shops don't succumb to the belief that the backlog is here to stay.
"We can't control the amount of claims that happen," Fuller pointed out. "The only thing shops can control is our own ability to pivot quickly and maintain our margins during times when we have to change the way we operate constantly. What worked three months ago doesn't necessarily work today, so we have to consistently ask ourselves, 'What can we do better today?' And the most important thing we have to continue doing, no matter what, is educating and advocating for our customers."
All signs indicate that shops will continue to have plenty of work to stay busy for a while longer, but it's important to make the time to work ON your business and start investing the effort into process and workflow improvements that can do more than help you increase profits – the right exercises will enhance and strengthen your shop, allowing you to flex your muscles and take back control of your business!
Want more? Check out the August 2022 issue of New England Automotive Report!