by Chasidy Rae Sisk
Since late 2022 when the Society of Collision Repair Specialists (SCRS) unveiled the results of its highly anticipated study, collision repairers have been anxiously awaiting the responses of the three major information providers (IPs), all of which promised to conduct their own research and provide updates.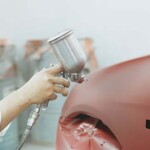 (If you've been living under a rock, get caught up on the basics of the blend study here.)
As reported in New England Automotive Report in March, CCC "committed that based on the recent database inquiries regarding MOTOR's guidelines for blending adjacent panels, and in accordance with MOTOR's standard operating procedures, MOTOR will conduct observational studies of the blend process [and] provide an update at the end of the first quarter of 2023," SCRS Executive Director Aaron Schulenburg told us at the time, and during the most recent SCRS Open Board Meeting, he reported that "MOTOR has indicated that they're going to be making a change relative to blending," promising "positive movement for the industry. This is a good step forward."
Since that meeting, MOTOR released guidance on its refinish time calculations for blending adjacent panels.
According to the release, MOTOR will make a change to its Estimated Worktime Development Methodology related to color blend of adjacent panels to account for variations in modern vehicle paint refinishing. The updates will take effect in October 2023 as part of MOTOR's standard Guide to Estimating update schedule.
"Throughout the first quarter of 2023, MOTOR reviewed information from multiple sources and has concluded that the current formula reflects an estimate for one particular scenario but does not necessarily reflect the many variations encountered with modern vehicle finishes and design," John McDonald, MOTOR's product portfolio manager of content, said. "Given the variations among scenarios today, MOTOR believes that the Estimated Work Time Development Methodology should defer to the judgment of an estimator or appraiser following an on-the-spot evaluation of the specific vehicle and refinish requirements in question."
Currently, users click a blend button in CCC ONE which automatically calculates a two-stage blend at 50 percent of the refinish time and a three-stage blend at 70 percent of the full refinish time. The on-the-spot evaluation will allow users to either input a default value for two-stage and three-stage blends, or users can opt to have the system prompt them for the blend time specific to that repair.
"We think this is a good outcome for the industry as a whole and accurately reflects the variation in the process as MOTOR described in the release," expressed CCC Intelligent Solutions Product Management Vice President Mark Fincher.
Schulenburg praised MOTOR for its "recognition of the variables that we've been communicating. This is an important and appreciated step, and CCC and MOTOR should be commended for being the first to commit to a fixed timeline to evaluate, responsibly concluding there was a need to change and remove the blend formula percentages, and committing to a timeline when the industry will see those changes take place.
"Both organizations followed through with their commitment to both their process and the industry, remaining communicative with SCRS throughout the process as they worked through their own internal validation," he added. "This is a great example of an action that we had previously requested prior to the study, that is now only taking place because of the study results and the industry support that followed."
"[It's] a win that CCC has agreed to knock the calculation out of the platform and leave it to the appraisers to negotiate on a case-by-case basis," notes AASP/MA Executive Director Lucky Papageorg. "When you remove that 50 percent calculation as part of the estimating process, you've got an automatic increase. Some shops aren't thrilled with the resolution, but we cannot always look to someone else to fix our problems! Shops can use this study to justify their estimate, and if the carrier refuses to compensate them, it provides a basis to charge the customer a copay. We just need to have the intestinal fortitude to stick to our guns and stop capitulating."
During the April SCRS meeting, Schulenburg also shared that SCRS had engaged in similar conversations with Audatex. The company has been reviewing how they'll address the blend study findings, but in the meantime, Audatex leadership pointed out how easily users can adjust for edits to blend calculations. While Schulenburg demonstrated how repairers can easily make those adjustments, he also acknowledged, "While it's great to have these tools, the formula still needs to be addressed because it's not representative of the tasks being performed today."
The Database Enhancement Gateway also released instructions for making those adjustments as an Estimating Tip, available at degweb.org/audatex-adjusting-blend-labor-value.
SCRS hopes to share more on the blending study topic, including updates from Audatex and Mitchell, at the July Collision Industry Conference (CIC), being held in Indianapolis later this month. "It's our anticipation that the feedback the industry has provided, coupled with the research we've produced and a closer look at complexity of colors and advancements in color systems will lead anyone who earnestly researches this topic to the same conclusion that we came to, just as MOTOR has," Schulenburg said. "This is an important step, with more to come."
In the meantime, he also stressed, "It's important to reinforce that all three estimating products are just that – guides – not fixed or rigid solutions, even if that is how they are sometimes used. Until there is change, the study provides clear transparent information that can be used like any other documentation to substantiate a repair operation or charge on a repair order."
Stay tuned to New England Automotive Report for updates as more information becomes available.
Want more? Check out the July 2023 issue of New England Automotive Report!