by Alana Quartuccio Bonillo
AASP/MA set out to send a loud and clear message – and that is exactly what they did on May 18.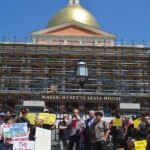 More than 300 frustrated and determined Massachusetts collision repairers responded to the call to join the "Alliance" outside the Capitol building on Beacon Hill to rally in support of House Bill 1111/Senate Bill 709, legislation that would bring a long overdue increase to an insufficient insurer-controlled $40 labor rate – the lowest in the nation.
Industry professionals came together to educate legislators, consumers and anyone listening that $40 per hour is simply not sufficient to cover technician and office worker salaries, equipment, rent, training, healthcare and all of a collision repair facility's overhead costs. There's also the factor of today's vehicles requiring nothing but safe and proper repairs, and if they fail to do so, shops pay the high cost of accepting the liability.
Their efforts bore fruit. As this magazine went to press in early June, AASP/MA learned that the Joint Committee on Financial Services released HB 1111/SB 709 with an "ought to pass" recommendation. The bills are now awaiting the next steps in the process.
On the day of the rally, colorful, eye-catching signs boasted powerful messages reflecting the goal of their demonstration:
"Save lives, save jobs, save an industry!"
"Save my future in collision repair!"
"Stop insurance greed! Save shops, jobs and protect consumers!"
"Raise the rate now!" chanted the sea of collision repairers, vocational school students, vendors and other supporters, as they marched in a circle cheering, roaring, blaring air horns and waving signs while a parade of lettered shop vehicles and flatbed trucks carrying damaged vehicles honked their horns each time they drove past the State House, demonstrating that they will not sit back and watch their industry die due to insufficient rates.
AASP/MA Executive Director Evangelos "Lucky" Papageorg commended everyone for taking the time off in support of the cause.
"Thank you for your commitment and for making this the event it really needed to be so we can help educate our legislators regarding HB 1111 and Senate Bill 709," he declared from the steps in front of the Capitol building to the hundreds gathered, including several TV news crews and other media.
To kick things off, Papageorg invited Assabet Valley Vocational Technical School students to lead off what he called a "Tea Party Reenactment," instructing them to safely toss damaged vehicle panels emblazoned with the words "$40 is not enough" from the steps of the Capitol building.
The group cheered in support as Papageorg pointed out that one of the more crucial reasons for supporting these bills is to keep the industry alive for the young people who want to get into it "because they love it. They think it's cool. The problem is that those reasons won't pay the bills. We need to be able to pay the bills. We need to have something in place for their future. We need to grow this industry, and we need to bring technicians back into this trade. We can't afford to lose them to other industries."
"Yes!" demonstrators shouted in unison as Papageorg next rattled off questions asking if they are small business owners, if they employ thousands of people in this industry in Massachusetts, if they are honest, hardworking taxpayers and if the bills they rallied to support are all based on consumer safety.
Sending it home, Papageorg asked, "What do you want for HB 1111 and Senate Bill 709?"
"To pass!" shouted the crowd.
"When do we need these bills to pass?"
"Now!" protestors hollered.
AASP/MA President Kevin Gallerani called it an "unbelievable showing" of support.
"This rate has been artificially suppressed for so long. It's great to see the support we have out here today."
Pointing to the State House in the background, the association president hoped those occupying the building would hear their cries and understand that there is a "David and Goliath" situation between auto body shops and insurance companies that absolutely needs to be addressed.
"It's sad that we had to come down here and do this. Thirty-four years without a raise is unbelievable. I don't know of any other industry that is dealing with this. Who is going to fix these cars for us? Who is going to fix them safely? That is why we are here today."
AASP/MA Legislative Director-at-Large Tom Ricci (Body and Paint of Hudson) did not hide his passion for the cause as he took the mic.
"Thirty-four years! We've changed almost nothing!" he exclaimed. "This is our day to make A LOT of noise. Not just a little. Don't be shy. Let's go! Let's rock this place! Since 1988, the labor rate has not changed. We had a study done in 2008 that did nothing! We just had the labor rate studies done again. We can't wait any longer. That is why we are here today. That is why we need to make some noise!"
AASP/MA Lobbyist Guy Glodis echoed the frustrations Ricci expressed as he addressed the crowd.
"We are here to highlight the corporate greed, injustice and dishonesty of the insurance industry for stagnating wages of the auto body industry. The facts don't lie. You haven't had a pay raise in 34 years!"
Glodis pointed out that the Consumer Price Index has gone up 137 percent over that same time period and insurance premiums, which Glodis called the insurance companies' "pay raise," has gone up 254 percent! The crowd booed loudly in protest.
"The insurance industry makes an argument every single year about why they should get a pay raise but they say 'no' to the hardworking men and women of this Commonwealth who do the real job! They say 'no' year after year and that is corporate greed."
"The insurance industry has filled their pockets," he continued. "They have record profitability even throughout the Covid era and won't even offer a solution to make sure you get paid fairly and justly."
According to Glodis, in a state that is known "to pride itself on wages" because it pays teachers, police, nurses and other industries well, it's time to educate the legislators that the auto body industry is "at the bottom of the barrel due to insurance greed. We are here today to educate the legislators behind us that our hourly wage is even behind Mississippi. Think about that. With inflation AND the cost of doing business here in Massachusetts, we are paid at an hourly wage that is behind Mississippi. That is wrong and unjust."
"Forty dollars an hour is the most absurd thing I have ever heard," lamented Jack Lamborghini, owner of Total Care Accident Repair (Raynham),  to his colleagues as they rallied in support. Although one insurer recently notified him of a rate increase of $50 for body and paint, $52 for spraying and up to $58 for mechanical, Lamborghini insisted the effort just doesn't cut it.
"I give them credit for doing something, but it is still not enough. If you follow the goal of HB 1111, you will know what the rate should be based on the Consumer Price Index. It should be in the $70 range. When costs go up, you have to raise your rates. It's absurd to think we can survive at $40 per hour."
Lamborghini went on to cite 16 insurers he called the "the cartel" as they are "digging their heels and won't budge" when it comes to the insufficient rate they reimburse.
"Those 16 carriers have somehow independently decided that $40 is the number."
Papageorg relayed the minimal comments and testimony presented by the insurer side during the recent Labor Rate Study Commission hearings, stating "their arguments are so flawed it's not even funny." According to their testimony, insurers want faster cycle times and indicated "shops are just not working fast enough for them" – refusing to acknowledge factors such as technician shortages which lead to backlogs at every shop and advancing technology which requires expensive equipment upgrades and technician training.
"We are being told how to fix cars and what to do to fix them by people who do nothing but push pen and paper. We are the experts, and we need to be paid as the experts," declared Papageorg.
He left all with one final thought: Passing these bills is about avoiding future stagnation of the labor rate.
"Once those bills are passed, the rate will increase based on your cost of doing business, just like any other retail business out there."
Lastly, he thanked everyone for their dedication to the cause.
"Today's rally, along with everything else we have been doing with the association, has been a team effort. We are a true Alliance!"
Want more? Check out the July 2022 issue of New England Automotive Report!