Tech Shortage Solutions: Shop Owners Engage with Local Schools and Students
by Chasidy Rae Sisk
Four Massachusetts repairers discuss their efforts to support the future generation of collision professionals with New England Automotive Report.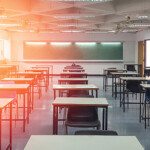 Collision repair industry professionals around the country struggle to find and retain qualified help, but with the average technician age now exceeding 50 years old, it's obvious that a lack of young people entering the industry is driving the tech shortage.
Last month, New England Automotive Report featured insights from three local collision repair instructors whose various experiences yielded a cohesive message:
"Schools and industry have to work hand in hand," according to Kenneth Stukonis (Assabet Valley High School; Marlborough).
"Engagement from local shops is great because they help us and our administration understand which tools and equipment to buy and what things we need to teach so we can grow," agreed Tim Arruda (Upper Cape Tech; Bourne).
So, how are shops getting involved with local collision school programs and students? Four Massachusetts repairers discuss their efforts to support the future generation of collision professionals: Andrew Potter (North Amherst Motors Inc.; North Amherst), Gary Cloutier (Cloot's Auto Body; Westfield), Jim Marshall (Marshall's Auto Body Experts; Billerica) and Rick Starbard (Rick's Auto Collision, Inc.; Revere).
New England Automotive Report: How are you involved with local collision schools and students? Why did you decide to get involved?
Andrew Potter: As a second generation shop owner, I grew up in this industry, and for as long as I can remember, my father sat on the advisory boards of a couple local schools. That involvement was handed off to me as I took over. Supporting future repairers has always been very important to us. I currently serve as chair of the Franklin County Technical School (Turners Fall) advisory board and participate on the boards for two other schools.
Gary Cloutier: I sit on the advisory boards for several local schools, including Westfield Technical Academy. I also donate tools and supplies periodically. I feel like anyone in any trade should be involved with their local association and their local schools. Whether you're a plumber, welder or bodyman, belonging to a group of industry professionals keeps you informed about what's going on in your industry. And participating on local advisory boards is a great way to give back and try to steer kids into this profession. You've got to keep your hands on what's going on to help the younger people coming up through the ranks so they'll have a better environment to work in than we had.
Jim Marshall: I sit on the advisory board for Shawsheen Valley Tech (Billerica) in the auto body sector. Over 20 years ago, I decided to give back by creating a scholarship in memory of my father, Malcolm Marshall, through which we've awarded over $25,000 to graduating students to help them buy tools or further their education. I've also hired students and helped place them in other shops for the last two decades.
Rick Starbard: I attended Lynn Vocational Technical Institute as a kid in high school, and I'm now involved with the school as an industry professional. Once I started my business, I always stayed engaged with the school by employing students through the school's co-op program and served on the collision program's advisory board. I have also served on the board of the school's alumni association for over 30 years, raising money for scholarships and tool awards. Through the years, my old principal encouraged me to come back to teach, which I did until I needed to get back to the business on a full time basis.
NEAR: How do the current number of enrolled students compare to past numbers? Why aren't more students interested in a collision repair career?
AP: It really depends on the school. Franklin County Tech still has a waiting list, while other schools' enrollment dwindles. One of our local schools has zero kids enrolled in their auto body class, so it's only a matter of time before the school examines its budget and cuts that class. Instructors make all the difference in the world, without a doubt. Schools with passionate, aligned instructors who can relate to the students seem to be able to attract and retain students better. It's also important to realize that collision isn't just an industry for men anymore; at Franklin Tech, almost 50 percent of their collision students are women.
GC: There are definitely fewer students going into the auto body shop at our local vo-tech than there were years ago. Enrollment is down, and the reason all comes down to a simple question: "What can they earn in this trade?" There's no money in becoming a technician because the insurance companies have been squashing us for the past 20 years, so we can't start them at a decent rate.
JM: The size of the graduating class has dwindled from 16 students in the past to just three to five students currently. Schools have threatened to close the auto body shop because with the low enrollment numbers, it just doesn't make sense to keep it open. To make matters worse, 50 percent of the students that graduate from the auto body program don't even stay in the field after graduation because they find out they can earn more money in other trades or careers with little to no experience. The low Labor Rate is killing the industry for talented young hires.
RS: The collision program at Lynn Vo-Tech is still at capacity; tech schools in general are in high demand as there is now more of a focus for kids to go to tech schools versus going into college; however, even though auto collision may be at capacity, not all of those students chose the program as their first choice, and many kids ultimately decide not to enter the trade upon graduation.
NEAR: Why do you feel it's important to increase industry engagement with schools and students?
AP: They're our future – not just the future of the collision repair industry but OUR future. They're our next plumber, electrician or chef. They're our kids. So, it's a given that we need to support them. If you care about the future, you care about the vo-tech schools because they're teaching trades that cannot be outsourced or done remotely. These are service industries that will always be here, even when they change over time.
GC: Teachers are trying to train students to work on cars, but they're limited on how much time they get to spend with these kids which inhibits their ability to whet their appetite a little more so they want to stick it out and delve into an industry career. By getting involved with the schools and hosting students in our shops, industry professionals can support those efforts.
JM: The school's curriculum teaches safety, academics and surface vehicle knowledge, but when students visit the shop, they get a better feel of what they can expect to learn in the field. We never hire a student to clean the shop as their main role; that can be defeating, and we feel it's important to let them experience all the shop's departments to find the best fit for them and the shop.
RS: I have been saying for years that experienced technicians with $30K in tools are not just going to fall out of the sky and wind up at your shop. Most good shops are doing all that they can to try to retain good help. The only way to get good technicians is to build them yourself, and the best way to do that is to form and maintain relationships with collision training programs in your areas.
NEAR: How often do you invite students to your shop? What can you share about your interactions with students in the shop and at the school?
AP: In ninth grade, students take exploratory where they go through the different programs, and during their three weeks of exploration into auto body, we offer a tour of our facility (virtually during the pandemic) and even a day or two of job shadowing, so they can see what a day in the shops is like to help them decide whether that's the program they want to study. It blows me away that these kids are making career decisions when they're 14 years old, so we want to help them make better choices. We've typically had one or two co-op students each semester, and being a resource when they have questions has worked out really well.
Today's students are similar to students from 20 years ago: Some are very passionate and enthusiastic, while others are distracted and disruptive because they don't care. They're a heck of a lot more technologically savvy and always have their phones in their hands, but there's a way to look at that positively and embrace that skill – can they use their phone to do research or look up repair procedures? The biggest change has been the pandemic making less opportunity for hands-on work in the schools, but students are still very interested in this trade because what we do is really cool. Many of these kids know more about the technology in modern cars than the people who've been in the industry for many years!
GC: One of my current employees came from a local vo-tech and has been here for a few years now. He was a great find; I wish I could find three more just like him! Other students may not last a day. Some take to it like a duck to water, but others just don't have the work ethic. These kids don't know a lot, so it's easy to lose patience with them. Shops have to be prepared to shape, mold and train them.
JM: Marshall's Auto Body Experts have hosted many schools and students, not just our local one. We have the newest equipment to repair today's high technology vehicles, which their schools may have not ​acquired yet. For the last 10 years, I've also attended career night for the eighth grade students and their parents to demonstrate the many career options they can pursue with a collision education: They can choose to appraise damage, repair vehicles, become a painter, work for a paint company, join the insurance industry or restore vehicles. These young, talented kids have great computer skills which would be invaluable as automotive technology rapidly increases, but we can't entice them into this field where they could be very helpful and successful.
RS: Working with the students at the school for the 14 years that I taught were some of the best years of my life. I still stay in contact with many of them and have had some of them work for me for many years. With COVID putting an end to school visits for the past two years, my interactions have only been with students that I have hired. That is beginning to change now.
NEAR: According to instructors, the industry's problem extends beyond merely attracting new blood; collision repair shops also struggle to retain young technicians after hiring them. What retention challenges have you experienced, and what strategies have you implemented to correct them?
AP: Although some schools still have great enrollment numbers, a lot of these students don't remain in our industry as they become adults. Some never actually go to work in a shop, and many who do quickly move onto something different after a few years. It's difficult to foster an environment where people want to work together, but we've built a great rapport with our team. Still, we're also losing long-term employees as many people are leaving this industry for other trades or unskilled jobs because they don't see a clear career path in collision. Of course, the stagnant Labor Rate doesn't help either, and when reimbursement rates remain so low, it's difficult to dedicate time to train and develop that person when there's an emphasis on safely and properly repairing the vehicle as quickly as possible.
Improving work culture is also an important component to retaining workers. A lot of people in this industry are disillusioned. During a recent AASP/MA meeting, I learned that only one in four technicians are satisfied with their career choice. If 75 percent of our techs are unhappy with their career, how are they going to be good role models for these young technicians? Are they encouraging them to enter the industry…or are they telling them to run?
GC: I lay the blame squarely at the feet of the insurance industry for suppressing rates. They're squeezing the life out of us, and when we're only collecting $40 an hour, how can we afford to pay recently graduated technicians the $25 or more that they're expecting?! Parents don't want their kids working in an environment where they're surrounded by cancer-causing fumes for an employer that cannot afford to offer medical benefits or a 401K. When my stepson washed cars for me, I told him, "Don't even think of going into this trade because it's a dead-end job." Honestly, if I could do this all over again, I wouldn't!
JM: We considered offering signing bonuses but feared that might weaken the value perception of current employees who did not receive such an incentive. Instead, we challenged existing employees to speak to family and friends about finding people to join our team, and we offered a $1,500 bonus to both the employee and the new hire, to be paid out in three quarters. Our three new young team members are now in their fourth month!
RS: As long as this industry cannot be competitive with wages and benefits, we will continue to struggle to attract and retain qualified technicians. For what a technician needs to know, continue to learn and invest in tools, I can't think of one profession that is nearly as undercompensated as the collision industry.
NEAR: The million-dollar question…How do we fix it? How do we solve the tech shortage dilemma?
AP: Career development is vital. Shops are often so focused on throughput that we don't make time to focus on our people's development. We need to demonstrate that there are many avenues within this industry and within our organizations. Can we create a track for somebody who doesn't want to continue to be a painter? Maybe they can learn to be a repair planner instead. Creating new openings and opportunities is hard, but it'll benefit us in the long run.
GC: The most effective way to attract and retain more techs is simple: Pay them. There needs to be a major overhaul of this entire system, but we've been doing it this way for so long that most people are afraid to upset the apple cart. We allow insurance companies to dictate the repair, even though they've never fixed a car in their entire life. We need to shake things up because the way we've been doing it isn't working. Things are on the verge of collapse, and who will fix vehicles when the current technicians age out?
JM: We created a training program within the shop where we partner a student or new hire side by side with a seasoned technician. We measure their ​efficiency and knowledge growth on a regular basis, plus we provide them with a free tool box if they stay in the program for two years.
RS: Shops will continue to struggle to attract and retain employees until reimbursement rates paid by insurers grow drastically, allowing auto body employees to receive the same salaries and benefits enjoyed by their counterparts in other trades. It is bad enough that the collision industry can't compete for entry-level help with companies such as Amazon which require no specialized training for entry level positions or the investment in tools that those entering the collision industry must invest in. I think that the day will come that the insurance industry will finally reap what it has sown, and repair professionals will finally be driving the bus. I just hope that I am around long enough to witness it.
Engaging with students may seem like a daunting – and exhausting – task, especially in a business environment where it can be difficult just to process the existing workload. Fortunately, organizations like the Collision Repair Education Foundation offer ways for collision professionals to support local schools with minimal effort. Discover how you can get involved at collisioneducationfoundation.org.
Want more? Check out the May 2022 issue of New England Automotive Report!