Tysons Corner's Edwin Rivera Recognized for Quality Refinish Skills and Teamwork
by Alana Quartuccio
Talented. Genuine. Motivating. Humble.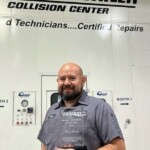 Those are just a few of the ways the people who know and work with Edwin Rivera (Tysons Corner Collision Center/Penske Automotive Group; Vienna, VA) have described him. Earlier this year, WMABA named Rivera as Painter/Refinisher of the Year for 2022, during its first ever award recognition ceremony which was held the weekend of the Southeast Collision Conference. 
Rivera was described as being "the most quality-conscientious, customer-driven technician I have ever worked with during my long career," by Timothy Pfeifle, general manager at Tysons Corner Collision Center, who nominated him for the recognition. 
Rivera heads the refinish team and has worked for Penske Automotive Group since 2005. He is a certified refinish technician for Mercedes Benz, Audi, Porsche, Jaguar / Land Rover and Lamborghini, and he is also certified by PPG and BASF. Rivera is I-CAR Platinum certified and holds an ASE refinish certification. 
"He is a very talented individual who doesn't mind sharing his knowledge and expertise with others," Pfeifle shared. "Edwin is one of those employees who cares about the quality of his work and trains his team to perform at their best. He genuinely cares about his co-workers and makes sure they are positively motivated." 
Kevin Frost, who has been working with Rivera for 12 years, echoed the same sentiments. His work ethic and leadership inspires everyone around him, including the bodymen. 
"He's not the kind of person to talk about himself. He lets the work speak for itself," Frost acknowledges of Rivera's humble nature. "Edwin goes above and beyond. He brings out the best in all his co-workers as they strive to do just as good a job as he does. For me personally, he makes me want to be the best I can be." 
"I can't say enough nice things about Edwin; I am lucky to have him on my team," added Pfeifle. "He really deserves this honor."
Want more? Check out the November 2023 issue of Hammer & Dolly!