As athletes around the world busily train for the 2024 Summer Olympics in Paris, a group of talented young people are gearing up for a similar challenge in nearby Lyon, France: the 47th WorldSkills Competition (WSC), taking place September 10-15, 2024.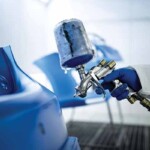 Every two years since 1950, dozens of countries and regions from all over the globe have sent more than 1,400 competitors to test their skills in over 60 different trades, and in 2024, Team USA is slated to participate in five categories – automobile technology, auto body repair/car painting, cooking, heavy vehicle maintenance and welding – with delegates being chosen from among the SkillsUSA winners. Selection "involves a detailed analysis of SkillsUSA Championships results followed by interest surveys, individual interviews, skill demonstrations or hands-on events, followed by the creation of individual training plans for the next year," according to Team USA's website.
Although the group of young experts who will represent the US in 2024 has not yet been selected as of this writing, industry supporters have already begun raising funds to ensure Team USA's "Paint Olympian" is equipped to bring his or her best. Team USA's painter will prepare for the competition with industry expert Jamie Redd (PPG), who will accompany the fledgling trades professional to France to lend his support during the biennial event often referred to as the "Olympics of Technical Skills."
"The WorldSkills USA team is funded solely through private donations," shares Jessica Neri (PPG). "To fully fund our auto body competitor, we need a minimum of $20,000, but we can do this – this hopeful competitor needs our support!"
Competitors who will represent Team USA must qualify by participating in demanding competitions to demonstrate their skills in order to reach the world stage where they'll have the opportunity to test those skills against an international standard at levels of Olympic intensity. While many industry professionals believe that's a standard set by the US, which was built by the skilled trades, the American team has historically seen less industry support than other countries' teams have received. 
"We can't constantly complain about not having people in the trade but then not want to do anything about it," insists former Team USA Auto Body/Paint Expert Rodney Bolton (Bolton Consulting). "You've got to put your money and support where your mouth is, so we can support the trade 100 percent." 
Competitors need that support to grant them access to the equipment, tools and materials needed to finetune their craft in order to compete at the level necessary to have a chance at taking home a medal, a dream that Team USA's refinish competitors have yet to fulfill. 
"The USA has never medaled at the world level in refinish, but we can change that by coming together to support the Refinish USA World Skills Team – this is the Olympics of our industry, and nothing says 'America' like our competitor kicking butt and bringing home the gold, silver or bronze!" Neri urges. "Would you be willing to help? Would your company be willing to donate a small amount? If we broke it down by $500 increments, we only need 40 companies to donate."
Making a donation is easy. Just visit worldskillsusa.org/donate, and type "car painting" into the field that asks "gift preference – which competition are you supporting?" And because these donations are tax deductible, don't miss the opportunity to double your contribution if your company has a matching program!
According to WorldSkills Team USA's website, "A student-led partnership of education and industry, SkillsUSA is America's proud champion of the skilled trades, building the nation's future skilled workforce by delivering graduates who are career ready, day one. SkillsUSA works year-round to instill positive attitudes, build self-esteem and empower students to excel in the career path of their choice and follow their passions. The organization has 850 national partners and is integral to the training in nearly 20,000 career and technical education classrooms."
Like the Olympics inspire many athletes to aspire to greater heights, proponents of WorldSkills hope that the premiere event to showcase technical education will likewise draw young people's attention to the plethora of career opportunities that exist within the skilled trades. The 2024 iteration anticipates attracting over 250,000 spectators, including students, public policymakers, employers, teachers, trainers, technical experts and government officials, which provides an ideal opportunity to promote the value of the trades on the world's largest platform. 
A promotional video available on WorldSkills USA's YouTube page (youtu.be/VkeGGdMQ734) sums up the importance of supporting the trades quite effectively: "The glory and beauty of athletics is undeniable, but athletics didn't build this nation; technical skills did that…It's time – time to show our team, America's team, that we value them and what they represent. Because they represent us, our past, our present and our future, a future where technical skills once again receive the honor they deserve. And where America once again takes the lead in their development."
Learn more at worldskillsusa.org.
Want more? Check out the November 2023 issue of Hammer & Dolly!