by Jordan Hendler
Navigating SEMA is a proverbial smorgasbord of options, and if you aren't intentional, it could all end in a blur… or something from a Hangover movie, where you find yourself on a plane home with no actual recollection of what you did the past week, maybe even with a tattoo you don't recollect.
I've se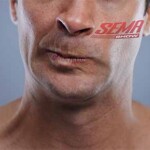 en too many people get to Vegas and lose their mind staying out all night partying it up, losing all their money and not making it to the morning events they knew they wanted to attend. 
You can have fun too, but making it worth it is your first objective. Here are some simple tips!
Know Where You're Going and When
They say you'd only get about eight seconds per booth if you wanted to see the whole SEMA Show in the Las Vegas Convention Center. Think about that for a second…or eight. Already, before you started, you know you can't see it all. So don't even try! Make a plan to see what matters, and maybe hit up a couple of fun things you can do along the way. 
Download the SEMA Show app to your phone, and start looking at all the education classes; you can even search for "SCRS: Repairer Driven Education" to see the classes made just for you as a repairer. Save with a "star" the classes you want to be in, and you'll be creating a schedule right there that you can follow for the week. You can even save events you want to see and choose which vendors you want to visit.
The Upper South Hall is where the collision section and education takes place. Once you're in the vicinity, you're close to your education and industry vendors. The floor is electric, so make sure you have some time to wander through. You will find yourself fascinated by what's new and innovative from the industry's leading suppliers.
Check out the full schedule in this issue, and take it around with you as your guide. 
Make Sure You Include CIC, Red Carpet Awards
Tuesday, October 31 isn't just Halloween, which in Vegas is a show in and of itself. It's the day of the Collision Industry Conference, where you can not only take in discussions on industry issues and cutting-edge presentations, but also take part yourself. This event and the awards to follow are both at the Westgate Resort Hotel, just next to the LVCC. You'll be able to meet peers and leaders in the industry, while you get to network during the breaks and reception following CIC. 
Tuesday evening will be a chance to dress up (or not, it's up to you) to participate in the Collision Industry Red Carpet Awards event. The Awards honor the best of the best in our industry, amidst a literal red carpet dessert party. Several organizations will be recognizing stand-out individuals for their hard work and dedication to our industry. SCRS, I-CAR, CREF, BodyShop Business, CIECA and NABC will all be giving out honors at the ceremony. CIC will also have their 40th Anniversary celebration as part of the event, making it even more fun and nostalgic.
Just make sure that, whatever you plan to do, you stick to it. Leave some wiggle for checking out the extras, but making your plans will ensure you leave Vegas with no regrets and only wins!
Want more? Check out the November 2023 issue of Hammer & Dolly!