by Alana Quartuccio
It's a great feeling when one is recognized for their hard work. That feeling can mean so much more when you happen to love the work you do!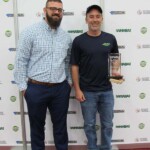 This sure was the case for Mike Murphy (D&V Auto Body; Sterling, VA)! The auto technician was the very first recipient of WMABA's Tech of the Year Award for 2022. WMABA held its first award recognition ceremony this past spring during the Southeast Collision Conference. Murphy admits he had a heads up he was to receive some type of recognition; however, he had no idea what the celebration was about until his name was called. 
"It was so cool," Murphy shared. "I was really blown away when I heard them recognize me as Tech of the Year. I was like 'Wow, out of all the technicians out there, you guys picked me?!'"
Murphy has been working with D&V Auto Body for a little over two years, and he absolutely loves it. "It's an awesome place to work. We work on a lot of exotic vehicles, and it's so great to come in every day and work on these high-end cars." 
Fixing cars has been a passion for Murphy since he was a young boy. Both his father and uncle liked to tinker with their vehicles, although neither fixed cars for a living. "I'd watch my dad work on cars in the driveway. I'd always be in the driveway helping him."
This sparked an interest in Murphy's young mind that would eventually launch a career in automotive mechanics and auto body work. He was fortunate enough to attend T.C. Williams High School (known today as Alexandria City High School), which had an active auto body program. 
"It was awesome to not have to leave the school building to study auto body; we even had a paint booth," he recalled. "A lot of my friends in other counties had to go off site or be part of a vocational program to study auto body or even auto mechanics." 
Painting was Murphy's first love. He worked his way up as a painter at a few different body shops and landed himself a job at Spectrum Collision Center (Arlington, VA). Owner Mark Boudreau made Murphy head painter – he was only in his early twenties! "I was really young and he gave me that opportunity. I painted for 10 years." Then, Murphy decided to step away from the auto body world and went over to the mechanical side of the fence, working as a service technician for an Audi dealership for 13 years. 
The next stop in his career path was D&V Auto Body. 
"They were looking to hire a mechanic and reached out to me through a co-worker, and that is how I wound up working there." Murphy acknowledged that not many go from collision into mechanics like he did, but it's given him versatility. Although he mainly serves as a mechanic at D&V, he is able to do whatever is needed as he has extensive experience in all areas of automotive repair.
"Coming from the auto body side, I know how things work, so jumping in as a mechanic is different from being in the paint shop or being a body technician. It's an interesting position to be in. I'm able to work with everyone.
"I try to be a team player as much as possible," Murphy continued. "I get along with everyone. It's a great group here at D&V; everyone has years of knowledge. We can work our way through any problem."
Want more? Check out the October 2023 issue of Hammer & Dolly!