by Chasidy Rae Sisk
"Electric vehicles (EVs) are the future…the future is EV."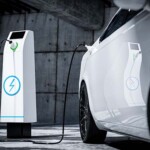 Shops have been receiving this message for the past few years, and while some have invested in upgrades to their facilities, tools, equipment and training, many more have turned a deaf ear to the news. Yet, consumers are forging ahead with the purchase of EVs in many areas of the country, begging the question not only of "who will repair these vehicles?" but – more pressingly – where will drivers be able to charge them?
While the total number of EVs in the US increased from 1,019,260 to 1,454,580 from 2021 to 2022 (a growth rate of 42 percent) according to Zutobi's "2023 EV Charging Station Report," the number of public charging outlets have increased by just 12 percent, from 128,549 to 143,771. In its "Get Connected: Electric Vehicle Quarterly Report 2023," the Alliance for Automotive Innovation (AAI) agreed the "installation of US public chargers is not keeping up with current and projected EV sales," noting that as of the first quarter of this year, there was a "total of 133,982 publicly available charging outlets in US for 3.34 million EVs on the road, a ratio of 25 EVs per charger," and while 306,047 EVs were registered that quarter, only 7,802 new chargers were added, a ratio of 39 EVs per public port.
The current shortage of public charging stations creates an opportunity for savvy business owners willing to invest in the infrastructure needed to support EV growth, and such an investment seems particularly well-aligned with the body shop world which could benefit both directly and indirectly from this type of venture. 
Although installation can be costly, shops with the means and space to add one or more charging ports may enjoy increased profitability, both by attracting new customers – who may ultimately elect to have their EVs repaired at the shop – as well as by creating an avenue to generate new income by setting up a charging station similar to gas stations. How profitable are charging stations? It really depends on the level of EV adoption within the specific market, but estimates indicate the potential to earn thousands of dollars monthly from EV charging because it's a service that consumers desperately need!
Adoption rates vary from state to state, largely driven by tax credits made available and state laws being passed. In WMABA's market, West Virginia has the lowest adoption rate with EVs comprising just 0.29 percent of registered vehicles, though the state saw an increase from 600 in 2021 to 1,010 in 2022, an increase of 68.3 percent. The state does not currently offer tax credits, though Governor Jim Justice did sign an EV infrastructure development bill earlier this year. 
Washington DC boasts the highest adoption rate in the market – and fifth highest in the nation – with 1.98 percent of registered vehicles being EVs, a number that increases each year. The District of Columbia offers tax incentives to drivers who convert to EVs, as do its neighboring states of Maryland and Virginia. 
Of Maryland's registered vehicles, 1.25 percent are EVs, showing a 42.6 percent increase in 2022 over 2021 (25,630 from 17,970). Similarly, Virginia's number of registered EVs rose from 20,510 in 2021 to 30,660 in 2022 (a 49.5 percent increase), with 1.04 percent of all registered vehicles in the state being EVs. Furthermore, both Maryland and Virginia have passed laws requiring all new vehicles sold in 2035 and beyond to run on electric power, so EVs truly are the future…but what do shops think about this potential investment?
Well, it seems like shop owners' opinions are largely driven by their market and the level of EV adoption within it. Two Virginia shop owners have already made the investment. 
"We had to invest over $80,000 to upgrade the service to the building and then another $20,000 to add the charging stations," shares Barry Dorn (Dorn's Body & Paint; Mechanicsville, VA), who explains how he charges customers for using the EV charging port in his shop. "We charge a flat fee for every EV repair; however, this does not cover the full cost, especially in hot or cold weather. This also doesn't cover the labor to check each vehicle and cycle them all through a charging station."
For shops currently considering whether to install EV charging points, Dorn advises, "Check the electrical service coming into your building. This cost can range from a low of $10,000 to a high of $150,000, depending on your existing service, for this alone. Add in the cost of the stations and upkeep, which will add to your overall monthly costs, and also include the 20-60 percent increases you will see in your monthly power bill."
"The investment is big, and the return is small and slow," agrees Phil Rice (Huber Collision Center; Fredericksburg, VA). "You are not just investing in electric but also into the future of your shop."
Huber Collision Center invested in "an indoor fast charging station which required a massive upgrade to the panel box as well as running the electric for a total cost of $30,000 – and this is not for customer use. We installed a charging port only for in-house use to ensure any vehicle being worked on has adequate charge to perform needed repairs; it is not available to our customers for convenience charging, and we do not accept an electric vehicle into the shop with less than 50 percent charge."
Although Rice has not yet installed charging stations for the public, he did "run all of the electric that would support two outside customer-facing and customer-paying charging stations for future use" while making the upgrades to his shop; however, he notes that his "outside lighting and security cameras will also need to be upgraded to support nighttime or after hour use" before moving forward with the investment.
What would make him and others more likely to make that leap now? "The Biden Administration just made $12 billion of taxpayer money available to US car manufacturers to assist with retrofitting to electric. If there were some sort of incentive for the small business, the buy-in to the change may settle some nerves," Rice suggests.
Conversely, shop owners in other markets are hesitant to spend so much money on EV charging ports when there seems to be little interest in their area. 
"Currently, we just do not see the demand of those vehicles for repairs and have not felt the need as of yet," says Jake Keaton (Keaton's Collision Center; Barboursville, WV). "Until we have a demand in this area that represents a need, there's no reason to install EV charging stations on our property. We do not work on very many EVs, but we know that may change in the future. When we see more vehicles in our area that would facilitate a need with a higher return on investment, we'll reconsider whether it makes sense for our business."
Greg Cline (Greg Cline Automotive; Winfield, WV) shares that viewpoint: "At this time, we just don't see the volume that would facilitate the need for this investment. Not saying we are not keeping an eye on it, but currently we are able to refer the few EVs we see to shops in Ohio or Virginia that do have the volume and have made the investment."
Cline indicates that he will reconsider installing such systems "as technology advances and consumers adopt this new path forward in our area, though I am not sure we would make them available for public use; however, if there was a void or market need we could fill and a clear path for a ROI, we would absolutely take a more aggressive look into this for our facility and consumers."
While Richie Bosacco (Apple Valley Collision; Martinsburg, WV) concurs that there's not much demand in his market, he has begun doing the research to determine what would be needed to "bring that ability to our facility. We have been looking into our options for the shop infrastructure, but we are concerned with the emergency containment areas that are needed as well as the charging capability. Also, we have to consider what direction all the manufactures will go with standardization for EVs – there's just a lot still to consider before pulling the trigger."
But until demand increases, he just cannot fathom making such a costly investment. "It's just not a demand for our market, and until it reaches a point in which we can obtain a reasonable ROI, it just does not make sense at this point for us. We have facilities close by that we can recommend until demand increases."
Clearly, investing in EV charging stations offer a lot of opportunities and still-present challenges, but does one outweigh the other? We'd love to hear what you think! Feel free to share your opinion with chasidy@grecopublishing.com.
Want more? Check out the October 2023 issue of Hammer & Dolly!