Looking to take your collision repair education to new heights?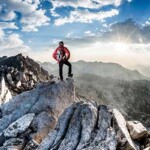 There's just a month left to get all your plans together for SEMA 2023, taking place in Las Vegas from October 30 to November 3, and those interested in staying on the cutting edge won't want to miss the chance to rub elbows with innovators in automotive structural design and technology during the Society of Collision Repair Specialists' (SCRS) OEM Collision Repair Technology Summit, with three sessions beginning at 9am on Thursday, November 2. 
"We are beyond excited about the caliber of panelists who have accepted our invitation to interact with the industry," states SCRS Chairman Amber Alley. "The OEM Summit has always been designed to gain insight into the most cutting-edge developments in the industry and to give our attendees access to individuals who are on the front lines of innovation. I'm personally very excited for the opportunity."
Session I: Understanding OEM Insurance takes a deep dive into the new world of OEM insurance programs, featuring Andrew Rose, president of OnStar Insurance; Rob Spencer, president of Toyota Insurance and Rivian's Head of Insurance Mike Slattery. 
"An increasing array of automakers have begun to offer exclusive insurance products designed and underwritten to deliver unique coverage to complement their vehicles," according to a statement from SCRS. "As programs mature and expand across the United States, so does the potential to positively impact the consumer experience during the claims and repair process. Each panelist will present the unique aspects of their individual offerings, and then join to further discuss the evolution and potential of OEM insurance and its intended impact on the claims and collision repair process."
"This session on OEM insurance offerings is an intriguing one, and I think it will be an interesting illumination on how the claims and repair process can dramatically impact the consumer experience," says SCRS Executive Director Aaron Schulenburg. "I've been really impressed with how interested and engaged the panelists have been in asking questions about the collision repair experience, the time spent on activities advocating for consumer interests and whether we see opportunities for improvement through the same lens." 
Beginning at 11am, Session II: North American Automotive Material Outlook and Implications to Collision Repair will be led by Abey Abraham and Bertrand Rakoto of Ducker Carlisle and include panelists Dan Black (Rivian) and Matthew Pitta (Lucid Motors) as they outline metallic and non-metallic material strategies that auto body shops can expect to encounter as the transition to electric vehicles (EVs) and alternate fuels create dynamic changes in the material makeup of vehicles. 
As internal combustion engines are increasingly replaced, repairers need to prepare to contend with more advanced grades of steel, various types of aluminum, magnesium and composites. Panelists will share insights on material selection and design in their manufacturers' models, identifying aspects of these vehicles that shops will need to understand before tackling these repairs.
The details for Session III, which begins at 1pm, have not been released as of the time this article was written, but it will be made available at bit.ly/2023OEMSummit3.
Held consecutively, the three sessions of the OEM Collision Repair Technology Summit are designed to provide attendees with an opportunity to learn how vehicles, materials, technologies and trends are evolving and how that will impact repair processes and repair businesses. Sponsors for this year's Summit include AirPro Diagnostics, BASF Automotive Refinish, Car-O-Liner, CCC Intelligent Solutions, Enterprise Rent-A-Car, Reliable Automotive Equipment Inc., Toyota Motor North America and SEMA.
The Summit rounds out a full week of educational offerings curated by SCRS, which commences on Monday with the IDEAS Collide Showcase, which features 10 fast-paced presentations designed to stimulate thought, innovation and resolution of business challenges with brash, outspoken and provoking concepts from thought leaders both in and out of the industry.
The 2023 Showcase includes "A Health Plan Your Employees Can Love: Fantasy or Within Reach?" presented by Ben Simmons (Gravie); "Culture: The Real Job Market Currency" presented by Michael Bradshaw (K&M Collision); "Being Burdened with the Burden of Proof" as discussed by Richard Desvousges (3M Collision); "Mentoring: Opportunity Amidst Labor Crisis" by Kyle Holt and Marc Brune (Mentor Mentee); "Death of the 'Estimator' Role" from Andrew Batenhorst (Pacific BMW Collision Center), "Growth through Acquisition – What You Need to Know" presented by Bing Wong (Collision Builders); "The Power of One More Booth Cycle Per Day" discussed by 3M's Jason Garfoot; "The Culture Code" from Tracy Dombrowski (Collision Advice); "Creating a Build Sheet for Your Garage Liability Insurance" covered by Shaughn Kennedy (SPARK Underwriters); and "Fixing the Faucet: How to Increase the Flow of Technicians into the Industry" presented by Alex Crays (Career Technical Education Center).
On Tuesday and Wednesday, repairers can sign up for 18 Repairer Driven Education (RDE) classes which offer a slight upgrade over previous years: SCRS has adjusted class times to provide a full hour in between classes to ensure attendees won't miss out on important information from collision's best trainers AND allowing more time to visit exhibitors on the Show floor. A variety of course topics focused on the industry's biggest challenges – and opportunities! – guarantees that all attendees walk away with new, useful knowledge to implement in their shops right away. (Check out last month's Hammer & Dolly for a detailed look at this year's RDE agenda, available at grecopublishing.com/hammer-and-dolly-september-2023.)
"When we zoom out and look at the program as a whole – from each OEM Summit session, the classrooms, to the IDEAS Collide Showcase – there's a lot of common thread woven between topics, all tying together how we are able to serve the consumer well," Schulenburg observes. "I'm really excited about the deliverables in the 2023 program and the impact we can make in the industry through that exchange of information."
Auto body professionals will want to also make sure to sign up for the final CIC of 2023, taking place on Tuesday at the Westgate Las Vegas Resort & Casino, where participants from all industry segments will gather for the express purpose of discussing and exploring the issues that occur among them. Through discussion and research during meetings and extensive interim committee work, CIC attempts to form consensus on various issues, aware that all such findings are nonbinding and voluntarily accepted. Meetings are open to all interested individuals from all segments of the industry, including repairers, insurers, paint/material companies, equipment, vehicle manufacturers, data providers, representatives of trade associations and more.
Following the educational portion of CIC, participants will want to stick around as the organization toasts its 40th anniversary after the reception. In another deviation from the norm, the Collision Industry Red Carpet Awards – typically held as a breakfast event – will be part of the CIC anniversary celebration as industry leaders gather to recognize and celebrate greatness in the collision repair industry.
Registration is now open to automotive and collision industry professionals for the 2023 SEMA Show at semashow.com. Explore and register for individual RDE sessions at scrs.com/rde, or sign up directly for an all-access "Full Series Pass" at bit.ly/RDE-FSP. Learn more about CIC at ciclink.com.
Want more? Check out the October 2023 issue of Hammer & Dolly!