by Alana Quartuccio
It's easy to see why Angela Ramirez, front office manager at Dorn's Body and Paint (Mechanicsville, VA), was chosen to receive WMABA's CSR of the Year award for 2022 – her pleasant, bubbly personality shines right through as soon as she picks up the phone!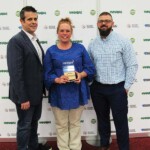 Ramirez had absolutely no idea what was coming when her boss, Barry Dorn, asked her to attend the Southeast Collision Conference kickoff reception this past April. 
"Barry didn't say anything about it when he asked me to attend the event other than 'Stop overthinking, it's nothing bad,'" she relays. When her name was called at the kick-off reception, she was blown away. "I was completely shocked because I had no idea why I was even there!" 
That evening, Ramirez became the very first person to be named WMABA's CSR of the Year during this inaugural award ceremony. She has been a part of the Dorn's Body and Paint team for five years, playing a very important role supporting the front office. 
"I do everything in the front office, which includes entering estimates and talking to customers, making them aware of how things work with their insurance. If they have certain insurances, I'll explain how the company may want to steer them to a different shop and will explain why we are the best shop to repair their vehicle."
Ramirez didn't know anything about the collision repair industry when she first came on board at Dorn's. She was a vet tech for 25 years, a career that ended due to a knee injury. She came up on Dorn's ad for a front office manager and applied. 
"I could tell you anything about dogs, but I had no knowledge of the auto body industry," she recalls of her early days, but that changed quickly as Dorn and Clay Milburn (certified repair process manager) taught her everything she knows and "made me who I am today." 
Ramirez has brought many things to the table at Dorn's, including great organizational skills which have improved processes and operations over the years. 
She has since learned so much about the industry, including how sad it is that many insurance companies do not look out for their customers. "Some try to bully people into doing what they want. I always thought you pay for insurance, so your insurance has got your back. But that's not the case. Your insurance company doesn't always have your back."
One of the things she loves most about her job is the customers.
"I love talking to them," she says. "I'm a big talker, so I'll talk to anybody and I just love educating them. I had no idea what went into a repair, so I love being the one to tell someone what is going to happen with their vehicle and with insurance and how we take it from there. It gives me great satisfaction to educate them."
Ramirez's love for people extends to her co-workers as well. 
"We have a great team here. It's a great place to work. Everyone is so knowledgeable, and I love learning something new every day." 
Although her career took her from animals to cars, pets are still very much a part of her life. As soon as she gets home, she goes full-on into pet parent mode. She recently rescued a pitbull puppy she named Odin, who is three years old and is now brother to her two cats, Bandit (eight years old) and Mordrid (two years old), who are also rescues.
Looking back on her achievement, Ramirez says, "I was very humbled, shocked and excited that WMABA thought to nominate me for this award."  
"I just can't say enough good things about Angela," boasts Barry Dorn. "Angela embodies our culture and processes and runs the front desk and her team very well. There's a big difference between someone who just works eight to five and someone who really cares and has a vested interest in seeing through the best outcome for their clients; she most definitely possesses that."
Want more? Check out the September 2023 issue of Hammer & Dolly!