From October 30 to November 3, collision repair professionals from all over the globe will make the trek to Las Vegas for one of the world's most exciting vehicle-related gatherings: the 2023 SEMA Show.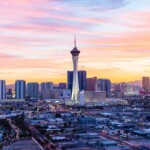 And while this year's premiere event is sure to again offer thousands of automotive exhibitors displaying their latest and greatest wares, the most elite auto body shops know that the trip's true value lies in the educational offerings provided by the Society of Collision Repair Specialists (SCRS) and the Collision Industry Conference (CIC), which have brought relevant auto body-specific education, training, discussions and networking opportunities to the Show for over a dozen years. 
"Each year, SCRS makes a conscious effort to use attendee feedback to reimagine our Repairer Driven Education (RDE) series to ensure our lineup speaks to the topics that matter most to collision repair businesses," said SCRS Executive Director Aaron Schulenburg. "The biggest change to the 2023 agenda is our decision to kick off the weeklong educational extravaganza with our IDEAS Collide Showcase, which will be held on Monday instead of Friday. 
"We think there are a ton of really valid reasons to make this change, least of which being that it sets the stage for finding solutions for your business through the week ahead while introducing attendees to a number of really phenomenal speakers," Schulenburg added, promising topics that will "rattle the status quo with ambitious ideas that could have a transformative effect on the industry and your business. I can't think of a better kickoff to the week, and it's a good reason to get into Vegas early, on Sunday or Monday morning."
The IDEAS Collide Showcase will feature 10 fast-paced presentations designed to stimulate thought, innovation and resolution of business challenges with brash, outspoken and provoking concepts from thought leaders both in and out of the industry.
The 2023 Showcase includes "A Health Plan Your Employees Can Love: Fantasy or Within Reach?" presented by Ben Simmons (Gravie); "Culture: The Real Job Market Currency" presented by Michael Bradshaw (K&M Collision); "Being Burdened with the Burden of Proof" as discussed by Richard Desvousges (3M Collision); "Mentoring: Opportunity Amidst Labor Crisis" by Kyle Holt and Marc Brune (Mentor Mentee); "Death of the 'Estimator' Role" from Andrew Batenhorst (Pacific BMW Collision Center), "Growth through Acquisition — What You Need to Know" presented by Bing Wong (Collision Builders); "The Power of One More Booth Cycle Per Day" discussed by 3M's Jason Garfoot; "The Culture Code" from Tracy Dombrowski (Collision Advice); "Creating a Build Sheet for Your Garage Liability Insurance" covered by Shaughn Kennedy (SPARK Underwriters); and "Fixing the Faucet: How to Increase the Flow of Technicians into the Industry" presented by Alex Crays (Career Technical Education Center). Tuesday and Wednesday boasts 18 RDE sessions with a slight upgrade over previous years: SCRS has adjusted class times to provide a full hour in between classes to ensure attendees won't miss out on important information from collision's best trainers AND allowing more time to visit exhibitors on the Show floor. A variety of course topics focused on the industry's biggest challenges – and opportunities! – guarantees that everyone who attends will walk away with new, useful knowledge.
There is a resounding conclusion that the role of an "estimator" is obsolete, as Andrew Batenhorst (Pacific BMW Collision Center) will explain in "Death of the Estimator Role," a concept that Michael Bradshaw (K&M Collision) plans to reinforce in "Repairer to Repairer: Stop Estimating and Start Repair Planning," both detailing  the step-by-step process to perform an OEM compliant repair. Those who are already familiar with the challenges of repair planning can "Take Control! The Guild of Advanced Repair Planning" with a panel of industry experts, including Bradshaw and Danyon Kirchner (Zimmerman Autobody Supplies) and moderated by Danny Gredinberg (Database Enhancement Gateway), as they explain how evolving vehicle technology requires evolving blueprinting processes.
RDE's educational slate also tackles the technical side of collision repair with classes on everything from ADAS to glue pulling. During "Honey, You Shrank the Dents!  Smaller Dents, Bigger Dollars with 'Pull to Paint' Approach," KECO Body Repair's Chris White and Gene Fetty will be joined by Kevin Andrews from KECO UK to demonstrate how glue pull repair can be used as a part of a repair process that leaves the OEM finish undisturbed.
Electric vehicles are taking over the roadways, so shops preparing to repair these types of vehicles won't want to skip "EV: Pulling Together the Critical Puzzle Pieces" as Dave Gruskos (Reliable Automotive Equipment) shares tips for developing the right infrastructure to ensure success in this arena. 
ADAS plays an even larger role in the market with over 50 percent of today's registered vehicles including ADAS features. Greg Peeters (Car ADAS Solutions) will moderate an interactive panel entitled "Overcoming the Challenges of Opening and Managing an ADAS Calibration Business," as several successful shop owners discuss their experiences opening and operating their own ADAS calibrations businesses, while Repairify's Chris Chesney will touch on the accuracy of aftermarket ADAS calibration targets during his exploration of effective scan tools in "Making the Right Tool Choice Using Empirical Data to Ensure a Safe and Proper Repair."
Jim Chargo (BASF) dives into "The Influence the Refinishing Process Plays in Evolving Vehicle Technology" and will also teach a class on ensuring shops turn a healthy profit on paint and materials, "The New Age of Paint & Material Billing and Reimbursement!" , 
Shop managers and owners have a plethora of options for improving their businesses. With high-level business tips such as "Building Operational Leadership" with Mike Anderson (Collision Advice), "The Formula for Business Success, Considering Current Events" with Frank Terlep (Opus IVS) and "Being 'Elite' in a Consolidating Market" presented by John Shoemaker (BASF), attendees are certain to find the secret to success for their specific shop. 
Mad about marketing? In "Marketing Jedi Training: All Levels Welcome – From Padawan to Master," Micki Woods (Micki Woods Marketing) provides guidance on assessing current business and shares tips for sharpening one's marketing lightsaber. And if the problem doesn't lie in convincing the customer TO call but in HANDLING those calls, Tracy Dombrowski (Collision Advice) offers advice on the phone's impact on the customer experience during "Phone Etiquette and the Power of Mystery Shopping."
Of course, learning everything about the business means little without the staff to keep the shop moving productively. Four courses focused on finding, retaining and engaging employees highlights the ongoing need to address the technician shortage: Jeff Wildman (BASF) covers "Talent Shortage – Ensuring We Have Collision Technicians in Five Years," while Lee Rush (Sherwin-Williams) tackles the topic from a different angle of "Doing More with Less: Operationally Addressing Workforce Shortages and Growing Backlogs." AkzoNobel's Tony Adams shares his expertise on the subject in "Freedom to Speak? Improve Employee Retention and Engagement Through Improved Communication" and "Changing the World with a Four-day Work Week?"
The RDE series will conclude with SCRS' OEM Collision Repair Technology Summit, an all-day series, comprised of three special sessions featuring experts in automotive innovation and design. Although details have yet to be released, Schulenburg promised, "It will be one of the most interesting and diverse OEM Summit sessions to date."
While that pledge may seem tough to keep given the high quality of past sessions, SCRS always pushes the envelope and exceeds expectations, and 2023 is unlikely to be an exception to that rule. 
"We've got an incredibly diverse and talented group of presenters who are positioned to provide meaningful contributions to the attendees," Schulenburg teased. "SCRS has been unwavering in our goal of using the RDE series ─ and the elevated platform at the SEMA Show ─ to help collision repair businesses succeed by arming them with tangible solutions and knowledge to improve the way they conduct their business and deliver on repairs that align with the heightened sophistication and complexity of today's vehicles. We're looking forward to seeing everyone in Vegas!"
Auto body professionals will want to also make sure to sign up for the final CIC of 2023, taking place on Tuesday at the Westgate Las Vegas Resort & Casino, where participants from all industry segments will gather for the express purpose of discussing and exploring the issues that occur among them. Through discussion and research during meetings and extensive interim committee work, CIC attempts to form consensus on various issues, aware that all such findings are nonbinding and voluntarily accepted. Meetings are open to all interested individuals from all segments of the industry, including repairers, insurers, paint/material companies, equipment, vehicle manufacturers, data providers, representatives of trade associations and more.
Following the educational portion of CIC, participants will want to stick around as the organization toasts its 40th anniversary after the reception. In another deviation from the norm, the Red Carpet Awards – typically held as a breakfast event – will be part of the CIC anniversary celebration. Of course, that's not all…But you'll have to stay tuned to Hammer & Dolly for more updates as we get closer to SEMA 2023!
Registration is now open to automotive and collision industry professionals for the 2023 SEMA Show at semashow.com. Sign up for SCRS' RDE series at scrs.com/rde, and learn more about CIC at ciclink.com.
Want more? Check out the September 2023 issue of Hammer & Dolly!