by Chasidy Rae Sisk
In the collision repair industry – as in life – the only true constant is change. But change is scary, especially when it comes to all the evolving technologies on the horizon.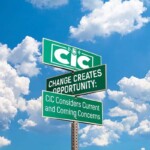 Industry leaders examined current trends and explored future shifts that shops can expect at the most recent Collision Industry Conference (CIC) in Pittsburgh, PA.
Few topics bridge the gap between the present and the future quite like ADAS and EVs…so much so, in fact, that CIC decided to add a half-day special session specifically focused on helping repairers "Elevate Your Understanding" with four adventure stations honing in on specific industry technologies.
By 2025, almost 50 percent of North American vehicles will be equipped with ADAS, a number predicted to jump to 75 percent by 2030. CIC Incoming Chair Frank Terlep (AutoTechcelerators, LLC) partnered with Jason Buck Zeise (LaMettry's Collision) to address the six major challenges shops encounter when trying to calibrate vehicles.
"Only 20 percent of shops have enough space to properly perform ADAS calibrations," Terlep intoned, specifying that a shop needs a minimum of 4,000 square feet and noting the importance of level floors, adequate lighting and plain walls. Additional challenges that must be addressed include equipment, personnel and training, business processes and a business operating system, ADAS technology and calibration identification and the unknown.
"Document every aspect of the ADAS service/calibration process as if you were going to court tomorrow!" Terlep advised. He then broke down the investment necessary for a shop to offer calibrations, estimating a minimum investment of $150,000 is needed.
"It's expensive," Zeise acknowledged, "But there's money to be made, and it's the only way to ensure a safe repair."
Angela Lee (Autel) reviewed the three main charging connectors for EVs in North America: Level 1 AC, Level 2 AC and Level 3 DC (CCS1 or CHAdeMO), and she explained how electricity works like a water hose, with the voltage, amperage and wattage dictating how fast the vehicle charges.
I-CAR's Bud Center and Dirk Fuchs teamed up to review safe repair practices when it comes to EVs. Fuchs warned repairers to "look at damaged EVs with your eyes, not your hands, until you've confirmed zero potential" as he donned electrical-insulating gloves with leather gloves on top while emphasizing, "It's better to be over-protected than under-protected."
The pair of EV experts demonstrated how to utilize a two-pole voltage tester to measure the electrical potential and "verify, verify, verify" that the vehicle is safe to touch before proceeding with the repair.
"We can't assume it's safe…We have to make sure it's safe," Center stressed.
As the industry moves forward, augmented reality will arm repairers with additional ways to safely inspect EV damage, as Jake Rodenroth (Lucid) demonstrated with the OEM's proprietary app that allows a 3D model to be superimposed over the vehicle to identify areas of concern. Lucid has also developed an associated training portal to help get techs up to speed quickly on these complicated vehicles.
CIC's special session concluded with an OEM panel on alternative power, featuring Rodenroth, Mark Allen (Audi), Benito Cid (Mercedes Benz) and Kelly Logan and Frank Phillips (Rivian), moderated by Ron Reichen (Precision Body & Paint).
"Keeping people safe is a top priority," Allen said. "There's not much difference in the structure of EVs compared to internal combustion engine (ICE) vehicles. In general, the difficulty factor hasn't gone through the roof, but you need to be aware of the electrical components and their possible pitfalls."
OEM representatives discussed how they identify shops for their programs, which parts are restricted, what tool requirements exist and why it's imperative to follow OEM repair procedures.
"Passenger protection is number one, but the vehicle structure itself has to protect the battery," Logan noted. "When we launch our procedures, they are very specific and based on our knowledge and training related to that vehicle, so it's absolutely critical that OE procedures are followed so the frame doesn't react differently in a subsequent accident."
"Look at the repair procedures every time," Cid agreed. "That's the only way you're going to know the right way to repair that specific vehicle at the time you're working on it. There are many nuances to repairing EVs and hybrids, and they're all called out in the procedures."
Rodenroth offered a few words of wisdom in closing: "Collision shops are a reflection of our brand, so I can't stress enough how important it is to be more educated on that car than the customer. You have to possess the product knowledge, and if you're not ready, you better get ready."
The industry is abuzz with preparations for the future, and the Emerging Technologies Committee welcomed Jim Fish (New Hammer Ventures) and Chris Gardner (Automotive Aftermarket Suppliers Association) to share their findings from an ADAS study conducted by the University of Michigan. Although ADAS works – reducing backing crashes, rear-end striking crashes and lane change collisions by 42, 46 and 20 percent respectively – consumers deactivate 45 percent of all ADAS systems.
Furthermore, only 30 percent of collision shops are capable of ADAS component replacement due to complexity, expense or perceived lack of demand.
"The more calibrations you do in-house, the more
business you have access to," Gardner suggested. "It's great to see how passionate everyone here is about proper repairs, but then there's 99 percent of the industry that isn't here…They're working on vehicles without staying up-to-date on what's changing. And that can be dangerous."
During the ensuing discussion on the challenges associated with calibrating in-house, panelists indicated that standardization will eventually happen when a regulation is passed or a need comes into play. They also acknowledged the need for hands-on training related to ADAS and discussed the influence of third-party payers on the number of shops that choose to sublet calibrations.
Tackling the exponential change being experienced by every collision industry business, CIC's Future Disruptions Committee examined future business models related to transportation, insurance and claims, salvage/recycling, battery electric vehicles (BEVs) and collision repair.
Exploring how vehicles will be bought, leased, rented and used in the next decade, Michael LoPrete (Critica Consulting) envisioned a future where ride sharing and partial ownership programs will become increasingly prevalent and encouraged attendees to "start thinking about how that impacts us. Regardless of the transportation model, collisions will still occur, but as the transportation model changes, so will insurance models. Who will pay for the repair? How can the collision segment evolve to continue taking care of these vehicles?"
"These are future disruptions, not new or existing disruptions," Trent Tinsley (Entegral) reminded CIC participants, as he predicted claims being treated as a service and requiring new policy models. He also foresees enhanced OEM influence in the form of OEM riders, not just for OE parts but also for repairs at an OE-certified shop."
Technological advancements will also require changes on the recycling and salvage side of the equation, according to Sandy Blalock (Automotive Recyclers Association). Recyclers require better access to ADAS calibration information to ensure proper fit and function, engagement in efforts to meet OEM-specific repair requirements and industry-specific training for proper handling and processing of BEVs.
Exploring the topic of BEVs as a future disruption, Fuchs urged collision repairers to "Educate yourself first. The language of EVs is not yet present in our daily communication, but charging is really complex."
Rodenroth encouraged the industry to evolve by being adaptable to new and changing service and sales models, investing in training and tooling, enhancing marketing efforts, supporting local schools and participating in apprenticeship programs.
Collision repair shops can expect many business model variations related to consolidation, OEM certification, independent facilities, specialization, ADAS calibration and BEVs.
"All of this actually presents an opportunity," Karl Kirschenman (Spanesi Americas) insisted. "Change creates opportunity!"
Data access challenges provide many concerns for shops, and when the Data Access, Privacy and Security Committee broached the topic, Aaron Schulenburg, executive director of the Society for Collision Repair Specialists (SCRS), informed attendees that he was recently approached by a third-party company that was exclusively licensed to resell data it accesses through a collision industry aggregator that was sourcing the data through their primary business interactions with the collision industry, as well as aggregating and licensing the data as a secondary business model bought data from a collision industry aggregator with the intent of re-selling it to the industry.
"That's a lot of information, but the point isn't that they have the data…it's where they're getting it," Schulenburg pointed out. "A lot of industry companies are doing the right thing, but at least one isn't. Instead, they're taking that information and selling it to someone for an entirely different purpose, and that leads to an even more important conversation about what we can do to protect our businesses, our industry and our data."
Attorney Steven Block (Silver, Golub and Teitell) indicated that every state has existing laws on data privacy and that new legislation constantly tightens those mandates.
"The overarching theme is we're all marching toward a world in which federal and state legislation enhance and heighten the obligations with respect to data that all the players in the supply chain have and the disclosures that are required for consumers so that they can give informed consent and acknowledge how the data is being used…And understand what the purpose of its use is and what they may be able to do to prevent sharing of the data, if it's appropriate."
Pete Tagliapietra (Datatouch LLC) described his company's solution, which should be available for purchase by October.
"Datatouch is all about giving collision repair shops total control over their repair information. Shops need to feel comfortable that their information is secure." (Get more insights and tips for protecting data from Tagliapietra and other subject matter experts in last month's Hammer & Dolly, available at grecopublishing.com/hd0722coverstory.)
Condition Now's Tom Allen approached the topic of data privacy from a different angle.
"Controlling the data is important, but once it's been leaked, we want to preserve the shop's relationship with the consumer." He explained Condition Now's method of providing updates to vehicle history reporting platforms to "show the good and educate the consumer about the proper repairs performed to restore their vehicle to manufacturer specifications. It doesn't always have to be bad news. Shops that are following the OEM procedures already possess the documentation, and adding that to the damage report allows us to control the narrative."
CIC's final meeting of the year will take place on Tuesday, November 1 at the Westgate Resort & Casino in Las Vegas, in conjunction with the 2022 SEMA Show. For more information about CIC, visit ciclink.com.
Want more? Check out the September 2022 issue of Hammer & Dolly!