by Alana Quartuccio
WMABA's Kris Burton (Rosslyn Auto Body; Alexandria, VA) was totally taken by surprise when he heard his name called out during the association's first-ever recognition ceremony held during this past spring's Southeast Collision Conference.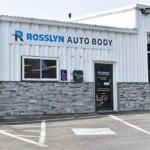 "I was totally shocked!" recalls Kris of the moment he learned his shop was awarded Most Improved WMABA Shop of the Year for 2022 during the conference. "I had no clue it was going to happen. I was just sitting there, listening as they spoke about a family-owned business, having no idea they were talking about my own. I was quite honored and humbled."
Kris has been involved with WMABA for the better part of the past two decades, beginning in 2004. He took some time off from serving on the Board but always remained active. These days, he contributes on the Board by serving as Treasurer.
"They are great people. Some of the best relationships I've had in my life come from the WMABA Board, not just professionally but also personally. There are great mentors who have been there before me who have laid the groundwork."
Rosslyn Auto Body dates back to 1937, and the business has been in the Burton family hands since 1995 when Kris' father Steve purchased it and molded it into what it is today. Although he grew up around his father's business helping out in the shop during high school, Kris didn't necessarily have plans to be part of the family business. He went off to college and waited tables for a while until his father expressed the need for him to be at the shop. Kris willingly came on board full time and has been there ever since. Kris and his sister Rachel have run the business since their father's retirement in 2019.
Rosslyn Auto Body stands out as a leading collision repair facility in many ways, one of which is their diverse team of professionals who are multilingual in English, Spanish and American Sign Language as both Rachel and their father Steve are deaf.
Kris is grateful for his dedicated staff, many of whom have been on board for 15 or 20 years. "They have grown in the business and have really become leaders in the shop."
He's also been fortunate to have brought in a number of apprentices through working with programs at local high schools and creating an environment for students who just graduated or are juniors becoming seniors. It's been a great benefit to those young people looking for a safe space to work, and it's a big help to the shop which is finding success in grooming young people to come into the collision repair fold.
"These kids need opportunity. We all had to start somewhere," he shares. "It's so much easier to bring someone into your shop's culture than to try to bring someone in and make them fit. I think every shop needs to do this. The days of putting ads in the newspaper are over. Rarely does that work these days. We need to find and help young technicians and help them grow. That's been our focus the past couple of years."
Rosslyn Auto Body has also been focusing on changing their overall philosophy by pursuing more certifications, investing and preparing for what is coming down the pike as the industry continues to evolve. Pursuing certifications has been key in growing their business over the past several years, and now they have taken it even further by making the investment to be ready to take on the electric vehicle wave being able to perform these repairs in house. Rosslyn Auto Body is now certified with Rivian and Tesla, and they also do regular electrical work with Volkswagen.
It's these efforts and thensome that led WMABA to recognize the business for this award, according to WMABA Executive Director Jordan Hendler.
"Rosslyn Auto Body has been open almost 100 years, and while that is a really impressive feat in and of itself, their innovation to keep up with vehicle technology for just as long is what makes them a standout for the award of Most Improved Shop," she contributes. "They have grown to include many OE certifications and strive to fix vehicles the way the manufacturer prescribes. They invest in proper tooling, equipment and education for their team. A very cool note about Rosslyn is they employ many folks of the deaf community, as some of the family have themselves successfully navigated their careers with the same impairment."
"Kris has served on the WMABA board for many years and has been a great contributor," she adds. "Since then, he has also become a Board member of the national SCRS Board of Directors. As part of this work, he's been a great collaborator. Kris has generously given of his time to help us advance programs in the association and has been present for many of our greatest accomplishments. He was integral on the Executive Board when large transitions of leadership or administration have taken place, and he's always been unafraid to jump into the fray and help. Kris' tenure with WMABA is something we are very grateful for." 
Want more? Check out the August 2023 issue of Hammer & Dolly!