by Alana Quartuccio
Consider this scenario: Customer drops off car and is sent on his way with a promised delivery date. Shop gets to work on the repair, only to find pushback from the customer's insurer to fix the car properly. The painful process includes supplement after supplement. More snags come up with parts on backorder. That promised date to deliver the vehicle back to the customer is long out the window. Upon learning about the delay (not to mention potential out of pocket costs they were unaware of!), the customer becomes extremely frustrated, unhappy and angry. The distressed shop owner likely feels that none of these setbacks were in his control and that there was nothing he could do. But the truth is actually quite the contrary.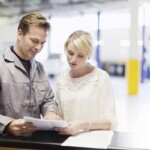 In the scenario outlined here, a lack of communication between the shop and customer throughout the back-and-forth – as well as failure to navigate the expectations of the job with the customer – likely led to this job going awry. As the repair professionals we spoke with explain, managing customer expectations is just as important to a successful collision repair business as managing a repair plan and managing the staff.
Mike Anderson (Collision Advice) sums it up quite simply: "There is a saying that when there is no communication, negativity will always fill the void."
"The thing is, we have to communicate with the customer," he continues. "If a part is on backorder, don't just call them and say the part is on backorder and you'll let them know when it's in. When the customer doesn't hear from you for a couple of days, they start having anxiety and they think you forgot about them. So, we have to do what is called a no-update-update. For example, call Mrs. Jones and say, 'We have nothing new to report. We are still trying to work this out for you; we just don't want you to think we forgot.'"
Customers don't know what happens after the car is dropped off; therefore, it is up to the repair facility to relay as much information to them along the way as possible.
"Shops should be tracking the process and have some idea of how long each insurance company is going to take to complete one of their inspections," recommends Andrew Batenhorst (Pacific BMW; Glendale, CA). "Whether it's virtual or in-person, we need to know that amount of time. Some will be faster than others."
Batenhorst has a TV screen in his lobby to publish expected average wait times to make this information visible to their customers upon first contact. From there, their initial check-in with the customers involves what they anticipate could happen so customers are aware of potential delays; shop representatives also explain the repair process and what it involves, including disassembly, insurance approval and waiting for parts. All this information should be part of every conversation shared with that customer when they come in and sign all the forms.
"One mistake a lot of shops make is giving customers a delivery date before disassembling the vehicle, getting an expected delivery date for parts and getting insurance authorization for repairs," states Tracy Dombrowski, also of Collision Advice. "We try to teach shops to wait until they have those three things before setting a delivery date."
Batenhorst advises having regular follow up conversations along the way to keep the customer informed.
"Once we've got the whole repair plan ready to submit, we let the customer know we've finished the diagnosis of all the damage, and we have a repair plan ready," he says. "We let them know they have the option of waiting for their insurance company to provide the approval, which on average, could take eight days. During that time, we cannot move forward; we will wait for the insurer to do their approval process. Or we tell the customer they can authorize the repairs to proceed now and bypass waiting for insurance approval, but to be aware that if the insurer returns with an amount lower than what the customer has authorized, they could owe the difference between the two quotes the shop has given and the insurer is approving."
He's found that the majority of customers will decide to wait. From there, the shop will update their customers every other day and also encourage them to give their insurance adjuster a call to share that the shop has the repair plan and quote. At this point, the customer can request the insurer get the inspection done quickly.
"The biggest thing is setting the expectation with them that we're the shop, they're the customer and they are the one who is contracted with the insurer," Batenhorst explains. "This is not a triangle with all parties connected; we're only connected to the customer. They need to know their rights as a customer and that they will have to be involved in some aspect of the process to make sure everything goes smoothly. We'll do all the heavy lifting in terms of providing documentation and photos and making sure everything is transparent. But at the end of the day, the contract is between the customer and the insurer, and sometimes customers don't like that. Maybe they've been conditioned by other shops to think you should do everything for them, but if you spell it out in a way that lets them know it's a collaborative approach and that your shop is helping them in their fight to make sure their car gets fixed right, it builds rapport and credibility.
"If the insurer does come back with a quote that is less than desirable, the customer is a little more fired up," he adds. "They may want to go toe-to-toe with them and say 'Hey, no, this is what my car needs. This is what the shop says the manufacturer needs, and why can't we do this the right way?'"
As Dombrowski notes, another thing for shops to keep in mind is the potential for delays in communicating with insurance companies, especially if the claim is handled virtually. "When this is the case, it is best to get the customer on your side.  If you are not a DRP and the insurance company is causing a delay, call the customer every day, no matter what!  You could say something like, 'Mrs. Jones, we have disassembled your vehicle, and we ​have found additional items. We have notified your insurance ​carrier and are currently waiting on approval/authorization; therefore, the vehicle status is on hold. You may want to ​call your insurance company to expedite the claim.'
"One of three things will happen," she adds. "The vehicle owner will contact the insurance company, and they will reinspect the vehicle sooner; the vehicle owner will contact the insurance company and they will approve the repair over the phone or virtually; or the vehicle owner will authorize repairs themselves. Any of these options is better than waiting two or three weeks for approval!"
Every shop has a different set up, but it is important to make sure one's team has the bandwidth to have these conversations with customers.
"I have client care representatives or customer service representatives that handle all the customer interaction," relays Batenhorst. "So, it's a little bit of a different structure. I did that intentionally to allow more of these conversations to be had. So that way, they're not rushed. All the information is out there. There's full transparency about what the process is. That way, no one is coming back to you later on asking you to cover a rental car bill or other delays because now you have made it clear on how long it's going to take your shop to get the work done. If there's a delay in the body shop, that's on us, but there are moments in this process where we are kind of stuck. You really can't effect a lot of change on those delays."
"Confidence leads to competence," adds Anderson. "We have to spend time establishing our confidence with the vehicle owner when they bring their vehicle in. Show them you are knowledgeable about their vehicle, and show yourself as an expert, so that if they do have to pay out of pocket, they have trust and confidence in us. They will be willing to pay out of pocket because of the fact that they trust and know how competent we are."
Want more? Check out the August 2023 issue of Hammer & Dolly!