by Chasidy Rae Sisk
Have you booked your hotels and made travel arrangements yet?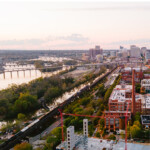 If not, there's no time to waste – Industry Week in Richmond, VA is mere days away, and you don't want to miss out on all the education, exhibitions and networking available for collision repair professionals from April 12-15, beginning with the Society of Collision Repair Specialists' (SCRS) Open Board meeting, followed by a special session, as well as the Collision Industry Conference's (CIC) quarterly gathering (preview the CIC agenda on page 20).
But WMABA and the Carolinas Collision Association (CCA) is bringing something even more exciting to the area with Virginia's first-ever trade show, the Southeast Collision Conference (SCC)! Scheduled April 14-15 at the Meadow Event Park in Doswell, VA, SCC 2023 promises two days of networking, exhibitions and education, featuring WMABA's Collision P.R.E.P. (Professional Repairer Education Program) classes and a host of the industry's leading trainers.
"Our Collision P.R.E.P. endeavor has always been about bringing forward national-level education opportunities to the local market and providing opportunities for all segments of collision repair," shares WMABA Executive Director Jordan Hendler. (See page 26 for the full educational slate.)
Although the training agenda is sure to stir up a lot of excitement, the trade show aspect of the event will certainly turn some heads as well with dozens of local and national vendors participating to showcase the latest tools, products, equipment and services on the market to the shop owners, technicians, painters, estimators, suppliers and other industry professionals in attendance.
According to CCA Executive Director Josh Kent, what makes SCC stand out is "the vibe is different than at other shows with regard to community and networking. Attendees represent quality shops that come with a specific purpose – to ask questions and make purchases. We want people to meet each other, have a good time and truly enjoy themselves."
And this year's exhibitors absolutely anticipate an enjoyable show.
"There has never been an event of this magnitude for the Virginia markets, and I believe this area has been needing this type of event for a while, so I am really pumped up to be a part of it," John Shoemaker of Platinum Sponsor BASF shares. "While I am always excited to facilitate presentations at national events, it is going to be great to be doing so in my backyard where I hope to see many customers and friends. I believe the information I am providing on properly identifying labor types and rates is going to be eye opening for the attendees as it seems the industry has been stuck focusing on insurance-allowed Labor Rates.
"Attendees will have many reasons to stop by the BASF Automotive Refinish booth," he adds. "I am excited to have Kurt Lawrance from KTL Restorations in Danville, VA in our booth. He is bringing Pinnacle, a 1948 Ford F-1 Glasurit paint delivery truck that premiered at SEMA 2019 in the Spanesi booth. We will also have Operative Talent, a 1969 Chevrolet Camaro project vehicle that, when completed, will be raffled off to support and attract future talent to the industry. This Collision Repair Education Foundation, KTL Restoration and BASF joint venture has traveled the country bringing awareness to the talent shortage in the collision industry.  If that wasn't enough excitement, we will also have BASF personnel talking about Glasurit 100 Line, the most advanced waterborne basecoat system on the market." (Learn more about Operative Talent in the January edition of Hammer & Dolly, available at grecopublishing.com/hammer-and-dolly-january-2023.)
"We are always excited to get a chance to showcase our products and talk to other people in the industry," offers Benjamin Staton of Gold Sponsor KECO Body Repair Products. "It's an opportunity for us to learn and grow, and a chance to show people the innovations and efficiency of glue pull repair (GPR), the least invasive repair technology. Our passion is fueled by those who are passionate in the industry, and we can get even more inspiration from others at events like this."
The KECO booth will be displaying the new KECO L2E GPR System which is "the most comprehensive glue pull repair system available to body shop technicians, allowing them to rough out large damage, as well as small detail finish correction. The system was built with efficiency and organization in mind, helping achieve metal flow and getting the job ready to paint quickly," Staton says. "We will also have our new Lateral Tension Tool. This has been a hot item since it was released last year. It places tension away from the repair area, allowing the damage to be pulled out much easier by creating efficient metal flow. We continue to innovate with our GPR products, and we are looking forward to a great show!"
Aritha Richardson from Gold Sponsor Enterprise Holdings Inc. looks forward to "networking with collision owners and repairers to learn how we can best support their business and align with their goals." Participants can anticipate the chance to win a variety of giveaways when visiting Enterprise's booth.
"We are looking forward to being present in the SCC because it is a conference that has continued to grow year after year and is a great way for us to introduce ourselves to both current and new customers and to showcase ALL that AkzoNobel has to offer," contributes Paul Cook of Gold Sponsor AkzoNobel. "We have many lines of paint, a product line that will fit any shop's needs, but we also have many services that go above and beyond just the paint. This year, we will have a fully functional demo on Carbeat, our digital production system (exclusive to the Sikkens paint line) that involves the entire team; everyone from the CSR to the detail department. It uses a 65" or 70" touchscreen. And we will have one in our booth for people to see exactly how this system can improve communication."
Silver Sponsors Intrepid Direct Insurance, Hertz and Polyance are also looking forward to the upcoming event.
"While Intrepid Direct has been to this conference before, this will be my first time participating at this event, and I am very much looking forward to meeting the shop owners that will be there and gaining insight on what the current challenges and issues are that they are facing," Nick DiCarlo (Intrepid Direct Insurance) indicates, promising that the company's booth is worth visiting because "It's insurance, and insurance is always exciting!"
Similarly, Brandi Latta (Hertz) is looking forward to the opportunity to "expand awareness of our brand by building rapport with the industry professionals in attendance. Obviously, we're hoping to see lead generation as with any trade show, but networking is also important because it allows us to identify what needs exist in the market so we can better support them."
Hertz will be highlighting its electric vehicle (EV) fleet options at its SCC booth, according to Rebecca Hite. "Hertz is building the largest electric vehicle fleet in North America, and we have tens of thousands of EVs available for rent at more than 750 locations in 38 states. We will have several EVs on site to help us showcase the programs we offer body shops and other partners."
"We are looking forward to participating in the Southeast Collision Conference because I heard that it was a good show last year and I was unfortunately unable to attend it because of a scheduling conflict with the SkillsUSA competition in Atlanta. Thankfully, this year, there's no conflict, and even better, it's scheduled to coincide with the Collision Industry Conference in Richmond," Kurt Lammon (Polyvance) notes. "Polyvance will be exhibiting and doing live demonstrations of the nitrogen plastic welder at the booth all day long. We invite all attendees to stop by the Polyvance booth to try the welder themselves and to ask any questions they might have about plastic repair and refinishing."
Rome Collision Management System will be featuring its state-of-the-art collision management software to run the entire operation in real-time. "Rome streamlines your business to lower your cycle time and increase your CSI. We will also be showcasing our pre- and post-scanning systems to ensure our clients get the most out of each repair," explains James Rome. "I am excited to connect with other members of the collision repair industry and support their continued growth. It's important to stay connected with the community because the automotive industry is constantly changing, and hearing their challenges firsthand helps us meet their needs for the future."
CCA and WMABA are grateful to the sponsors who are making SCC 2023 possible, including Platinum Sponsors: Autotality, BASF BETAG North America, Shopfix/BRCC, Connected Automotive Systems and Lombard Equipment; Gold Sponsors: AkzoNobel, Axalta, Caliber Collision Centers, Certified Collision Group, Enterprise, FinishMaster, KECO Body Repair Products, National Coatings & Supplies / Single Source and PPG; Silver Sponsors: Accudraft, ALLDATA, Hertz, Intrepid Direct Insurance, OPUS IVS, Polyvance, ProColor Collision and Reliable Automotive Equipment; and Education Sponsor AirPro Diagnostics.
There's plenty to be excited about on the show floor and in the classrooms, but you have to be there to reap the benefits available! Register to attend SCC 2023 at southeastcollisionconference.com.
Want more? Check out the April 2023 issue of Hammer & Dolly!