by Sam Richie & Shannon K. Mitchell, AASP-MN Lobbyists
There was reason to believe that Republicans could be poised to take control of both legislative chambers and win several statewide races, namely the attorney general and auditor races.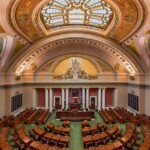 Democrats control the White House and with soaring inflation and growing uncertainty around the economy, political history and conventional wisdom suggested a big night for Republicans both nationally and here in Minnesota. But looking to historic trends to glean insight into today's political landscape appears increasingly futile.
Polling has traditionally been less reliable in midterm elections and races are becoming increasingly difficult to predict. This was on full display on election night as Democrats did much better than expected, both nationally and in Minnesota – although many races were incredibly close. The topline results will have a huge impact on the upcoming legislative session. The DFL maintained control of the state House, flipped the state Senate by the narrowest of margins (one seat), and retained the Governor's mansion for another four years with a solid showing for Governor Walz.
This will be the first time since 2013-2014 that one party has held complete control of the legislature and Governor's office. It also marks the first time in state history that one party has won the Governor's office for four consecutive terms, a feat that highlights the DFL's strength in statewide races – Republicans have not won any statewide office since Governor Pawlenty's reelection in 2006.
The change in control of the state Senate (with the DFL maintaining control of the House and Governor's office) will impact the allocation of the remaining federal stimulus funds and the record $12.1 billion state surplus as there will likely be a more shared understanding on budget priorities, although full control of the legislature does not ensure an orderly or smooth budget process. AASP-MN will adjust its strategy and approach as we learn more about the committee structure and makeup in days and weeks to come. For now, it's safe to say we can expect a serious conversation about a budget year bonding bill, along with increased funding for housing, education and human services. We will have new chairs of the Commerce and Tax Committees in the Senate as well as a new tax chair in the House. AASP-MN will hit the ground running to ensure your voice is heard by these new lawmakers.
Control of the Legislature:
•The DFL controls the House by four seats (69 to 65)
•The DFL controls the Senate by one seat (34 to 33)
Statewide races:
•GOVERNOR: DFL Governor Tim Walz (52.3 percent) wins over Republican Scott Jensen (44.6 percent)
• ATTORNEY GENERAL: DFL Attorney General Keith Ellison (50.4 percent) wins over Republican Jim Schultz (49.6 percent)
•SECRETARY OF STATE: DFL Secretary of State Steve Simon (55 percent) wins over Republican Kim Crockett (45 percent)
•STATE AUDITOR: DFL Auditor Julie Blaha (47.5 percent) wins over Republican Ryan Wilson (47.2 percent)
Want more? Check out the December 2022 issue of AASP-MN News!