by Dan Gleason, AASP-MN Mechanical Division Director
Is the shop full and you're trying to figure out where to store the next piece of equipment you had to purchase to stay current with today's vehicles? Are you dreaming of more space and more lifts so you can get through the pile of cars and be able to be more efficient when the snow comes? Where do you even start?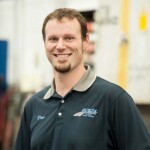 There are so many questions. How do you expand, when, where, what, where will I find the people? It's these scary and overwhelming thoughts that flood your mind and you usually tell yourself you can't afford it, or it's not the right time to expand. But you keep dreaming and you might even have some sketches sitting on your desk that you shuffle around. So, now what do you do? Everyone's path is different, this is just some general information on the process that you can take as far as you want and at whatever speed you want.
Think about expansion. Can you expand in your current location, either by purchasing an empty lot nearby, or leasing more space in your current building? If your current location is not an option, then find a commercial realtor and see about their options and price ranges. We each have unique circumstances, so you need to start exploring the options you have in front of you and see which avenue makes the most sense for you.
Once you have an idea for a location, designing and laying out your shop starts with dreaming big and seeing what you can do with your space. Visit other members shops, dealerships, municipality shops (big budgets), body shops or maybe a niche shop if that is what you want to expand into. Take a tape measure with you and sketch down dimensions so you can add ideas to your plans. There is no perfect shop.  Listen to owners and employees – "wish I would have, didn't need that or so glad we put this in." You can just use a pencil, a ruler and some graph paper. Or if you prefer digital, Excel is easy. Just use the grid to draw out rooms and use the boxes to measure. Or for the more experienced, you can use free trials from architectural software like Ecdesigns to make 3D versions of the shop and walk through it. Once you have your ideas drawn out or just a list of wants, you can find an architect and have them put your ideas into actual drawings. 
Now with some preliminary drawings you can talk to a general contractor who should be able to give you some rough numbers using general costs based on square footage. This is not a final number by any means, but it can be enough information to know if it is 100k or 800k. You will need the actual engineering plans to get actual estimates. But for the most part, talking to the contractor, showing them the plans and explaining what you are trying to do, they can give you some numbers to start building a budget to make sure it is something you can do. 
Next, is the money. Talk to your local bank or some place that you have a relationship with and explain what you want to do and let them talk through different options on lending. There are pros and cons to each of the programs. Have them run some numbers so they give you a range of loan amounts, terms and monthly payments. They will also tell you about environmental soil testing that you may be required to do to make sure that they will loan the money to you. Working with your accountant to make sure your books are in order and making them appealing to lenders is another important step. Now you have some idea of what it will take every month to pay for it. If you can swallow the monthly payment and like how things are laid out, then it is time to keep pushing forward.
How do I pay for it? Break the monthly payment down to things you already know. Here are some real general equations that can help break the money down to the basics.
Monthly payment / ARO can help you determine how many more cars are needed and help you think about a marketing strategy to bring in additional work.
Monthly payment / 2 (Half parts half labor (mechanical shop). That # / labor rate = Production hours needed. This can help you determine if you need another tech or if you can make your team more efficient to produce the extra needed hours. 
The good news is that techs and other employees are attracted to growth. They like being part of something new and be part of a growing shop.
This may be the time you pick a general contractor. I recommend interviewing a few and seeing some of the projects they have done. You want to work with someone who understands your project and is familiar with the type of work. You can let them start the work with the city, or depending on your location, you may want to have a conversation with the city planner, council members or mayor to show them your ideas and learn what types of hurdles you are going to have to  jump to get the city to approve your expansion. There is a lot of money and frustration in dealing with the city to get a building permit. If you choose to let the contractor handle the city aspects, then they will fill you in on the requirements needed to obtain a permit. There are a lot of codes and ordinances that make no sense, but you must follow their rules or you will get nowhere. Some fun examples are approved building materials, zoning, parking, landscaping, conditional use permits, variances and many more. 
Hopefully, this overview gives you some tips on how to pursue your dreams of expanding your business. It is not easy, but you can take it in steps and start to plan how you are going to make it happen. Be patient because it can be a long haul, but in the end it will be worth it. There are also a lot of shops that have been through the process already, so reach out to other members for guidance and ask questions. 
Want more? Check out the November 2023 issue of AASP-MN News!