by Sam Richie & Shannon K. Mitchell, AASP-MN Lobbyists
AASP-MN recently met with officials from the Department of Commerce to discuss issues related to short-pays, clarify enforcement pathways and authority, as well as update the role shops can play in reporting insurance claim issues to the Department of Commerce.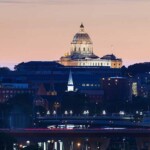 AASP-MN was represented by Executive Director Linden Wicklund, lobbyist Sam Richie and a terrific group of active and knowledgeable members including: Jesse Jacobson (Heppner's Auto Body), Shannon Christian and Josh Shaw (Shannon's Auto Body),  Greg Melartin (Matt's Body Shop and Tires), Brian Gerhart (Brownsdale Auto Body Inc.), Aaron Swanson and Darrell Amberson (LaMettry's Auto Body), Scott Miller (Collision Specialists Inc.) and Wayne Nielsen (Adamson Motors Inc). The Department of Commerce was represented by Assistant Commissioner Matt Vatter, Director of Government Relations Jon Kelly and Audit Director T.J. Patton.
AASP-MN has maintained a collaborative working relationship with the Department of Commerce and meetings like this are one way to continue and further that connection. Members have been submitting short-pay information to Linden at an increasing rate, which was one of our points of discussion with the department. One key takeaway from our discussion, which is much different from our previous understanding, is that the department is happy to receive information from shops without the need for the customer to be involved. We had previously been told that Commerce would only get involved or review information about an insurance claim if the customer were the entity bringing the complaint. In our most recent meeting, we were told in no uncertain terms that that was a mistaken interpretation and that shops are free to provide information to the department on their own.
While this meeting was productive and helpful, it was only the beginning of our work with the department. We next intend to set up Body Shop Sessions where Department of Commerce staff can present to members on the parameters of their authority and answer questions members may have. These sessions will then help AASP-MN craft legislation for the next session to help cover legislative gaps we may identify.
As for what the legislature might look like in 2023, we got one step closer in the process on August 9 when Minnesotans went to the polls to vote in their primary elections. Primaries are where candidates from the same party vie to be the sole Republican or Democrat on the general election ballot. For state legislative races, there were a number of challengers to incumbent legislators within both the DFL and Republican parties that represented more polarizing ends of the spectrum. While some races were close and others were not, the trend from this primary season is that incumbents, by and large, prevailed against more extreme challengers. We will continue watching this dynamic closely as it will impact whether or not legislation will be able to move during the 2023 legislative session.
Want more? Check out the September 2022 issue of AASP-MN News!