by Sam Richie & Shannon K. Mitchell, AASP-MN Lobbyists
The 2023 Legislative Session was unlike any in recent history, with a new two-year state budget of roughly $72 billion.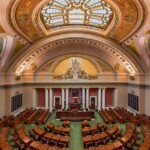 With the DFL in complete control of all three levers of state government, they hit the ground running by pushing several long-held caucus priorities through early in the session, including codifying the right to an abortion and passing the Carbon Free by 2040 bill. Other top-line items passed at the end of session included passing a Capital Investment "Bonding" bill to improve roads, bridges and state-owned buildings, and to upgrade drinking-water infrastructure, as well as a historic tax bill. The tax bill included record tax cuts and credits totaling roughly $3 billion, as well as new tax increases worth about $1 billion. These new increases focused mainly on multinational corporations as well as individuals who make over $1 million in adjusted gross income or take in over $1 million in investment income.
This article will break down several law changes of interest to AASP-MN members, including high-level summaries of paid family and medical leave, earned sick and safe time, OSHA changes, electric-vehicle provisions and updates to non-compete clauses.
Paid Family and Medical Leave
Paid Family and Medical Leave (PFML) passed along party lines and was signed into law, although it does not take effect until January 1, 2026. PFML allows employees up to 12 weeks of paid time off for a serious medical condition and up to 12 weeks to care for family members with serious conditions or to bond with a new child. The benefits are capped at 20 weeks in a single year, and workers do not receive their total wages, but a portion of their earnings. Benefits begin in 2026, which is also when the payroll tax increase to fund the program is also scheduled to begin. The payroll tax is set at 0.7 percent and can be split evenly between employers and employees. Employers will be required to submit a quarterly wage-detail report electronically. Please note that unlike the timing for implantation of the full PFML program, the wage reporting requirements are effective beginning July 1, 2024.
Provisions for small businesses were some of the most hotly debated topics during the PFML legislative process. The main small business provisions include a wage exclusion which allows employers with fewer than 30 employees to pay a lower premium. There will also be small business assistance grants of up to $3,000 per employer to hire temporary workers or pay current workers to cover employees using PFML.
Earned Sick and Safe Time
The legislature also passed Earned Sick and Safe Time (a different policy than Paid Family and Medical Leave), and Governor Walz signed it into law.
Starting January 2024, workers will be eligible to accrue a minimum of one hour of earned sick time for every 30 hours worked, with a maximum of 48 hours annually. Employees could use that time for medical appointments, short-term illness like a cold or flu, or to care for a child who may be out of school sick. This time off can also be used to secure services or alter living arrangements in response to domestic violence, which is referenced in the title as "safe" time.
Non-compete Clauses
Non-compete agreements between employers and workers are now unenforceable under Minnesota law. There are two exceptions to the new law, it does not extend to non-compete provisions associated with the sale or anticipated dissolution of a business. The new law also does not impact non-disclosure agreements. These changes will be effective July 1, 2023.
Electric Vehicle Provisions
Numerous electric vehicle (EV) policy and funding provisions were passed into law. There were also many other "green" policies that are likely to help grow the EV market over the coming years, along with federal policies and programs. A few of note: (1) Rebates for individuals who purchase EVs; (2) Funding for more EV infrastructure; (3) Requirements that state auto fleets include EVs; and (4) Grants to auto dealers to attain their EV certification. One notable omission was funding for education, training and workforce development in repairing EVs. This issue is ripe for coming legislative sessions and coalition work across sectors and organizations is something AASP-MN will continue to advocate and participate in moving forward.
While the above is a recap of the legislative session that just ended, AASP-MN leadership is currently working with AASP-MN member leaders to build a foundation for the next legislative session, which will focus on policy rather than budget issues. This is a prime opportunity to develop and advance key policy proposals that will positively impact members and push the industry forward. Stay tuned for more opportunities to help shape our priorities.
Want more? Check out the July issue of AASP-MN News!